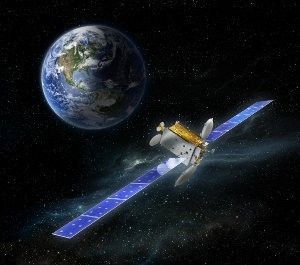 Electra is an ESA Partnership Programme with industry, whose goal is to develop, launch and validate in orbit a commercially competitive telecommunications satellite system below three tons launch mass, based on an innovative platform using full electric propulsion for orbit transfer to GEO as well as for station-keeping.
While electric engines have been fitted to scientific spacecraft and to telecom satellites for stationkeeping in recent years, industry worldwide is looking to extend this trend towards raising a satellite to its intended geostationary orbit after launch.
ESA's Artemis telecom satellite was Europe's first experimental use of electric thrusters to raise a satellite to its target orbit. Artemis proved that electric thrusters are capable of performing the same task as conventional chemical propulsion but with up to 90% savings in fuel consumption.
Electra can offer power consumption and communication capabilities equal to those offered by larger mid-size satellites while keeping the launch mass low enough for small launcher vehicles, or to put together a larger payload for the same launch mass, which translates in both cases into significant economic benefits.
How is it implemented?
Electra offers to involved European industry the unique opportunity to develop and validate the new product in a commercially representative environment through a Partnership Programme in which industry proposes a mission that will validate and exploit the capabilities of the new platform.
The Electra programme encompasses both the development of the platform and the implementation of a mission in partnership with an industry operator.
The programme will:
Allow a coordinated effort in realising a European "full electric propulsion" small geostationary satellite capability.
Provide in-flight heritage and in-orbit demonstration of the platform and associated new technologies in a representative telecommunication satellite mission, which is essential to gain market acceptance for a new platform product and, therefore, lead to future recurring exploitation.
 Expected benefits
Electra will increase European Member States competitiveness and complement the existing European offer in other platform market segments, providing a capability for which demand exists and building flight heritage in the most credible and representative environment.
Current status
After completing the preliminary design in Phase B1 and with ongoing work on the platform by OHB-System AG, ESA has issued an Announcement of Opportunity (AO), detailed in the document link below. This calls for an expression of interest for missions to be embarked on the developed Electra platform and to identify the best matching partnership to achieve the project objectives. Ultimately, the selected proponent would enter into a Partnership contract with ESA to complete the project up to flight, including a pre-operation validation phase, and contract with OHB-System AG, the satellite prime.
The AO document attached below describes the ESA process and schedule to be followed. The deadline for expressions of interest is 28 June 2019.