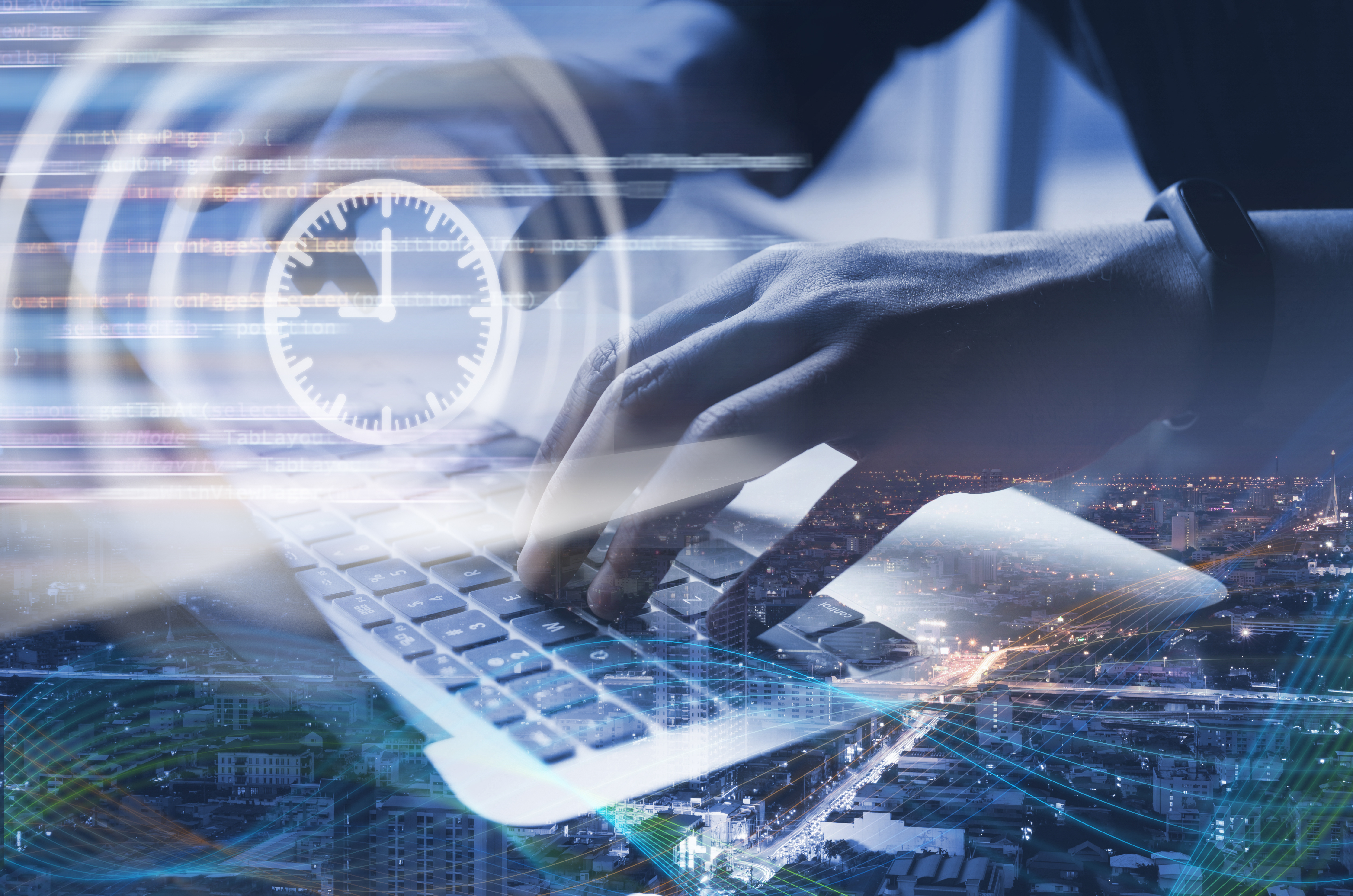 INTRODUCTION
ARTES AGILE is a new initiative from ESA aimed at facilitating short term high-risk technology developments, critical in defining the scope and development of future products and services for the satcom sector and vital in assessing the viability of a product development plan. These development opportunities are available within the ARTES 4.0 programme lines including: 
Who will benefit from ARTES AGILE?
ARTES AGILE is aimed at rapid developments supporting SMEs, facilitating new entrants to the space sector and allowing short duration technical de-risking activities necessary to confirm the viability of a product development plan. This allows ESA to support fail-fast, iterative design and lean development approaches undertaken by Industry.
How is ARTES AGILE different from other opportunities?
ARTES AGILE is focusing on fast turn-around activities and ESA funding is capped at €250,000. ARTES AGILE activities are limited to an agreed de-risking plan, with no provision for increasing the scope of work via a contract change note (CCN). 
The application process for AGILE projects has been simplified to speed up the process and contracts are expected to last no longer than 12 months.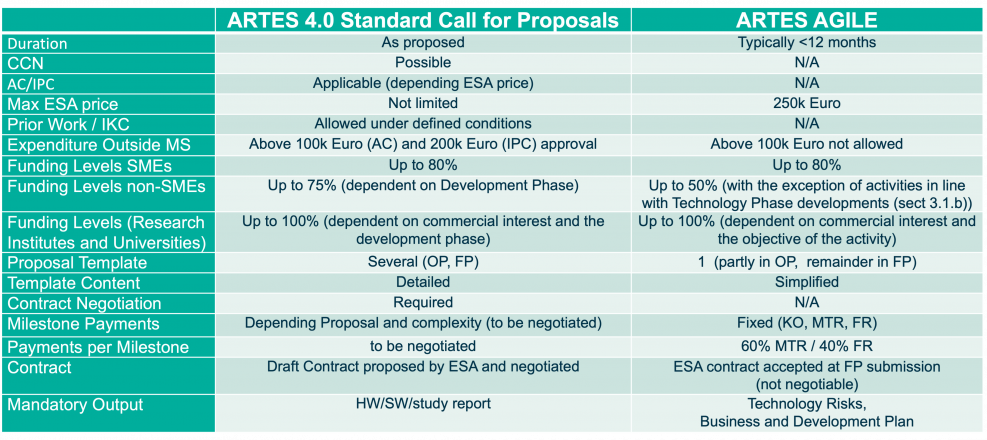 KEY BENEFITS 
Facilitate fast turn-around technical de-risking activities, critical to the definition and development of future products and services for the satcom sector
Foster innovation and support opportunistic developments 
Reduce risks for stakeholders
Allow rapid development approaches such as iterative and lean design
Provide an accessible path for newcomers to the space sector to gain experience working with ESA 
Rapid application process using new and simplified ESA templates 
Typically aimed at projects of 12 months or less
ESA funding capped at €250,000 per project
HOW TO APPLY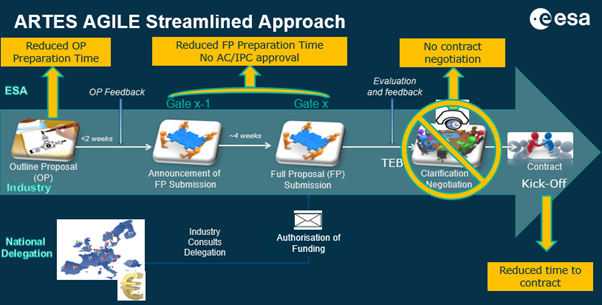 If you are interested in the ARTES AGILE programme, ESA have devised a simplified two stage application process. Please note that outline and full proposals can only be considered if submitted using the Proposal Templates which can be found at: https://artes.esa.int/artes-agile-templates.
To keep the process as simple as possible, the two-step application process uses a single proposal template, parts of which are required to be completed at the Outline Proposal stage, with the remainder to be completed in the Full Proposal.
1.    Outline Proposal
Using the templates provided, once submitted, this proposal will be evaluated, and feedback will be provided typically within 10 working days. 
After evaluating the outline proposal, ESA will invite successful parties to submit a full proposal 
2.    Full Proposal
Once the full proposal has been received, the tenderer can typically expect to receive a response within 5 weeks.  
As ARTES 4.0 is an optional programme of the European Space Agency, every activity has to receive explicit financial authorisation from the National Delegation(s)  of the relevant countries of the consortium. The Tenderer and its Subcontractor(s) should therefore contact their National Delegation(s) to obtain a letter of authorisation for funding for the proposed activity before submitting their Full Proposal. 
To facilitate a fast turnaround, please note that the process does not include any facility for contract negotiation, so any draft contract and predefined milestone plan will be non-negotiable.
Please note that the Tenderer shall not change the structure of the Proposal Template (i.e. the table of contents must remain unchanged) and adhere to its guidelines and requirements. However, the format and lay-out can be modified to be in-line with the Tenderer's corporate identity. 
All the information to apply are available via esa-star Call for Proposals 4-40001. Therefore, it's necessary to be registered in esa-star.