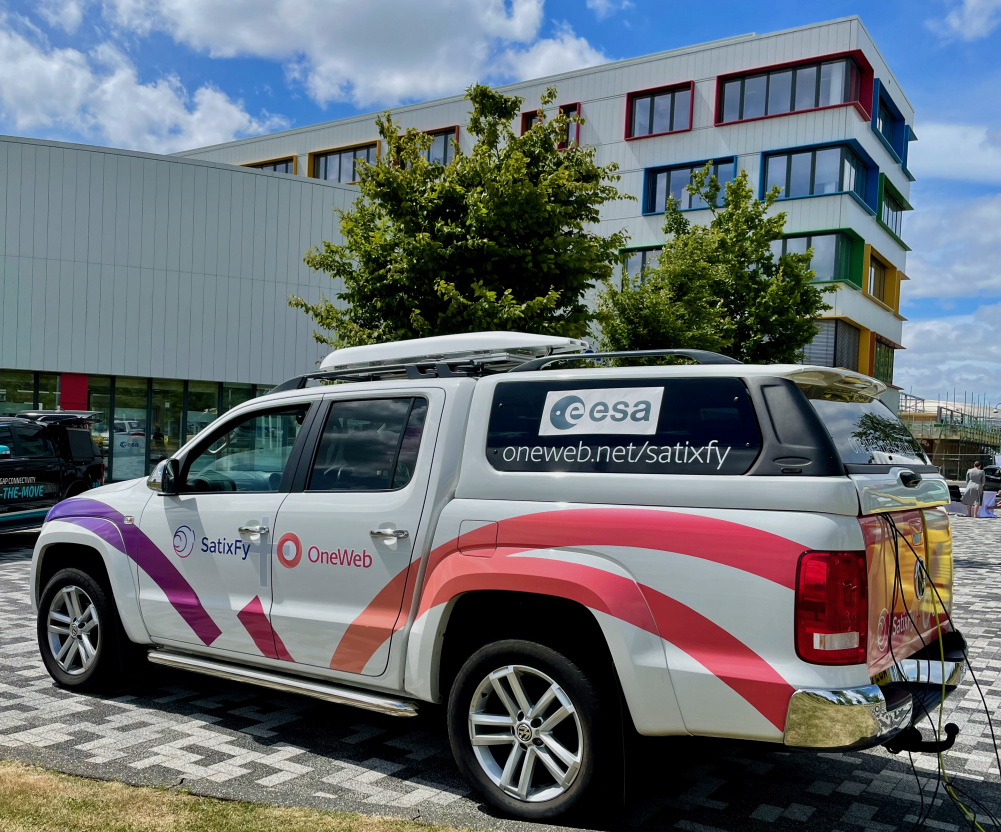 A demonstration at the ESA/ECSAT facilities in Harwell today achieved the first 5G full end-to-end link through a Low Earth Orbit (LEO) satellite constellation. The event used a super compact electronic antenna terminal, powered by SatixFy UK, to connect to the Low Earth Orbit satellite constellation operated by OneWeb. 
OneWeb UK, the global space-based communications company, together with the European Space Agency (ESA) and SatixFy, achieved a significant milestone on 28th June, when it successfully demonstrated a high-speed, low-latency full 5G end-to-end link with the OneWeb LEO satellite constellation and the 5G/6G Hub at ESA / ECSAT's Harwell centre.  
Under the Sunrise Partnership Project, with support from the UK Space Agency, ESA and OneWeb have partnered with antenna technology provider SatixFy UK  to develop its electronically steered arrays into the 5G user terminal, offering an extremely compact solution for mobility services.
The Sunrise Partnership Project collaboration achieved a breakthrough performance on OneWeb's low earth orbit (LEO) network.  This new super compact user terminal will undergo further testing to explore its full capabilities with LEO and GEO links for mobility services. After these tests are completed, the user terminal will be "fine-tuned' and optimised for different mobility use cases, targeting an effective system to provide OneWeb commercial services for any moving platform - on land, sea and air.
The demonstration on 28th June involved a super compact satellite terminal mounted on a car, embarking a 5G Radio Access Network and connecting to 5G user devices. The terminal pioneered a state-of-the-art DVB-S2X modem based on SatixFy ASIC with high throughput. It was the world's first 5G backhaul communications with an electronic steerable antenna connected to LEO satellites.
The user terminal antenna was also used to link simultaneously to a GEO satellite at an altitude of 36000 km, and OneWeb LEO satellites orbiting at 1200 km (a thirtieth of the distance), with multiple simultaneous beams and electronic tracking. Live video and audio streaming took place from a GEO satellite, with 4K UHDTV videos being played. 
This 5G end-to-end link validates not only the communication over OneWeb satellites constellation but also successfully demonstrates the full integration of space and ground networks using 5G links, with low latency and very high speed and quality performance. 
Elodie Viau, ESA Director of Telecommunications and Integrated Applications said "This test is the first of its kind, and is a real team collaboration by ESA, OneWeb and SatixFy. It connected the ESA 5G/6G Hub at ESA/ ECSAT Harwell site through OneWeb satellites, using the super flat and advanced antenna made by SatixFy UK for mobility services. Through the Sunrise Partnership Project we aim to show that 5G high quality and speed connectivity is now a reality, to the benefit of everybody, everyday and everywhere" 
Massimiliano Ladovaz, CTO at OneWeb said "At OneWeb, our approach to delivering connectivity is through collaboration with world-class industry partners who share our vision of a truly connected world. We're therefore delighted to partner with Satixfy and CGI on this UK and European Space Agency funded research program. We are working together to connect those hardest to reach with new Space-based LEO connectivity. The ground-breaking Satixfy electronically steered array antenna technology will, once in commercial production, enable mobility customers such as airlines, train operators, and coach companies to leverage the power not only of the OneWeb LEO network, but also terrestrial 5G and legacy GEO satellite networks. A hybrid, multi-beam, multi constellation solution that ensures that passengers remain connected no matter where they are – be it mid-air, mid-ocean or in the most remote corners of the world."
Dr Paul Bate, Chief Executive of the UK Space Agency, said: "This is a world first which demonstrates the vital role that space can play in improving connectivity and the value that companies like OneWeb and Satixfy bring to the UK."
 
"The results of this trial will help transform how satellite and terrestrial networks interact, accelerating the development of technologies such as connected vehicles and autonomous cars. It is a great example of why we're supporting ESA's state-of-the-art 5G/6G hub in Harwell, which will create new commercial opportunities and catalyse investment into the UK's thriving space sector." 
Simona Gat - Satixfy UK  CEO said  "I'm proud of this important milestone achieved by the whole SatixFy team, who cooperated together with our partners from OneWeb and CGI, with great support from the UK Space Agency and ESA."