A new programme for civil security and protection enabled by space assets.
ESA has created a new multi-disciplinary programme that aligns ESA with European stakeholders' needs, to propel the integration of Europe's competencies and assets into monitoring, mitigating and resolving civil security and crisis events.
The World Economic Forum's 2021 Global Risks Report puts extreme weather events and cybersecurity failures among the most prominent current and future challenges the world is facing, ahead of any other economic, environmental or geopolitical risks. In the same direction, the recent sixth report of the Intergovernmental Panel on Climate Change (IPCC) raises awareness on the escalation of climate-related risks as well as their interaction with non-climatic risks "creating compound and cascading risks that are more complex and difficult to manage". There is a need to act swiftly to further protect Europe's citizens and institutions, and to support critical infrastructures.
ESA's Civil Security from Space Programme (CSS) aims to foster the use of space-based solutions, which help save lives and livelihoods and enable civil security players to act swiftly to support humanitarian responses, law enforcement, safety and emergency events, anywhere, at any time and for the benefit of everyone.
The CSS Programme offers European industry the opportunity to boost the use of space and deliver the necessary tools to address the challenges of civil security and crisis management. The civil security from space programme contributes to space-based crisis management through ESA's proposed 'rapid and resilient crisis response accelerator' – one of three initiatives to accelerate the use of space to respond to societal needs
Objectives
Addressing the needs of civil security and crisis management requires end-to-end solutions that rely on the following:
sensors that collect data for situation awareness
communications infrastructure that distributes the data to the right recipient in a swift and secure manner
processing capabilities that exploit the vast amounts of data and extract value-added and actionable information.
Finally, the information needs to be put into the hands of civil security and crisis management leaders, who are responsible for taking appropriate actions in order to mitigate against and respond to any situations which put European citizens at risk.
The CSS Programme offers a framework for the development of such solutions through supported activities with the following key features:
Responsive: enable an autonomous and proactive response to civil security and crisis events for the mitigation, support and resolution of unfolding events, through mechanisms allowing civil security and crisis management entities to take action and go beyond the simple monitoring of events
Smart: foster the use of multiple systems with embedded intelligence, all collectively contributing to the collection, distribution, transformation and delivery of data in a tailored and user-friendly way
Interoperable: ensure the transparent integration of space and non-space solutions, fostering interoperability for the delivery of an extended set of civil security and crisis prevention, mitigation and response applications
Secure: provide a solution that is resilient by design, trusted and secure, thus ensuring critical functions and operations in all situations
Scalable: be flexible to facilitate future proofing and capabilities growth with the adoption of new technologies, contributing systems, applications and services, and the implementation of new operational and collaboration models.
Vision 2035 – A Federation of Systems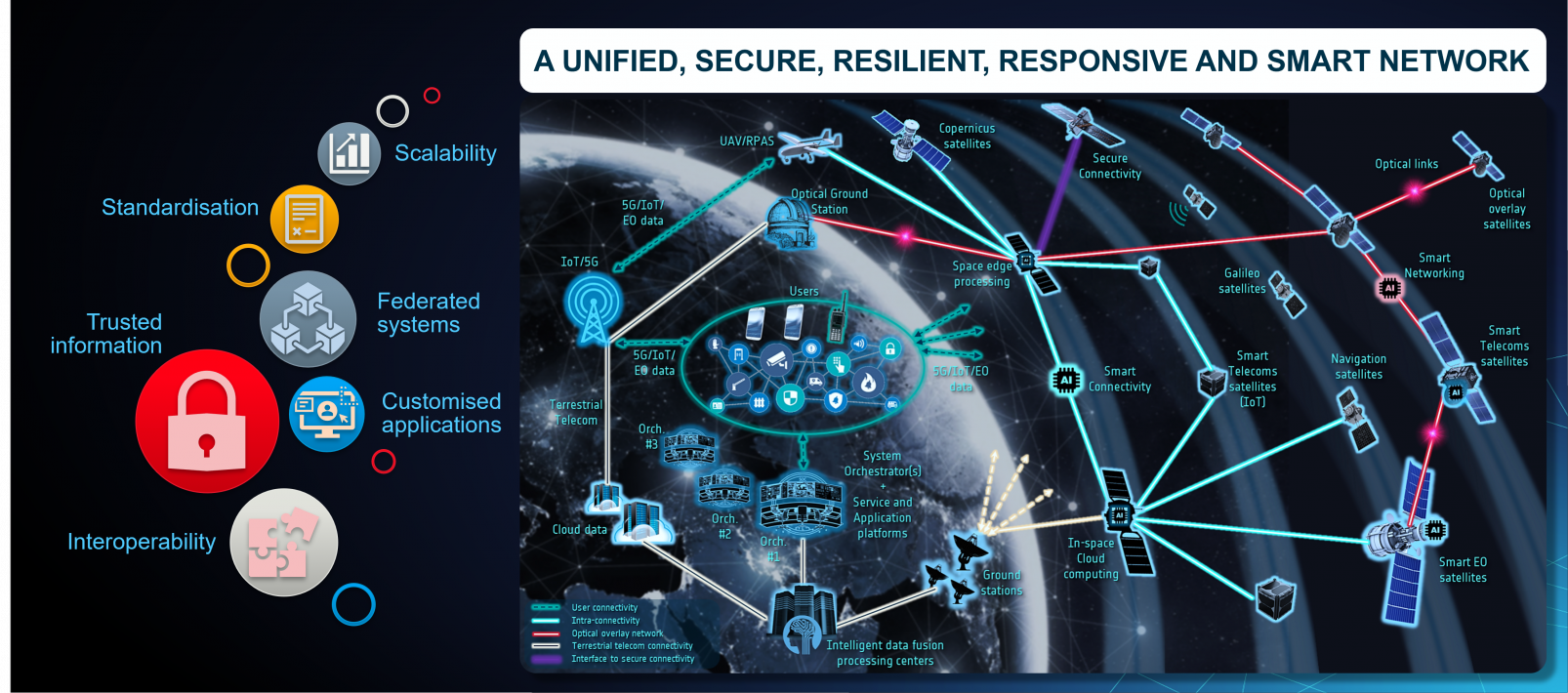 Beyond the opportunities in technology/system/application/service developments, the CSS Programme aims to foster the engagement of the civil security and crisis management user community, ensuring that European priorities are addressed.
In addition, the CSS Programme recognises the need to deliver interoperable industry solutions to enable the creation of a federation of multiple systems. This would ensure wider industrial participation and the possibility of addressing new use cases, benefitting from the scalability of the solutions, and the continuous improvement of services with new and advanced capabilities. This approach is also expected to stimulate growth opportunities and create incentives for the user community to adopt the proposed solutions, thus benefitting from the diverse supply chain of compatible technologies and services.
Becoming a Partner of the CSS Programme
Through the CSS Programme, ESA is open to collaboration with end-users, industry, organisations, commercial and institutional players, governments, initiatives, and international entities. We are open to exploring how national activities, commercial solutions, already developed assets/capabilities, up-and-running or future planned projects, funding mechanisms and any other contribution can be partnered together with the CSS Programme.
We are looking for partners and offer the following mechanisms of engagement:
Partnership Projects – New Innovative development activities
 
User Consultation Group – Identification of priorities and incubating business opportunities
 
Industry Association – Fostering interoperability through adoption of standards
 
Collaboration Partners – Working with partners on joint initiatives
How to Engage
Apply for a Call

We have a permanently open call for proposals, inviting solutions providers to put forward their proposals.

Become a Partner

You can register as CSS Partner, joining our User Consultation group (CSS-UC) or Industry Association (CSS-IA).

Collaborate with us

You can contact us via email at civil.security@esa.int to discuss collaboration opportunities.
The workplans of activities for the CSS-UC and CSS-IA are to be announced in Q2 2023 and will start in Q3 2023. Further details will be provided in due course.
In the near future, we will be issuing additional thematic calls focusing on proposals which address specific topics, to be identified in consultation with the CSS-UC.