Project INDIGO, a flagship ESA Public Private Partnership (PPP), is wrapping up on a high note after five successful years and an impressive track record of commercial success. It's the end of a project that has seen telecom services reach new and unserved satellite markets, greatly enhancing the customer value chain. In offering ground system innovations and leveraging the opportunity for global growth, INDIGO is a shining example of an industry-initiated project in Advanced Research in Telecommunication Systems (ARTES).
Pioneering project INDIGO was set up in 2015 to develop, validate and initiate the rollout of a highly innovative ground segment solution with unmatched capabilities for the Intelsat's advanced High Throughput Satellite (HTS) system.
The project was steered by global satcom leader, ST Engineering iDirect, who with partner Intelsat, collaborated to build its next-generation geo-stationary satellite infrastructure. The European consortium worked with service providers such as Anditel in Colombia to provide broadband coverage and connectivity to remote and hard-to-reach places such as the Andean mountain region. This has opened a window to prosperity for rural communities otherwise without access to critical e-services such as health, education, and government – as well as to the global marketplace. 
The versatility of the ground segment solution developed under the ARTES programme addresses the needs of a range of business sectors including community broadband, media broadcast, maritime, governmental, financial, cellular backhauling and point-to-point trunking.
Marc Welter, Technical Officer at ESA explains: "We've achieved a number of technology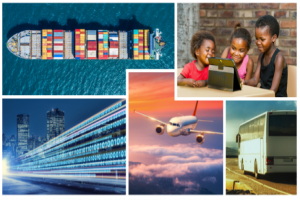 breakthroughs and set benchmarks for high-speed and affordable broadband access across satcom application sectors, including the lucrative maritime and aeronautical markets. 
He continues: "INDIGO presented a unique and not-to-be-missed opportunity for the European consortium to enter the ecosystem of Intelsat, the largest non-European global satellite operator, and to introduce multiple ground segment innovations on Intelsat's HTS network."
Pre-operational service pilots run in the INDIGO project have helped to boost commercial applications and have resulted in new and recurring business – as well as promoting ST Engineering iDirect's multiservice platform. The INDIGO development activities have enabled enhanced ground services and allowed service providers to augment their capabilities and lower the total cost of ownership. 
"Working with ESA has been an extremely positive experience for ST Engineering iDirect," says Geert Adams, Vice President of R&D Programmes. "We employed 100 additional staff for the project and INDIGO has resulted in major commercial deals for the company, enabling us to grow into new markets with our offering. We'd like to thank ESA for their commitment and support for this project which proves the social benefits of VSAT technology."
Antonio Garutti, ESA's Head of Telecommunication System Project Office, says: "ESA is pleased to have helped enable the digital transformation of society by supporting this project, which advances the capabilities of telecommunications satellites. We are proud to support the European space industry in excelling in the highly competitive global telecommunications satellite market worldwide."