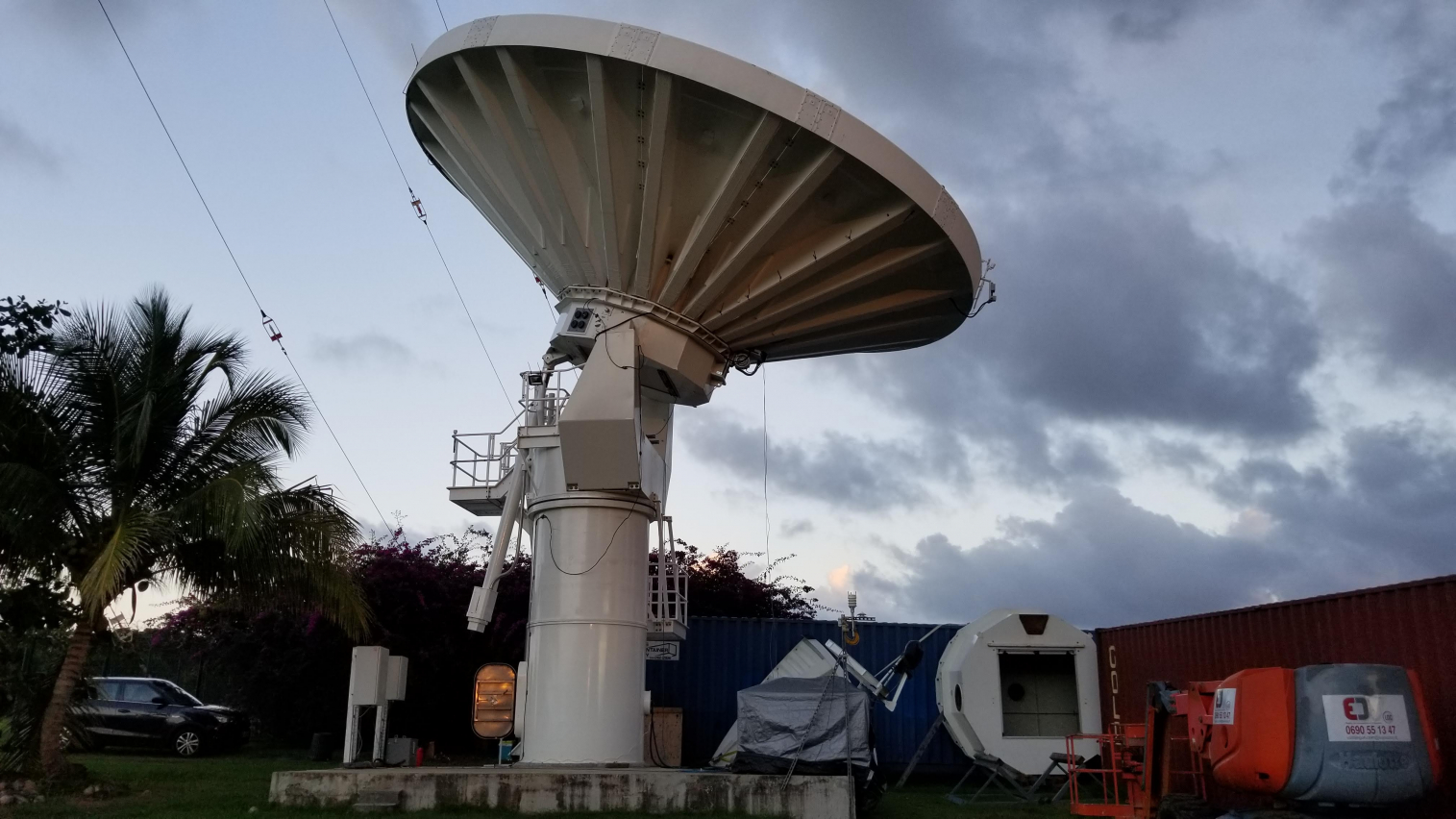 An innovative composite 6m and 10m Q/V band antenna system developed by Canadian technology company Calian Advanced Technologies has successfully demonstrated its performance capabilities after over-the-satellite testing in Guadeloupe. The project, carried out under ESA's ARTES Competitiveness and Growth programme, is another successful collaboration to emerge from the longstanding alliance between ESA and the Canadian space sector, which now spans almost five decades.
Work on the composite system started back in 2016, when Calian identified the need to develop a new antenna technology which could accommodate the demands of very high frequency systems. With experts predicting that the demand for data will exceed the capacity of the currently used radio frequency bands in the next ten years, accessing these very high frequency systems, whilst technically very challenging, is vital.  
The decision by Calian to develop ultra-strong composite carbon fibre, rather than conventional metal reflectors, resulted in a design which could offer increased stiffness and a low coefficient of thermal expansion (CTE). This in turn provided for a lower wind and gravity load distortion which performs consistently well across all frequency bands and under different attitude and environmental conditions. In addition to enhanced performance potential, the composite antennas developed by Calian are quick to install and lighter than their metal counterparts, reducing both the speed and the cost of deployment. 
Key to the project with ESA was the integration and testing of these new 6m and 10m antenna designs, initially in-factory where surface accuracy measurements were taken using laser tracker techniques. As well as the advanced carbon fibre composite reflectors, the antennas also include a precision pedestal, designed to meet both the gain and pointing requirements for geostationary satcom in the 47.2 – 52.4 GHz transmit band, and the 37.5 – 42.5 GHz receive band. 
The on-site testing and qualification took place on the Caribbean island of Guadeloupe in two phases, using the Q/V band transponder on the Eutelsat 65W satellite. This transponder has a single beam covering the island and Eutelsat was able to provide Calian with technical details of the transponder as well as access to the satellite.  
Patrick Thera, President of Calian Advanced Technologies, said "the testing that we performed in Guadeloupe with ESA and Eutelsat was critical in establishing this antenna technology as working not only from a mechanical point of view, but also from a radio frequency and system point of view. The tests we carried out there validated and verified that this antenna is very much a viable working solution to Q/V-band requirements which is essential for the industry right now."
Massimiliano Simeoni, Technical Officer on the project for ESA, said "we confidently expect that the development and demonstration of a new family of composite reflector gateway antennas operating in the Q/V-band and deployed in their operational environment will allow our industrial partner to convincingly propose their solution to the market."
Despite delays in testing for the 10m antenna as a result of the global pandemic, both antennas have now successfully completed testing and qualification. Calian is now manufacturing and selling both its 6m and 10m composite carbon fibre antennas and already has plans to roll out further aperture sizes to meet the growing demand.
Find out more about the development of the Calian composite antenna system here.