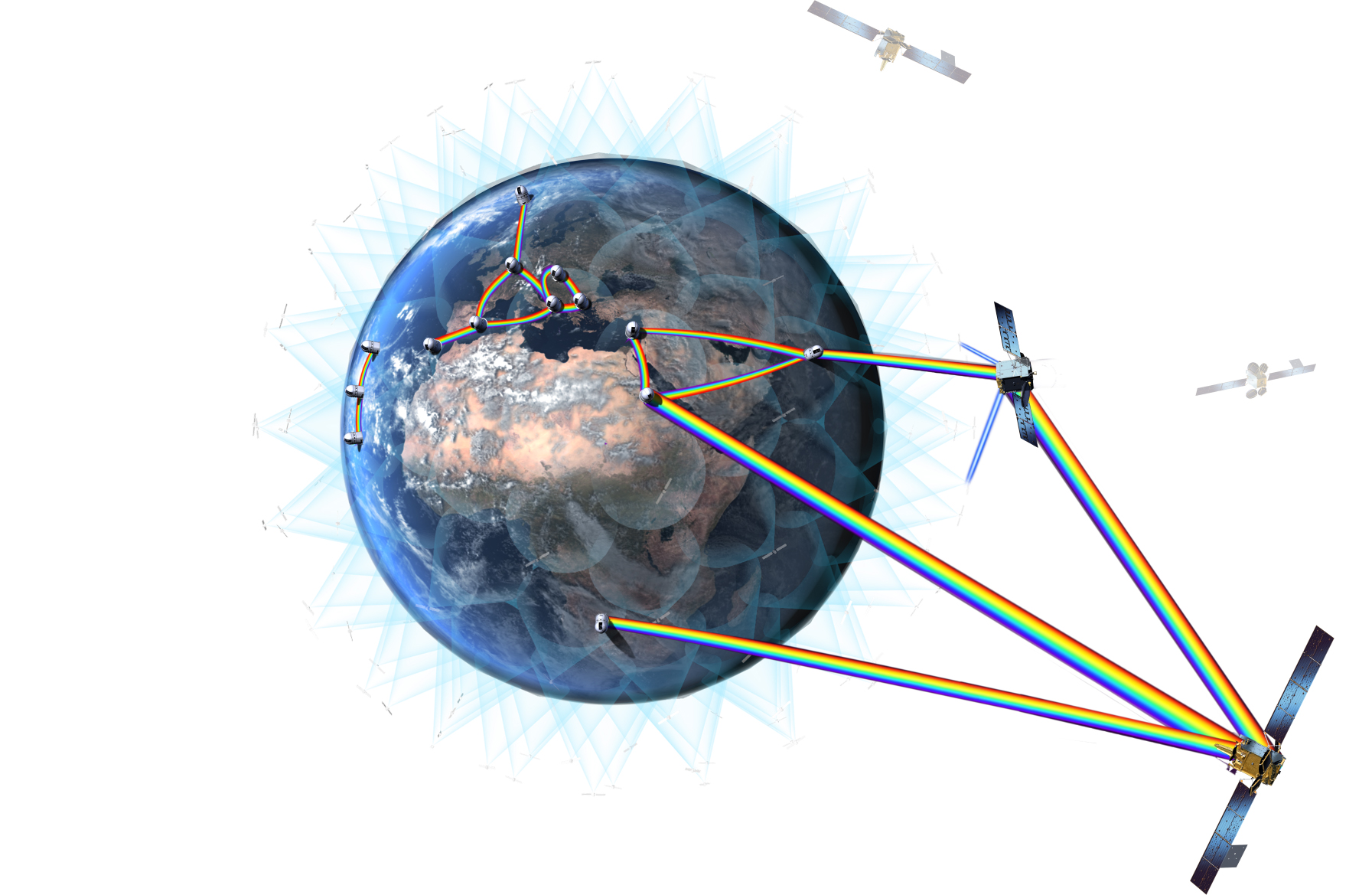 Two consortia led by Airbus Defence and Space and Thales Alenia Space respectively, recently kicked-off two projects related to HydRON (High Throughput Optical Network), both which are being funded by the European Space Agency (ESA). The parallel contracts will allow the primes and their partners to develop their own vision demonstrating the potential for laser-communication. 
The past years have seen a quick expansion of communications infrastructures fuelled by the unprecedented rise in the volume of data streams that circle the globe. This demand is also felt in the aerospace sector, where interconnection and integrative network concepts across orbits and across the globe are key to fulfil the demands of the future. 
Laser-based satellite communication has the potential to bring terrestrial network functionalities to satellite networks in order to help bridge this digital gap for a variety of applications (e.g. virtual private networks, edge computing, 5G/6G services, internet to/from space and airborne assets). This is beyond current satellite capabilities, and ESA's HydRON vision seeks to develop these for European and Canadian industries.
The vision is part of ESA's ARTES Advanced Research in Telecommunications Systems (ARTES) 4.0 Strategic Programme Line on "Optical & Quantum Communications" - ScyLight programme. It is an Optical Transport Network concept combining of extremely high throughput Optical Ground Space and Optical Inter-Satellite Links, in orbit routing capabilities and seamlessly integrates into existing terrestrial networks – the "internet beyond the cloud(s)".
The studies are funded by ESA's Telecommunications and Integrated Applications (TIA) Directorate and will elaborate the implementation of a HydRON Demonstration System. The decision to award two parallel contracts allows to leverage and unite European technical know-how and ingenuity.  
The objective of this HydRON Demonstration System is to push the development and validation of the HydRON technology integrated into terrestrial networks at terabit-per-second capacity. It will demonstrate:
the end-to-end system, including critical key technologies and a minimum viable service
networking capabilities including seamless inter-operability with high-capacity terrestrial networks
operational concept, reflecting an expandable HydRON concept
These Phase A/B1 studies will last 18 months to propose an implementation concept to demonstrate the HydRON vision, tentatively composed of two space-based laser communication payloads in LEO and GEO, interconnecting with each other, several optical ground stations and terrestrial fibre optics networks. Their completion will pave the way for a subsequent implementation phase (Phase B2/C/D/E1), subject to ESA member states decision at ESA's next Council Meeting at ministerial level in November 2022.
The consortia in detail:
Airbus Defence and Space and partners Tesat, Fraunhofer HHI, Fraunhofer FOKUS, DLR-IKN, ADVA and COLT
Thales Alenia Space and partners GMV, Telespazio, CGI, CRAT, Officina Stellare, DLR-IKN, Kepler Communications, Scuola Superiore Sant'Anna and Open Fiber