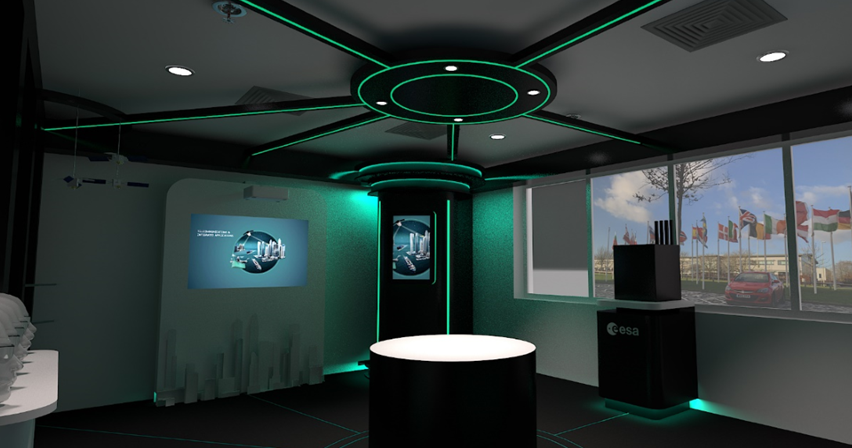 The ESA-ECSAT 5G/6G Hub – based at ESA's European Centre for Space Applications and Telecommunications (ECSAT) at the Harwell Campus in Oxfordshire, UK – is the gateway for the commercialisation of space-enabled business ideas in 5G. Developed with information technology company CGI, the centre provides a converged satellite and 5G terrestrial network. Using this 5G environment and state-of-the-art equipment, businesses from many industries will partner with ESA to test and develop innovative applications. While initially focused on 5G, as the connectivity transformation continues, a further generation, 6G, will become part of the ECSAT 5G/6G Hub.
The ESA-ECSAT 5G/6G Hub webinar is an online event bringing together industrial actors from a range of business sectors. The attendees will have the opportunity to hear from telecommunications experts on how hybrid satellite-terrestrial networks can contribute to their technology development. The webinar will highlight examples from the areas of healthcare, the energy sector, and the automotive industry. 
Experience a virtual walk-through of the ESA-ECSAT 5G/6G Hub here.
Agenda
10:00-10:05 Keynote speech by Dr Mike Short, Chief Scientific Advisor at the UK Department for International Trade (DIT)
10:05-10:15    Welcome and introduction by ESA
10:15-10:30    Presentation by CGI on the technical background
10:30-10:45    Presentation by the UK Space Agency (UKSA) and Department for Digital, Culture, Media & Sport (DCMS) on the outcome of the project
10:45-10:50    Conclusions by ESA
10:50-11:00    Q&A
How to register
The event will take place on Monday 21 February 10.00-11.00 GMT. Click here to register.
Downloads
21/02/2022 - 10:00