The Eurostar Neo Solar Array Drive Mechanism, developed within the framework of ESA's Neosat Partnership Project by Airbus Defence and Space (UK) and incorporating a new Stepper Motor Gear from Reliance Precision (UK), is now qualified and ready for orbit.
The new Airbus Defence and Space Eurostar Neo satellite product line offers one of the largest communication payload capacities on the world market today. The Solar Array Drive Mechanism enables the satellite to function, orientating the high-power Next Generation Solar Arrays and managing the transfer of power and other signals across the interface to the spacecraft. 
The Solar Array Drive Mechanism has recently completed qualification testing, a process covering all aspects of environmental, functional and performance requirements, including extensive life-test sequences. In-orbit validation is planned in 2022, on board the first Eurostar Neo mission.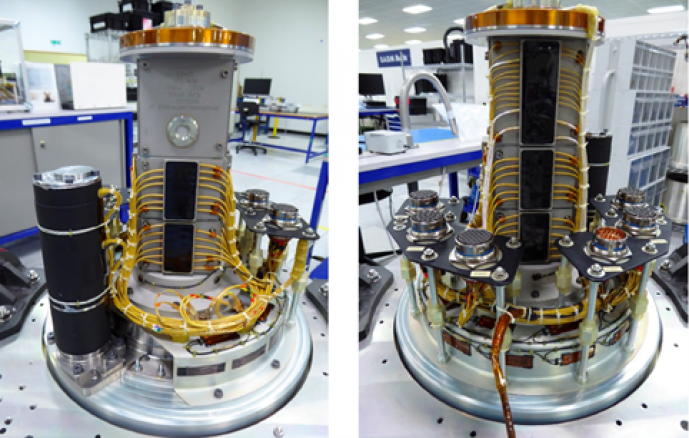 Sixteen Neosat satellites have now been ordered, demonstrating the high economic impact of the European Space Agency (ESA)'s Partnership Projects, which also foster the development of sustainable end-to-end systems up to in-orbit validation.
The objective of the Neosat Partnership Project is to develop and qualify the next generation platforms, allowing the two European satellite prime integrators, Airbus DS and Thales Alenia Space (TAS), to deliver competitive satellites for the commercial satellite market. The projects include development of the new platform product lines for both Prime contractors, Eurostar Neo for Airbus DS and Spacebus Neo for Thales Alenia Space, up to in-orbit validation.
Neosat is part of ESA's Advanced Research in Telecommunications Systems (ARTES) programme and is based on a cooperation between ESA and the French Space Agency CNES (Centre national d'études spatiales), with support from national agencies, including the UK Space Agency (UKSA).