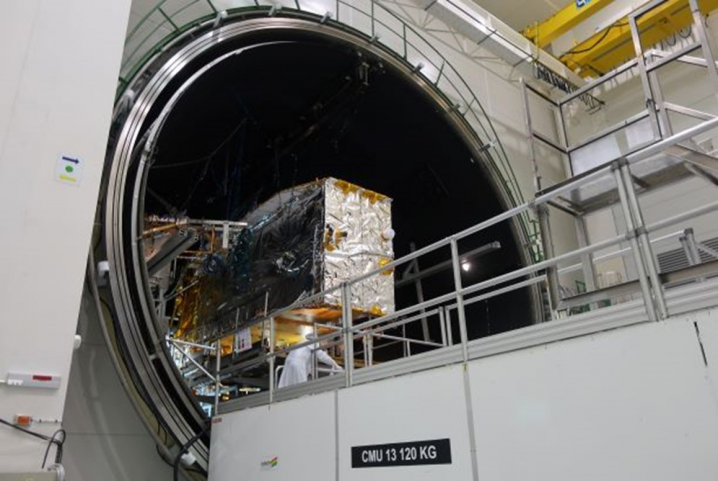 The first Eurostar Neo spacecraft, developed by Airbus Defence and Space as part of ESA's Neosat Partnership Project, has successfully completed its Thermal Vacuum Test Campaign.
The first Eurostar Neo satellite has successfully completed its thermal vacuum (TVAC) test campaign — a major milestone in the development of the satellite platform.
The test campaign was performed in the Simmer chamber at Astrolabe Toulouse, France, under the supervision of the Airbus, ESA-Cnes and Eutelsat thermal experts. With a diameter of 10 meters, the Simmer chamber offers one of the largest thermal vacuum capabilities in Europe capable of housing the Eurostar Neo spacecraft.
At this stage of the build the spacecraft is close to its final configuration with the communication module coupled to its platform enabling an exhaustive series of test to be performed covering platform avionics and payload. In addition to functional tests, performed under extreme temperature conditions (hot and cold tests), a thermal design validation has been performed to demonstrate the capability of the spacecraft to reject the mission thermal dissipation in the hottest environmental conditions, as well as to maintain its equipment within acceptable temperatures under the coldest conditions.
The objective of the Neosat Partnership Project is to develop and qualify the next generation platforms, allowing the two European satellite prime integrators, Airbus DS and Thales Alenia Space (TAS), to deliver competitive satellites for the commercial satellite market. The project include development of the new platform product lines for both Prime contractors, Eurostar Neo for Airbus DS and Spacebus Neo for Thales Alenia Space, up to in-orbit validation.
Sixteen Neosat satellites have now been ordered, demonstrating the strong economic impact of the European Space Agency (ESA)'s Partnership Projects, which also fosters the development of sustainable end-to-end systems up to in-orbit validation.
Neosat is part of ESA's Advanced Research in Telecommunications Systems (ARTES) programme and is based on cooperation between ESA and CNES, with support from national agencies, including the UK Space Agency (UKSA).