The new Airbus Defence and Space (Airbus DS) Eurostar Neo satellite product line offers one of the largest communications payload capacity on the world market. The amount of thermal dissipation created by such large communication payloads requires innovative thermal control solutions, such as the East-West-Radiator system (EWRs). The Eurostar Neo EWRs will be based on a revolutionary EHD pump developed by APR Technologies (Sweden), under the technical lead of Airbus DS, in the frame of ESA's Neosat Partnership Project.
This pump as core element of the Eurostar Neo East West Radiators is based on the electro hydrodynamic (EHD) technology mastered by APR Technologies, a Swedish SME.
For the East-West-Radiator application this pump will be placed between the heat pipe network of the communication payload module and the heat pipe network of the east or west radiator.
The pump is a patented liquid based, small sized thermal equipment, which is able to regulate the thermal conductance between its interfaces to control the thermal heat flux. Its main advantage is to operate in a wide temperature and thermal flux range. As the pump does not contain any moving parts it is vibration free. Compared to a state-of-the-art heat transport system based on Loop Heat Pipes, the operation of the APR Technologies pump is very simple and could be controlled by a standard heater circuit.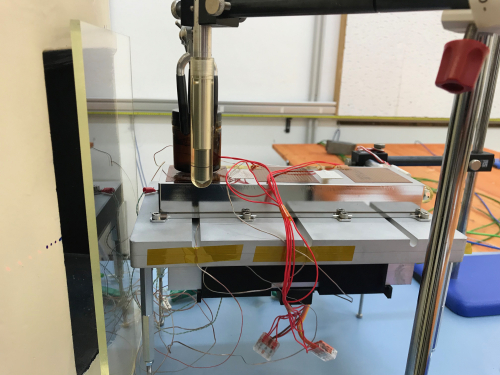 The first breadboard model showed very encouraging results in terms of performance, reliability and robustness to space radiation. APR Technologies just successfully passed the Manufacturing Readiness Review (MRR) for the second breadboard model (BBM2). This model will include many design modifications mainly to improve the manufacturability and competitiveness. The BBM2 will pave the way for the final product qualification planned in 2020.
As the performance and the simplicity of this pump is unique in the market, APR Technologies will have a product, which has the potential to be a game changer for thermal control system design of the Eurostar Neo platform.
This demonstrates the high impact of ESA's Partnership Projects. Neosat is part of ESA's Advanced Research in Telecommunications Systems (ARTES) programme and is based on a cooperation between ESA and CNES.
For more information about APR Technologies, please contact Kerstin Jonsson (kerstin.jonsson@aprtec.com)
For more information about the ESA Telecom Partnership Projects, please see here.