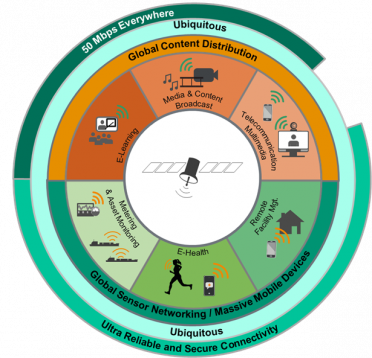 Satellite communications will play a vital role in the deployment and full realisation of fifth generation mobile networks, or 5G.
That is the conclusion presented in a whitepaper, Assessing satellite-terrestrial integration opportunities in the 5G environment, published this month, which was prepared with the support of ESA through the Future Preparations element of the ARTES programme.
Terrestrial and satellite solutions complement each other, write the authors of the paper, Marius Corici (Fraunhofer-FOKUS),  Adam Kapovits (Eurescom), Stefan Covaci (Technical University of Berlin), Alexander Geurtz (SES), Ilie-Daniel Gheorghe-Pop (Fraunhofer-FOKUS), Björn Riemer (Fraunhofer-FOKUS),  and Andreas Weber (Fraunhofer-FOKUS). New developments in the satellite communications ecosystem have overcome previous limitations. As a result, satcoms has narrowed the gap with terrestrial counterparts, resulting in very competitive solutions.
One such development is the introduction of very High Throughput Satellites (HTS), which are significantly bringing down communications costs. Another is the new generation of low-orbit constellations that dramatically reduce latency in satellite communications. In highlighting some of the challenges faced, the authors stress the need for fast-track standardisation of the necessary interfaces to permit unified management and operation of hybrid terrestrial-satellite 5G networks.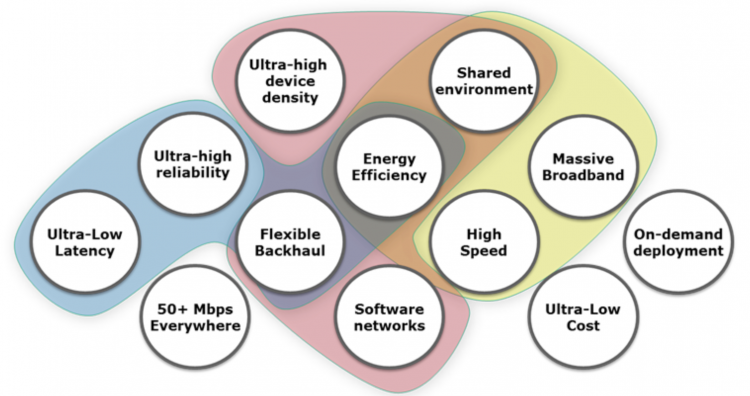 "This whitepaper is not the only ARTES activity related to 5G," observes Maria Guta, ESA Technical Officer for the 5G study. "ARTES is supporting various 5G-related projects involving our traditional satcoms partners in which we are happy to also count terrestrial players amongst project participants."
These activities include studies on integrated SDN/NVF enabled system architectures to enable efficient delivery of Machine to Machine/Internet of Things and future 5G services, such as media and entertainment. In addition, a number of test bed development activities will support the validation and live experimentation with these new technologies. ESA is also taking further steps to assess the impact of new space industry developments, such as megaconstellations, in the context of 5G.
The whitepaper can be downloaded below.