ESA has partnered with two new companies through the ARTES Core Competitiveness programme, which helps industry to deliver innovation in satellite communications.
Like all small and medium-sized enterprises (SMEs) attracted to the ARTES Core Competitiveness (CC) programme, new entrants Methera (UK) and Sofant Technologies (UK) will benefit from ESA's funding, expertise, business knowledge and networks to commercialise their developments. Both companies sought ESA's support to advance satellite user terminal technology and have been awarded two different co-funded contracts under the ARTES Competitiveness and Growth (C&G) programme element and with the support of UK Space Agency. While their specific approaches differ, the companies share a desire to make satellite communications more accessible, by reducing its cost and complexity.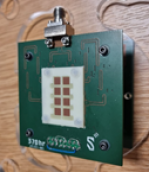 Overcoming satellite communications challenges
The team at Methera is striving to help populations across the globe to access affordable and high-speed broadband connectivity. With investment and support from ARTES CC, they will work with satellite communications industry partners to develop a family of low-cost satellite user terminals to support their own constellation of medium Earth orbit satellites, as well as other satellite systems. 
Chris McIntosh, CEO of Methera, said: "The support from ESA is a firm endorsement of our business strategy. This support will accelerate implementation of the Methera Broadband Service and directly increase the utility of satellite broadband connectivity."

Fellow UK-based SME, Sofant Technologies, also operates in the domain of user terminals, having developed low-power phased array antenna technology for satellite and 5G communications. By joining the ARTES CC programme, the company will be supported to complete the commercialisation of their unique RF MEMS (radio frequency microelectromechanical systems) technology. Their patented RF MEMS platform reduces power consumption by more than 70% and eliminates the need for expensive cooling systems. This means it could help to address some of the key challenges faced by operators as they deploy high frequency wireless network infrastructure.
David Wither, CEO of Sofant Technologies, said: "We are honoured and extremely pleased that ESA have agreed to support the development of Sofant's technology. They have a clear understanding of the technical challenges faced by the satellite communications industry as it seeks to exploit the promise of a new generation of satellite networks. We look forward to working with the team at ESA throughout this project!"