When it is launched in late April, a new satellite operated by the Norwegian Space Centre (NSC) will include a payload that will improve the identification and tracking of ships anywhere on the seas.
Today's maritime traffic is controlled via radio links, which is limited to coastal areas – and even near to shore there can still be gaps in coverage. Satellites overcome this problem. The ship's identity and position contained in AIS messages are picked up by low-orbit satellites then sent to ground stations for processing and distribution.
The Norwegian satellite, NORSAT-1, will be carrying two Novel SAT-AIS (NAIS) receivers developed by Kongsberg Seatex AS with the support of ESA under the ARTES programme. The new units were developed using commercial off-the-shelf components, efficient qualification schemes, and advanced technological solutions. The approach has been applied without compromising performance or functionality.
Handover of the recently-shipped NAIS units was marked on two occasions, the first after ESA's Joint Communications Board meeting on 16 September 2015 and the second on 17 December 2015 at ESA HQ with ESA, NSC and KONGSBERG executives present.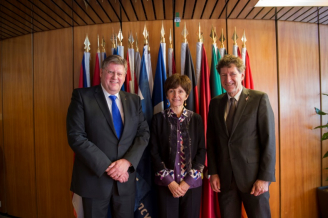 "With our closeness to the Arctic and vast areas to monitor, satellite-based observation is increasingly important for Norway," says Bo Andersen, Director General of the Norwegian Space Centre. "We are therefore deploying a range of dedicated small satellites to provide us with additional information for this purpose. Besides these challenges it is also impressive to see the enthusiasm and interest from the Norwegian space industry to provide solutions for these missions."
"The NORSAT-1 AIS receivers are a direct response to the increased focus on cost/benefit in today's space programmes." says Magali Vaissiere, ESA's Director of Telecommunications and Integrated Applications. "It's a great example of how ESA can support the fundamental change now taking place in how satellite equipment is manufactured in an efficient and timely way."
"We are honoured to have the opportunity to provide the AIS payload for NORSAT-1", says Gard Ueland, President of Kongsberg Seatex. "The cutting edge technology employed enables a future-proof solution and best-in-class performance. I think we will see a wide range of missions in the coming years benefiting from this payload solution."