A satellite communications antenna which fits snugly into the wing of a UAV or 'Remotely Piloted Aircraft' (RPA) for use in long-range missions has now 'got its wings' – giving the green light for a variety of civilian applications across the globe. UK-based Barnard Microsystems Limited (BML) who make mid-sized RPAs or 'drones', innovated under the ARTES Competitiveness & Growth programme to develop and produce the antennas. The product is likely to revolutionise the field of oil, gas and mineral geophysical survey work; as well as having applications in land and maritime border patrols.
It was once famously remarked that drones are used for missions which are too 'dull, dirty or dangerous' for human pilots (Roger Connor, curator of the National Air and Space Museum in Washington). But reliable communication between the RPA and the controller remains a prerequisite for successful UAV missions.
Indeed in long-range missions to remote areas where there is minimal or no reliable communications infrastructure and where a drone spends most of its time operating Beyond Line Of Sight (BLOS), a legally mandated link between the Remote Pilot Station and the RPA must be maintained using a satellite data relay service.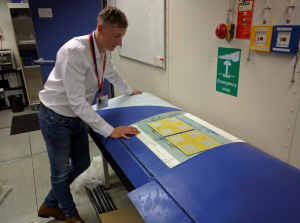 Until now, the antennas suitable for operating on RPA's have been either mechanically-steered helical antenna which are not very reliable when operating BLOS; or blade (shark fin) types of omnidirectional antenna, which have the distinct disadvantage of creating interference with other antennas on the RPA.
In project ESTARR, co-funded by ARTES Competitiveness & Growth programme, BML and the ARTES team collaborated todemonstrate the feasibility of the 'flat panel' or electronically-steered antenna array embedded in the wings of BML's 'InView' drone UAV, which mitigates the problems of previous antenna solutions.
The novel antenna reduces aerodynamic drag and increases reliability in comparison to traditional satcom antenna as well as reducing the cost for use in commercial applications.
Fabrizio de Paolis, ESA Technical Officer explains: "ESTARR provides a satellite-enabled link between the RPA and the Remote Pilot Station, through a reliable and affordable flat panel antenna." He adds: "Its arrival is a game-changer for fields such as the monitoring of critical infrastructure including roads, railways, power lines and oil pipelines, particularly in developing countries. For example if there is an incident, or the need to stem a leak or put out a fire in a pipeline, timely action can be taken to reduce losses or pollution to the surrounding environment".
ESTARR also supports a vertically integrated managed service, which enables the drone to take off from a rooftop or clearing – removing the need for a runway – which is also very attractive. "This is a huge advantage", says Joe Barnard Managing Director of Barnard Microsystems who oversaw the production process from BML's London-based premises. "The design is also aerodynamic and elegant, it can function in all weather as well as carry more payload – such as night vision cameras".
Barnard confirmed that the ESA support at an early stage in the product development made the difference that enabled BML to exploit this technology in the form of a multi-million dollar export order in the face of stiff international competition:
"I want to acknowledge and emphasise the importance of the excellent technical support we received from our Technical Officer, Fabrizio de Paolis, and the Antenna Testing Team at ESTEC who set-up an impressive test campaign of the ESTARR antenna directly on the drone. ESA also created productive networking opportunities, that combined with the necessary financial support, enabled us to develop a world-leading product; the evidence of which is in the large export order we received.

"In fact, we have been so busy as a consequence of the ESTARR Project that we have had no time to construct a follow-on proposal to ESA. Joe Barnard, Barnard Microsystems Ltd.
Barnard also believes project ESTARR is responsible for the growth of BML from a micro-SME to a mid-sized UAV manufacturing company that he believes has exported more mid-sized UAVs than any other UK company.
"We are very likely to receive more export orders, even in the current tough business climate. As a direct result of ESTARR, BML will be recruiting more staff to contribute to the expanding manufacture of Panchito UAVs, and to ongoing BML UAV systems Research and Development activities," he says.