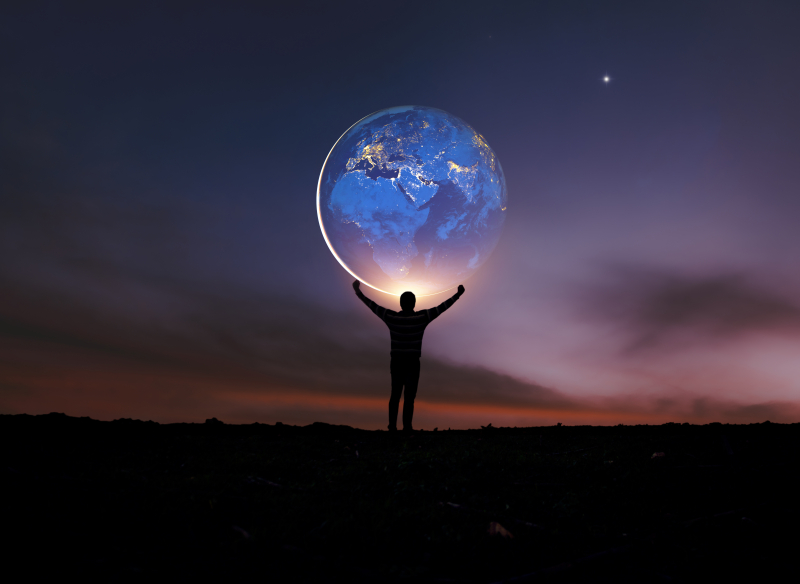 ​ANNOUNCEMENT OF OPPORTUNITY
Following the lead from the Financial Services industries, enterprises and corporations in all economy verticals are adopting Environmental, Social, and corporate Governance (ESG) Frameworks. This is the result of the confluence of several trends, amongst others, transparency and environmental responsibility demands, shifts from economic to socio-economic returns on investment, digitalisation, and new regulations.
Assets under ESG management are expected to reach $53 trillion by 2025 with Europe representing nearly half of them. Despite the size of this market, ESG monitoring and reporting practices rely heavily on fragmented, sketchy or unreliable data, including space data, often collected, analysed, and reported by the same organisations estimating the market value. 
Data analysis and observation remains important to understand and report status to all parties involved when appropriately structured, however even more is needed to act promptly. Such is the opportunity for space connectivity (space telecommunications) to enable action beyond information gathering: 
Precision and/or frequency of data collection necessitate hybrid approaches: mixing remote sensing, on-the-ground sensors, fast processing, modelling and real-time availability.
Data veracity and curation: prevent manipulation, require verification mechanisms such as general ledger technologies, assessing usability and fixing missing data.
Action-on-decision: actuation on networks and their edges while taking advantage of bi-directional Internet of Things (IoT) devices.
SCOPE 

The Thematic Call, in line with ESA's vision to accelerate the use of space and the Director General's Agenda 2025, targets space projects enabling "action beyond observation" within the vast ESG market described above where space technologies, specifically satellite telecommunications and 5G technologies, are key enablers.
The long-term objective will be for those projects to evolve into fully fledged operational infrastructure providing commercial services for the benefit of the space industry and the ESG economic players involved. 
WHAT ARE WE LOOKING FOR?
The call offers the opportunity to companies to bring forward their space connectivity projects aiming to solve "action beyond information" ESG-related challenges. Below we describe the expected stages such projects should follow:
To reach there, proposed projects are expected to follow the stages below:
Find viable ESG-related cases where space telecommunications and 5G technologies play a relevant role
Define architectural concepts associated with the identified case and the implementation roadmap
Design with partners the operational and business model for full scale implementation
Develop proofs of concept to gain ESG community backing as well as initial revenue to support larger scale implementation.
Progress development into infrastructure suitable for operations, where most of the funding comes from commercial sources; ESA's role will primarily focus on supporting specific key space developments where necessary
However, if a project idea is already validated, it can start at a later stage.
About ESA's "Space for 5G and 6G" Strategic programme
This call belongs to the frame of ESA's "Space for 5G and 6G" strategic programme line. This programme line is about promoting, developing and validating converged hybrid networks to support the digitalization of industry and society, in a world where satellite is fully integrated in the connectivity networks. The main objectives of the programme are:
Achieve full integration of satellite with terrestrial 5G networks.
Engage verticals in 5G (satellite and terrestrial) pilots
Drive standardisation activities to ensure full inclusion of satellite in 5G standards.
ESA Procurement Information: 
The Thematic Call is open from March 2022 for a period of 12 months. Pitches can be submitted within two batches (windows of time): 
The first batch lasting from 10 March 2022 to July 2022 (October is the deadline for the dialogue with the companies)
The second batch lasting from October 2022 to 28 February 2023
The timeline is illustrated below.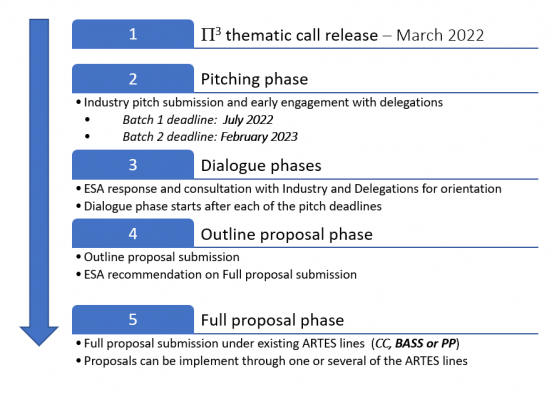 Webinar
Webinar 1
11:00 CEST, 23 March 2022
Webinar 2
Webinar 3
15:00 CEST, 19 October 2022