Under ESA's Competitiveness & Growth programme, Airbus (Ottobrunn, D) is qualifying a new family of hybrid solar arrays that is capable to deliver approximately 50% more power in the same volume and with the same weight as previous generations. This new subsystem will be a key asset of the new Eurostar Neo platform, developed within ESA's Partnership Projects.
Through both of these programmes, ESA Telecoms demonstrates its ability to improve competitiveness of key European space suppliers while at the same time, federating industry around large projects, with in orbit demonstration.
In order to fully answer operators' needs and requirements, for increased power and lower cost missions, this hybrid solar array concept combines a conventional in line deployable solar array as a backbone with lightweight lateral semi-rigid panels. In stowed configuration the lateral panels are folded to the back of the in-line deploying panels and are clamped between the rigid backbone panels.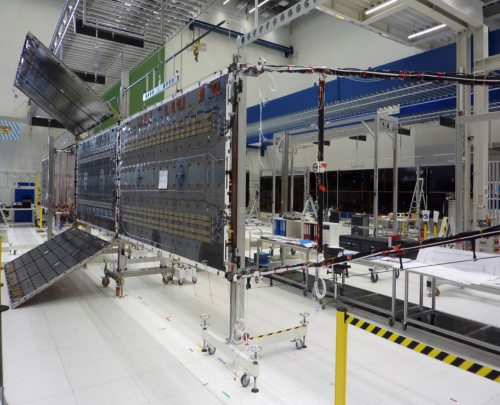 The qualification test campaign of the new hybrid solar array will end in December 2020. The performance of this new hybrid solar array will be demonstrated in-orbit with the first Eurostar Neo satellite scheduled for launch in 2021. The solar generator wings are being assembled in Airbus facilities in Ottobrunn, and are to be delivered to Airbus Toulouse before end of 2020.
Eurostar Neo is developed under ESA's Neosat Partnership Projects. The projects include development and in-orbit validation of the new platform product lines for both Prime contractors, Eurostar Neo for Airbus and Spacebus Neo for Thales Alenia Space.