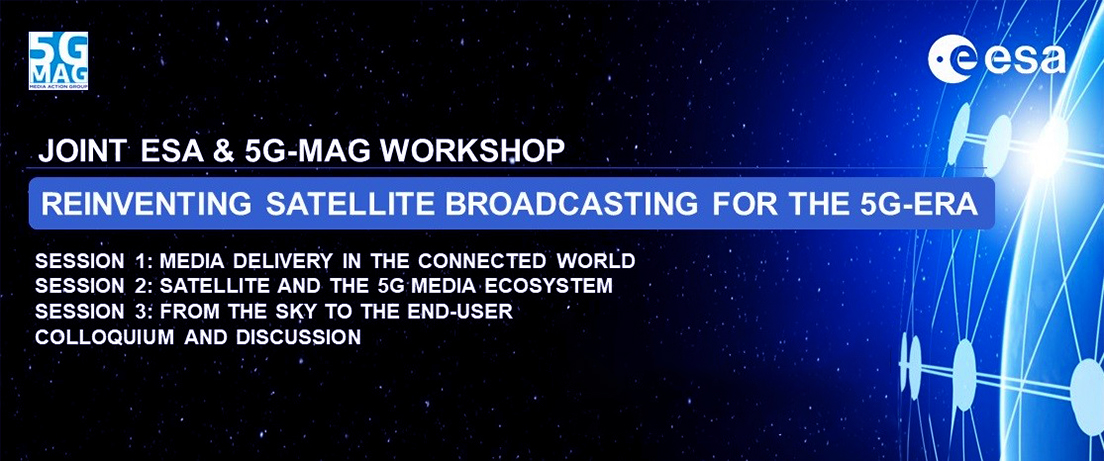 "The era of innovation in 5G/6G has started and the stars are aligned with satellite…"
Jointly organised by ESA and the 5G Media Action Group (5G-MAG), an interactive online workshop took place on 1st December, opening the door to some exciting collaborations.
Over 181 people joined the online workshop on "reinventing satellite broadcasting for the 5G-era", which included representatives from ESA, member state delegations, 5G-MAG members, and industry. The event fostered the discussion between satellite, terrestrial infrastructure and service providers, media, and other vertical representatives, to address the requirements and potential solutions for evolved media distribution, 5G satellite systems and service delivery chains. 
Maria Guta, Strategic Programme Line 5G&6G, 5G SatCom Architect at ESA stated: "Collaboration with 5G-MAG introduces a paradigm shift in ESA engagement for developments, based on co-creation and co-innovation for 5G Satcom systems together with media industry and several other market verticals; media being an important component of 5G services".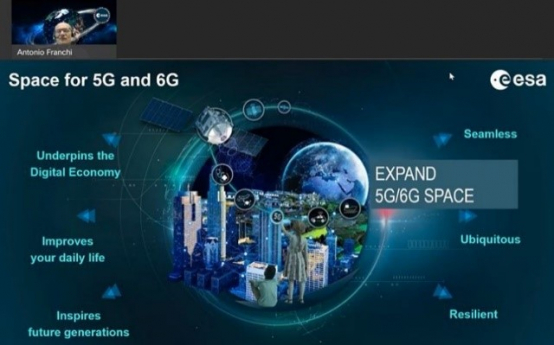 Antonio Franchi, Head of the 5G&6G Strategic Programme, declared: "ESA is extremely pleased to enable continuous investment in the development of highly innovative 5G satellite solutions and services and committed to support the European satellite telecommunications industry in pioneering technologies for media solutions in the 5G and 6G era."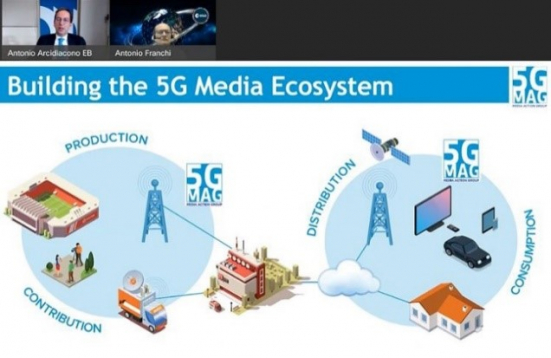 Antonio Arcidiacono, 5G-MAG Chair and Director of Technology and Innovation at the European Broadcasting Union (EBU) said: "The development of satellite broadcasting technologies has been one of the largest scale successes in the last 30 years. The deployment of 5G technologies represent, today, a unique opportunity to rejuvenate broadcast-based technologies. By combining satellite and terrestrial delivery infrastructures, using Broadcast and Multicast with local and intelligent storage capabilities, we can build a resilient, reliable and sustainable infrastructure to deliver essential services to 100% of the population and on 100% of the territories, using laws of physics where they work best. The 5G-MAG (www.5G-mag.com) is the natural forum where the Satellite and Media industry can build together this new multilayer ecosystem."
Antonio Franchi and Antonio Arcidiacono opened the workshop, which was organised around three keynotes: 
Future Trends in Media Distribution and the Role of Satellites by Matteo Ainardi (Arthur D. Little) with 'take floor' interventions by Bram Tullemans (EBU), Samy Nicolas Bouchalat (Globecast), C.Hufnagel/R. Beutler (SWR), Thijs Feryn (Varnish)
Collaboration Opportunities with 5G Media Streaming by Thomas Stockhammer (Qualcomm) with 'take floor' interventions by Nicolas Chuberre (Thales), Jean-Pierre Choffray (SES), Cristiano Benzi (Eutelsat), Aviv Ronai (Novelsat)
Non-Terrestrial Networks (NTN) - from Technology Radar into the Car by Oliver Wick (BMW Group) with 'take floor' interventions by Helmut Zaglauer (Airbus GmbH), Zoran Spasojevic (VirginmediaO2), Thierry Abraham (Satixfy), H. Massart/S.Hassanaly (ST Engineering)
"Stars are aligned for the digital storm to come!"
Key highlights from the workshop:
 
Future Trends in Media Distribution and the Role of Satellites 
While video represents already 80% of data network traffic, and internet is already jammed, satellites enable flexible capacity supply with ubiquitous coverage, cost effectiveness to reach large audiences and control of quality of service (QoS). Key challenges of satellite media distribution concentrate on the development and retention of large viewership content, delivery of non-linear and interactive content, reach of devices beyond the traditional screen; while low hanging fruits point to distribution of 4K and 8K content, immersive experiences, content distribution to vehicles, cloud gaming and distribution to CDNs (content delivery networks)/edge servers represent the new frontier of IP-based satellite delivery integrated in a multilayer network infrastructure.
Collaboration Opportunities with 5G Media Streaming
An era of unpreceded innovation has started with the combination of satellite innovative systems and 5G technology enablers such as slicing, edge computing, smart caching and use of artificial intelligence for system, network, and service orchestration. 
5G Media Streaming is being developed in the 3rd Generation Partnership Project (3GPP) as the baseline architecture for media content distribution supporting different collaboration scenarios among stakeholders, the distribution of new media formats and the advanced use of network functionalities. The key to build the ecosystem and enable collaborative design of innovative satellite networks, are flexible satellite systems, smart edge nodes and user equipment in support of all stakeholders and verticals such as media, automotive and others. Additional efforts are needed to build the ecosystem, such as reference implementations, proof-of-concepts, to permit continuous co-experimentation and faster co-developments and co-deployments. 
Non-Terrestrial Networks (NTN) – from Technology Radar into the Car 
Non-Terrestrial Networks (a.k.a. satellite networks) are already part of the 3GPP (Release 17 and above) and refuel the satellite market with new opportunities for collaborative services delivery complementing terrestrial networks. The satellite industry addresses right to the point questions on how to integrate broadcast/broadband, migrate to 3GPP-enabled systems, how combination of GEO (geostationary orbit) and NGSO (non-geostationary orbit) constellations can support sustainable content delivery, what other connectivity scenarios and vertical use cases can effectively be addressed and optimised, how regenerative satellite payloads enable to fully benefit from the strength of satellites in the 5G era, which/how combinations of 3GPP eMBB (enhanced Mobile BroadBand), NB-IoT (NarrowBand Internet of Things), NR-NTN (New Radio Non-Terrestrial Network), NR-RED (New Radio Reduced capability device) technologies can jointly optimise new satellite services for the automotive sector such as connected cars, how to optimise satellite antennas for low-cost and performance optimised fixed/mobile reception modes.
  
The ESA & 5G-MAG teams would like to thank all the attendees for the success of this interactive workshop.
Further information about the event can be found here.
                
"Be patient and persistent, stay tuned!"
About Strategic Programme Line 5G&6G
5G and 6G are the next two generations of cellular connectivity and the next big leap forward for terrestrial and satellite telecommunications. As part of the ARTES (Advanced Research in Telecommunications Systems) 4.0 programmatic framework, Space for 5G & 6G is one of the Strategic Programme Lines (SPLs), which seeks to address the needs from the market to support the digitalisation of businesses and society. It enables SatCom stakeholders to integrate space in 5G and to fulfil the 5G&6G promises to deliver connectivity and services to everyone, anytime, anywhere. Media represent one of the most important industrial sectors akin to the use of satellites for the delivery of their services. SatCom upstream and downstream industry derives high percentage of their revenues from media services and partnerships with relevant stakeholders.