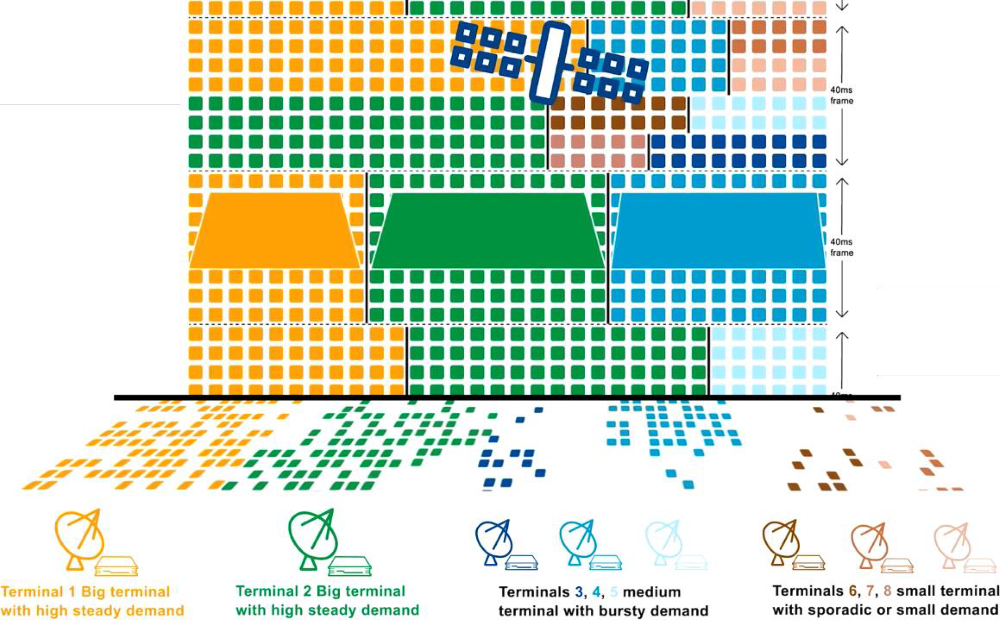 Satellite modems using a novel satellite return link access technology developed with the support of the ESA ARTES Core Competitiveness (CC) programme are proving a cost-effective solution for SOHO (small office/home office) and consumer customers. ST Engineering iDirect's Dialog ground segment system further improves on the successful introduction of Mx-DMA in 2014, which was already a milestone for the market. With added dimensions and scalability, customers can now deliver a broader range of service levels at lower cost structure, without compromising performance. 
The varied satellite traffic requirements of different users has long presented a challenge for service providers and for the development of terminals and applications to suit users' differing needs. Some, such as high-speed IP backbones, trunking and maritime, need very high data rate return links, which are usually provided through single channel per carrier (SCPC). Other applications have bursty (inconsistent) traffic patterns that are better solved using multifrequency time division multiple access (MF-TDMA) to enable operators to share bandwidth – this typically includes consumer and SME (small and medium-sized enterprises) internet access.
ST Engineering IDirect's patented Multiple Dimension Division Multiple Access – Multi Resolution Coding (Mx-DMA MRC), developed within its Dialog VSAT system, addresses these varied requirements through a waveform that incorporates the scalability of MF-TDMA with the efficiency of SCPC. The result is a proprietary return technology that can support a wide range of fixed and mobile applications, enabling multiple use cases to efficiently share satellite capacity. 
Mx-DMA MRC orchestrates the allocation of available capacity automatically, adjusting the frequency plan, symbol rate, modulation, coding and power in real time for every terminal in the network. This alleviates the downsides of predefined carrier planning, such as congestion and inefficient bandwidth utilisation. 
Within the ARTES CC MRC-SAT project, the firmware and software for the company's Dialog modems were enhanced to support Mx-DMA MRC. In addition, MRC-SAT also designed a new broadband terminal modem, the MDM2010, combined with a new outdoor Ka-band unit, the iLNB3210 – the latter developed in cooperation with Global Skyware.
"Using Mx-DMA MRC, the Dialog platform allows terminals to effectively switch from one return technology to another, providing network operators with a flexible option to support diverse user applications, respond to new market opportunities and fit service level agreements to match customers' needs," says ESA Technical Officer, Ilias Panagiotopoulos. "Among the benefits are bandwidth savings, higher throughout, better network availability and lower operational expenditure ". 
Sean Yarborough, Vice-President of Product Management, ST Engineering iDirect says: "Through Mx-DMA MRC, customers can experience SCPC-like performance at very high throughput. For example, if you are uploading a picture to Facebook, this won't result in a big impact on the capacity requirement because MRC's agility means that a wide carrier would only be assigned when needed and can then shift back to smaller, more agile carriers."
 
"This collaboration with ARTES and the introduction of Mx-DMA MRC answers the market's call for unprecedented service agility and extends the availability of Mx-DMA to very large networks, expanding the applicability and use of the technology to include a full spectrum of use cases," he adds.