ESA is actively working to accelerate the use of space within the automotive sector, celebrating the signing of Memoranda of Understanding (MoUs) with the 5G Automotive Association (5GAA) and BMW Group.
Signed on 15 November 2022 in Bremen, Germany, during the Space Tech Expo Europe event,ESA's Technology and Integrated Applications (TIA) Directorate and the 5GAA have forged a technological research partnership to support future space-based ubiquitous connected mobility solutions.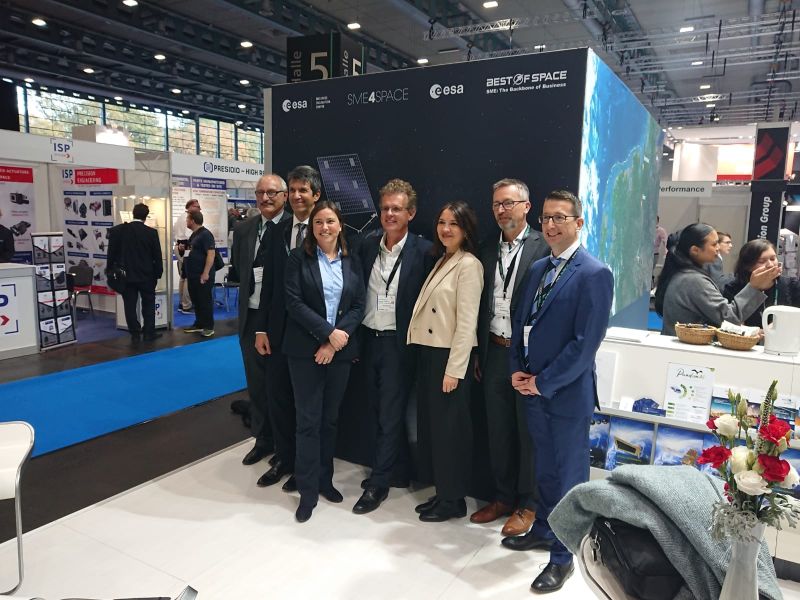 The 5GAA is a global, cross-industry organisation of companies from the automotive, technology, and telecommunications industries with over 130 companies working together to develop end-to-end solutions for future mobility and transportation services. Key players include automotive manufacturers, tier-1 suppliers and infrastructure vendors, as well as chipset / communication providers and mobile network operators.
Speaking of the relationship with ESA in his dedicated video testimonial, Johannes Springer, Director General of the 5GAA, said that what customers are expecting from a vehicle is that they remain connected.
"We are working hard to improve the situation for the car industry in terms of bandwidth, in terms of latency, and in terms of cost," he said. "Therefore, for us it is important to find ways to integrate satellite communication into our already existing connectivity patterns."
Mr Springer goes on to say that "ESA should play a very important role in providing a European answer toward the engagements and investments we need to take in Europe".
This collaboration brings together the innovation of the automotive, telecommunication and space sectors to introduce next-generation space-enabled elements within connected mobility and automated vehicle solutions for a greener and digital future.
In May 2022, ESA and the BMW Group also signed a MoU with a view to share knowledge and ideas, create awareness, and promote opportunities for collaboration on hybrid, seamlessly integrated connectivity. Together, ESA and BMW will jointly explore how space-based services and products can be leveraged to serve the automotive market for the future of mobility, bringing together innovative and disruptive European solutions.
More information on ESA's partnering and collaboration opportunities can be found on the Automotive section of the TIA website, where you can also download the ESA Automotive White Paper.