4 April 2019, Bucharest (Romania)
On 4th April 2019, in response to growing challenges and opportunities in the safety and security realm, ESA and the Romanian Space Agency are jointly hosting a workshop in Bucharest dedicated to ESA's evolving programme for Secure Satcom for Safety and Security ("4S"). The event builds on a dedicated Announcement of Industrial Opportunity (AO), through which ESA aims to reflect and support European industrial efforts and EU initiatives, in order to prepare consolidated proposals on 4S for ESA Space19+ (the ESA Conference at Ministerial level due to be held in Seville this coming November).
Attendance at the workshop is predicated upon submitting a Notice of Intent based on the template contained in the AO, via the dedicated email address: ARTES-4S@esa.int
At the workshop, partners who have submitted a Notice of Intent will receive additional information regarding the 4S initiative, including the expected scope of Outline Proposals. ESA Member State representatives and EU observers are among the invitees at the workshop, whose agenda will cover the following:
08:30-09:00                Registration
09:00-09:15                Introduction by ROSA and ESA
09:15-09:35                ARTES 4.0 and 4S (ESA)
09:35-09:45                EDA GOVSATCOM Demonstrations (EDA)
09:45-10:00                Romanian Institutional satcom mission (TBC)
10:00-10:10                4S Socio Economic Impact (Euroconsult)
10:10:10:40                COFFEE BREAK
10:40-11:30                Lessons-learned and evolution of existing Projects towards 4S
IRIS (INM)
EDRS-Global (ADS)
GOVSATCOM-Precursor (SES; ADS, INM)
11:30-13:00                4S SPACE19+ Institutional and Market Opportunities
SAGA Institutional QKD mission (ESA)
4S Industrial Priorities (3min pitch per industrial partner)
4S ESA System, Technology and Business Applications Topics (ESA)
13:00-13:15                Road to SPACE19+
13:15-13:30                WRAP-UP
14:30-18:00                ESA-Industry face-to-face meetings/ Industry-Industry meetings/ Industry-delegations meetings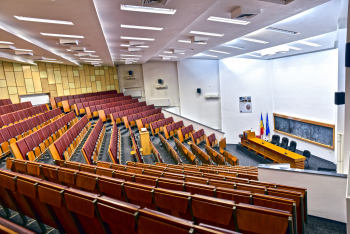 The extended deadline for industry to submit a Notice of Intent to ESA is 22nd March 2019. Following the workshop, the deadline for submitting Outline Proposals will be 10th May.
Please note that reservations in nearby Bucharest hotels are being held until the following dates, after which participants must make their own arrangements:  
Hilton - until 21st of March
Golden Tulip Victoria - until 25th of March 
MOXA  - until 25th of March 
Hotel details will be sent to those who submit a Notice of Intent.
Click here to watch the ESA 4S video
Notifications of Intent should be 3-5 pages long, be signed at CTO/CEO level and indicate a firm intention to submit one or more Outline Proposals. Attendance at the workshop will be restricted to participants identified in the notification.
Annex C of the AO provides a mandatory template for submissions but in summary they should include the following in outline or indicative form:
Intended scope of the proposed 4S activities;
Description of innovative elements;
Nature of activities within the development life cycle;
Indication of any value-add resulting from activities that cover more than one activity area of the life cycle.
The workshop is being held at I.N.C.A.S.- National Institute for Aerospace Research 'Elie Carafoli' in Bucharest, with the support of the Romanian Space Agency ROSA. This is taking place during the period in which Romania holds the presidency of the Council of the EU.

04/04/2019 - 08:30