Pacis 3 is a Partnership Project (PP) involving satellite operator Hisdesat and the European Space Agency (ESA), with support from Spain's Centre for the Development of Industrial Technology (CDTI). 
ESA Telecom's PPs develops new sustainable end-to-end systems, up to in-orbit validation. 
The Pacis 3 project objectives are the development and integration of the reconfigurable transmit and receive X-band active antennas for secure communications, and the deployable pallet with six individually steerable Ka-band antennas. 
These antennas are developed under the leadership of Airbus Defence and Space, Spain, as industrial prime, together with a group of Spanish space industries (SENER, INDRA, IBERESPACIO, Airbus CRISA, TECNOBIT, GMV).
"The X-band active antennas are the most challenging active antennas that have ever been developed in Europe, positioning Hisdesat and the Spanish space industry at the edge of the space technology in active antennas meaning higher competitiveness in the global market," said Miguel Ángel García Primo, Hisdesat's CEO.
Pacis 3 is part of Hisdesat's much larger overall SpainSat NG programme that comprises two new generation satellites based on Airbus' new Eurostar Neo product line. Both satellites are to be launched in 2024 and 2025 respectively, to be used for secure communications. 
The Pacis 3 project will also demonstrate in-orbit innovative pooling and sharing services, in support of ESA's Govsatcom Precursor activities.
Flight Hardware integration Underway
The Pacis-3 Critical Design Review (CDR) was achieved in 2021, two years after contract signature. Both the Ka-Band and X-Band qualification and validation activities are now nearing completion:
Ka-Band: The Mechanical Reflector Assembly (MRA), composed of a reflector and the pointing mechanism, has recently  completed its qualification campaign. The pallet assembly and feed-chain clusters will subsequently be delta qualified at satellite and Ka-Band payload level.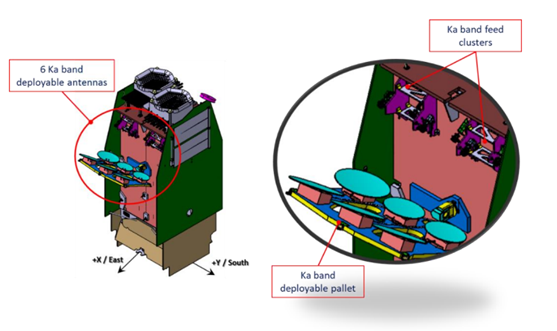 X-Band: For the innovative reconfigurable and geo-locating "Direct Radiating Antenna" (DRA), validation and risk reduction testing on flight representative hardware has been performed. This has been based principally on the Design Validation Model (DVM) and Thermal Model (TM).

In parallel, Flight hardware manufacture and integration in ADS Madrid is now underway for all sub-systems of the Ka-Band and X-Band payloads:
Ka-Band: PFM pallet assembly with 6 steerable MRAs and feed cluster assemblies are presently in the manufacturing phase with delivery for satellite integration and testing beginning in 2023.
X-Band: All flight elements are being delivered on a batch basis by the industry sub-contractors allowing the incremental assembly of the transmit and receive X-Band PFM DRAs. Transmit and receive X-band DRAs delivery for satellite integration and testing is planned by mid-2023. 
Further information
The following innovative technologies are worthy of special attention in regards to Pacis 3:
Ka-Band: The Sener reflector pointing mechanism achieves high precision orientation of each antenna, combining the rotational motion of two actuators in a spherical mechanism of minimum size. The This innovative mechanism removes the need for any Hold-down and Release Mechanism (HRM).
X-Band: The Sener Dual Solid State Power Amplifier (DSSPA) is built around a High-Power Amplifier IC designed and produced by UMS using their GH25, 0.25 µm Gallium Nitride (GaN) process. This technology is state of the art and able to deliver high RF power level. High reliability and world-class performance have been demonstrated at high temperature.
X-Band: The Indra Multichip Control Modules (MCCM) are at the heart of the X-Band beam control and are based on high performance, miniaturized hybrid circuitry.
X-Band: The Iberespacio Collecting Heat Pipe Assemblies (CHPAs) and Loop Heat Pipes (LHPs) meet the challenge of thermally controlling the DSSPAs of the high dissipative Active Antenna. A system of 6 Collecting Heat Pipe Assembles (CHPAs) connected in parallel to 8 operating Loop Heat Pipes (LHPs) achieves efficient heat transfer to the spacecraft wall panels.