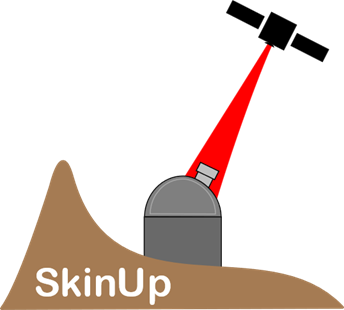 Objectives
The project objectives are: 
Establishment of the critical operational parameters for classical space optical communication to operate on the 1.3 m telescope of Skinakas Observatory in Crete, Greece. Design of the OGS terminal. Design of a fast-reacting active optics module to compensate for beam wobbling due to turbulence. 

Development of active optical stabilisation including lasers and electronics, tested in the laboratory and installed on the telescope of Skinakas Observatory. 

Demonstration of optical communication with a satellite in LEO orbit.

Preparation of a quantum channel interface for future use.
Challenges
Α key challenge is the weather conditions and the effect of atmospheric turbulence and signal attenuation at the receiver end. 
Another difficulty will be that the satellite will be visible from the OGS only for a few minutes, during which time the link needs to be established and the communication performed.
Finally, the OGS technology concerns a non-established, highly innovative market, thus, there is a considerable uncertainty as to the optical communication standards that will be employed and the availability of suitable satellites.
Benefits
Optical Ground Stations, with their ultra-high data-rates are capable of bypassing the apparent bottleneck caused by the increased data volume generated by Earth Observation and Communication payloads. 22SkinUP will combine the Skinakas Observatory ideal site in the southern part of Europe with 90% clear sky probability, with the OGS technology, enabling fast, efficient and secure transmission of information. Optical communications, in contrast to classical RF, do not suffer from eavesdropping, EM interference. Likewise, security is an inherent feature of optical comms, supporting quantum cryptography, the most robust optical communication technology currently available. Furthermore, satellite optical communication reduces signal latency, vital for real-time applications like telemedicine and disaster response. Moreover, it alleviates the strain on crowded RF spectrum, optimising resource allocation. Lastly, the technology developed in the course of 22SkinUP is by design modular and can readily be used to convert other astronomical observatories into OGSs.
Features
22SkinUp design will upgrade the Skinakas Observatory 1.3m telescope to serve as an Optical Ground Station. 
The OGS will be capable of pointing, acquisition and tracking (PAT) using a small signal closed loop bandwidth (300 Hz) with a smaller than 10 μrad rms tracking jitter. The observatory, which currently is used for astronomical observations, will enable operation in TX and RX modes, supporting Downlink (DL) and Uplink (UL) communication.
The uplink will consist of an uplink beacon with limited data transmission capabilities (e.g. < 100 Kbs) combined with a high data rate interface for UL channel (e.g. in the range of 200Mbs) in the optical L-band.
The RX mode will operate in the optical C- or L-band including an interface for a quantum channel at the optical C-band. Both UL and DL will comply with the optical on-off keying (O3K) CCSDS standard. Emphasis is given to have OGS's major parts design be modular, upgradable, and operational flexible. 
System Architecture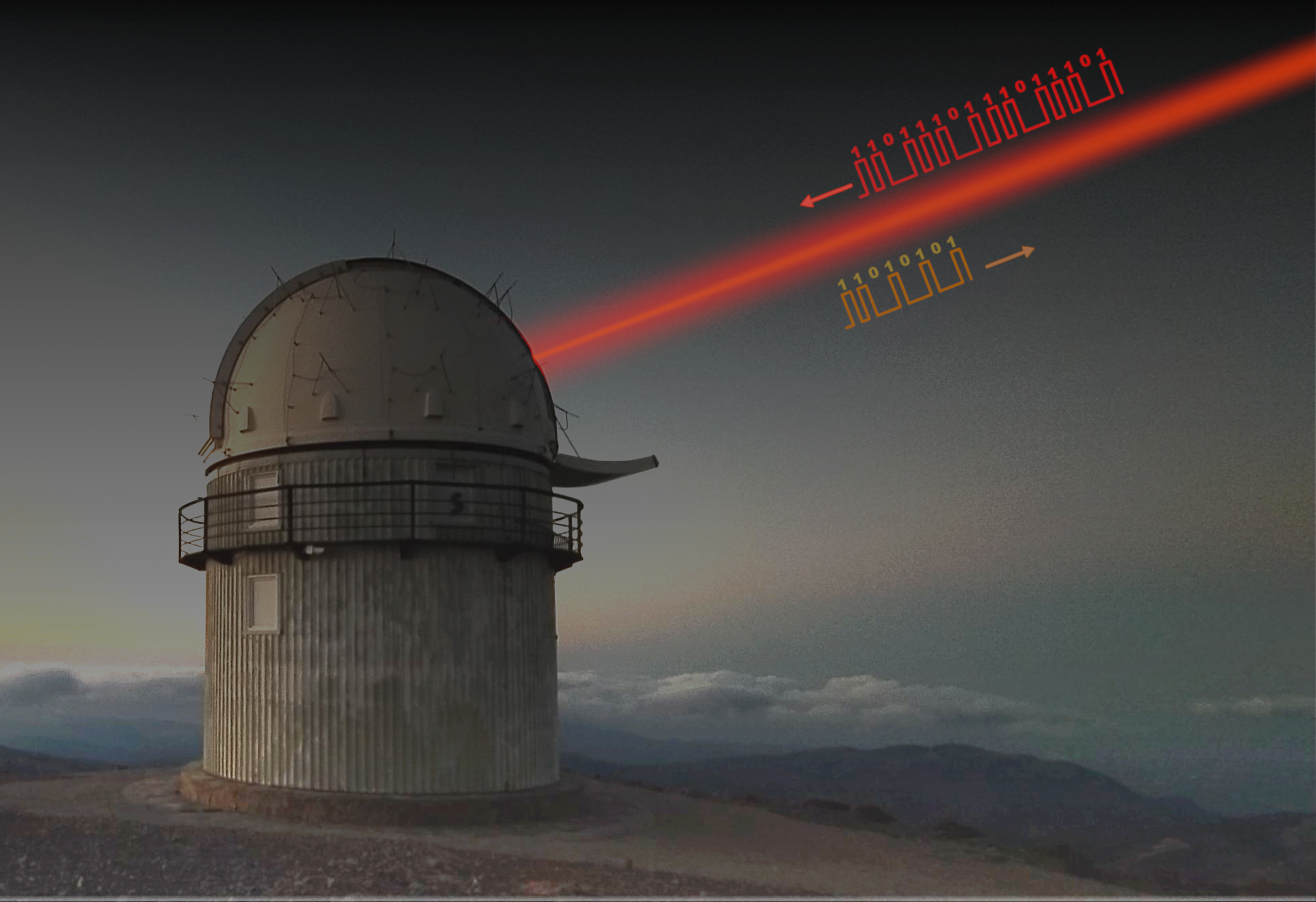 During the activity, the following subsystems will be implemented:
Focal plane instrumentation, capable of detecting and high-speed tracking of satellites visible by illumination from sunlight, or by their laser beams.

Man-machine interface and telescope tracking software for spacecraft in LEO and beyond.

Data reception according to the optical on-off keying (O3K) standard (in the optical C-and L-bands as implemented in CCSDS).

A separate quantum channel (i.e., the optical I/F to a quantum channel shall be implemented in this activity, while the quantum channel functionality is not part of this activity).

UL beacon supporting data transmission according to the optical on-off keying (O3K) standard (at 1590 nm wavelength as implemented in CCSDS).

Transmitter and receiver alignment system.
A block diagram of the envisaged architecture can be seen below: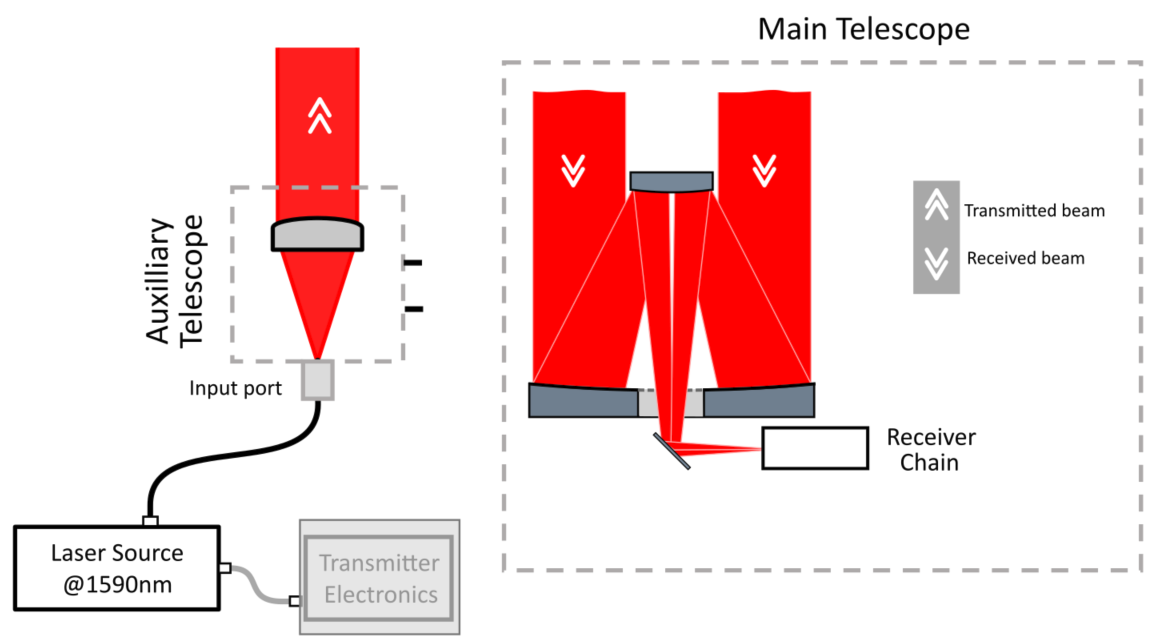 Plan
MS1:  Requirements and System Scenario scheduled for June 2023

MS2: Baseline Architecture and Interfaces scheduled for September 2023

MS3: Preliminary Design Review, Detailed design scheduled for December 2023

MS4: Implementation and Integration scheduled for January 2025

MS5: Test Campaign and V&V plan scheduled for March 2025

MS6: Test Readiness Review scheduled for May 2025

MS6: Site Acceptance Review scheduled for May 2025

MS7: Dissemination Plan and Development Roadmap scheduled for June 2025

MS8: Final Review and Final Settlement scheduled for June 2025
Current status
The activity kicked-off in May 2023 and reached MS1 in July 2023.
Work currently in progress.
Documentation