Objectives
In the last years Airbus Defence & Space has been responding to the increasingly tough competitive environment for propulsion systems, and is engaged in efforts to develop robust components which are stable in series production to minimize any follow on costs which may occur during late observation of product deficiency during engine or system level testing. Production robustness of the 400N engine FCV is therefore a key element to enhance the competitiveness within the current market. The subject proposal outlines the FCV production establishment at Airbus DS to support the process chain to advance this robustness initiative.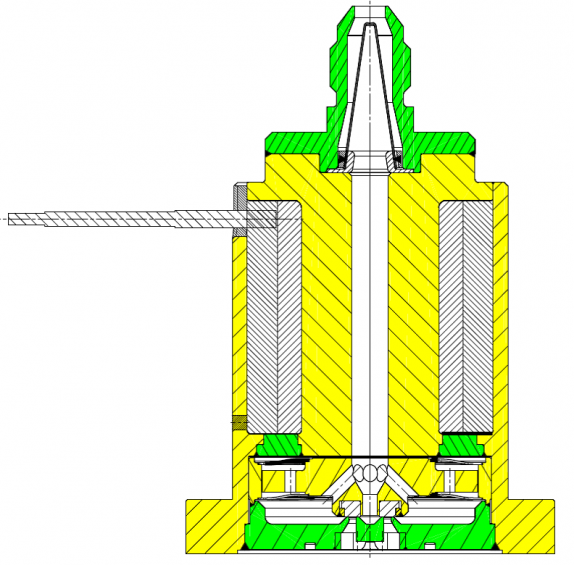 Figure: 400N FCV cross section
Beside the technical and production process improvements with positive price impacts increasing the competiveness of engine, a major driver for the activities in discussion here is to secure current business and maintain the production and supplying equipment for the 400N engine. Therefor the steps proposed here have to be performed and will secure the European independence on the sector, which could not be given by export restricted valves. The proposed FCV requalification will limit the efforts on flow control valve level. The development activities on the FCV shall increase the robustness of the product and reduce the overall unit cost including quality effort.
Challenges
The key challenges of the project are to implement the flight proven design into Airbus DS system and to include in the process some of the design improvement items without losing the existing design heritage. This is therefore processed step by step in sub group verification activities before it is released in the final design freeze. The first unit built (called First Article (FA)) is finally subjected to a full requalification test campaign before formal release for first flight lot production is given.
Benefits
All processes in one hand, FCV and 400N engine, will increase competitiveness and reliability of the delivered engine product.
Features
The process improvement measures introduced will increase the robustness of the product and improve the unit to unit repeatability.
Plan
The project plan as performed is outlined in the below schematic showing the different tasks performed.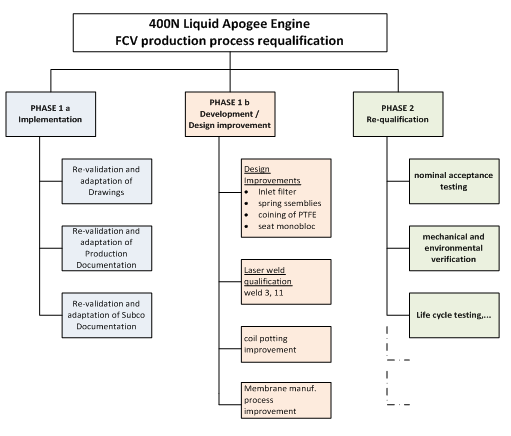 Current status
The project is inbetween successfully finished according above project plan outline.
All processes / drawings successfully introduced in Airbus DS system
All improvement measures analysed / verified and finally decided for implementation in new production
First Article built and nominally acceptance tested before final complete requalification sequence was applied.
Successful QR performed with ESA + commercial customer
Documentation