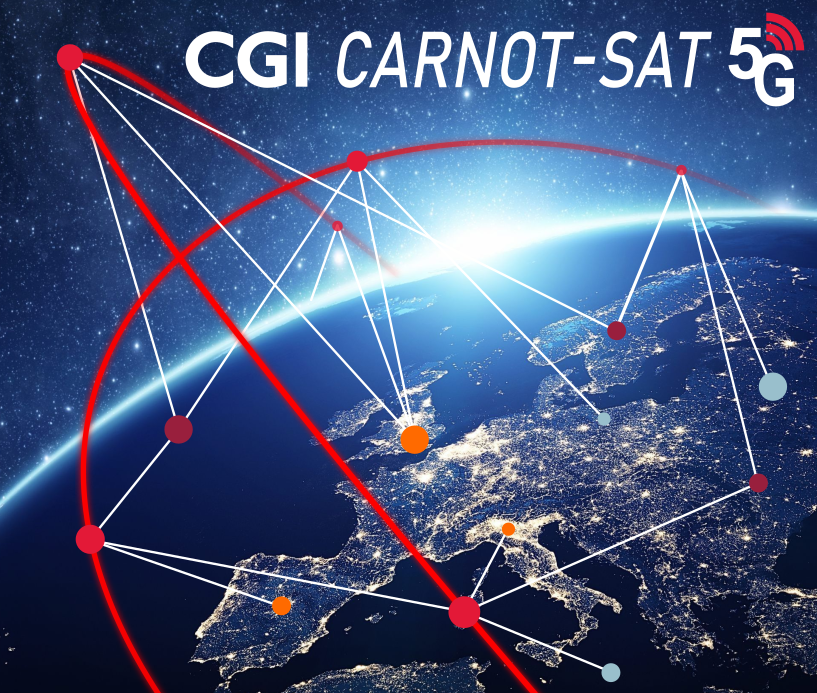 Objectives
The objective of the proposed activity is to develop and validate a toolset, Carnot-Sat, that enables the planning and deployment of heterogeneous terrestrial/satellite networks, necessary to underpin the quantitative design and evaluation of such networks and open up the market for satellites in 5G by focussing on the benefits to the terrestrial network operators.
The objectives for the toolset itself are to allow network operators to produce and optimise a 5G radio access plan enabled by new network morphologies and to produce a transmission plan (backhaul plan) for satellite and terrestrial (fibre, microwave) networks that support these radio access networks. This can be possible for both greenfield and brownfield sites. Additionally, network planners are expected to be able to carry out trade-off cost analyses of different backhaul options, model the 5G network performance from a 5G application and RF coverage perspective, and utilise a 3D viewing capability that enables line of sight analysis.
To avoid disrupting the pre-existing network planning tools, the project includes delivery of a tool which  integrates into existing terrestrial RF planning tools to maximising market uptake by existing operators.
Challenges
This project requires a broad spectrum of skills to be fully realised. CGI have built a multidisciplinary team with expertise in telecoms, satellite, business operations and geospatial technology.
Technical challenges include producing a product which integrates with widely used tools within telecom and satcoms industries and having scalable and flexible results from testing to commercialisation. The product aims to assimilate data from various cost, planning, capacity management and scenario planning tools into a single toolset.
Benefits
Multiple network operators are considering satcoms as part of their network architectures and Carnot-Sat is the first tool enabling quantifiable, independent analysis to support complex multi-bearer hybrid network design over a range of scenarios and geographies. This helps operators to realize market expansion and cost reduction, as well as new applications requiring cost effective ubiquitous coverage.
The advantages of the toolset stem from the integration with the pre-existing tools in use by telecom and satcom operators today. Carnot-Sat enables operators to complement their current planning workflow by utilising capacity, costing or scenario testing mechanisms to improve planning efficiency and accuracy at the base level.
Base level improvements are realised by enabling multi-site, concurrent planning. Accuracy is improved by integrating various types of mapping data to carry out a high-detail analysis depending on the deployment environment.
Radio and Lidar data can supplement urban network deployment and planning, where early line of sight restrictions of 5G are being identified. Network deployment in rural areas can be enhanced by using topographical data, allowing improved network services in challenging areas. These improvements are designed into the toolset, offering flexibility and ease of use than is currently available for network design and orchestration.
Features
Carnot-Sat combines different capabilities across costing, planning and capacity management as well as scenario analysis. This allows different scenarios and configurations to be explored ahead of significant investment. Users can perform these functions within a single toolset to simplify operational workflows.
It offers end-to-end monitoring allowing for enhanced service support throughout the entire lifecycle. This is backed up by end-to-end security ensuring piece of mind, securing the connection at each stage in the chain.
To improve network planning across various environments, the ability to import different formats of mapping data is covered in the project development activities. This makes the level of detail required for network planning a scalable part of the solution. Network operators are able to check configurations efficiently with flexible complexity that scales with environment.
Other use cases outside of the traditional telecommunications and satcom market are being explored. This includes tools for network planning for ensuring connectivity for emergency services vehicles in rural areas and supporting networks for rescue vessels operating in remote maritime environments.
System Architecture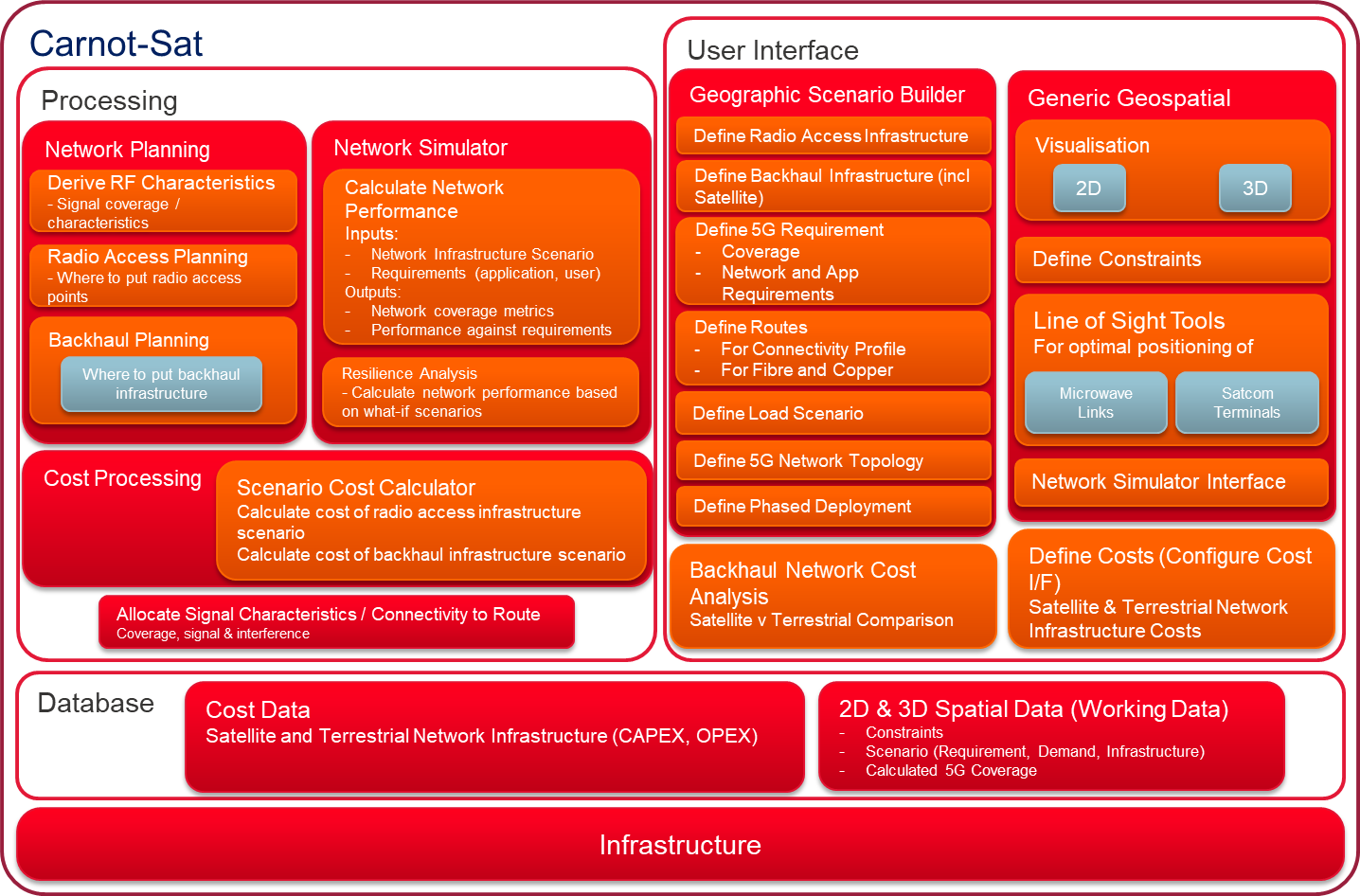 Plan
The project Definition Phase runs from October 2019 through to March 2020.  The technology  phase runs up until January 2021 where the Product Phase begins. User workshops are planned for October 2020 through to the start of 2021. Use case demonstrations are planned for mid-2021 before the project wrap up slightly later that year.
Current status
The use cases and requirements have been identified and reviewed with stakeholders. The team is working on identifying and mitigating project and technical risks as they proceed through the technical planning and development stage ready for testing. Development will take over as the primary focus for the next few months to ensure that system requirements have been met and clients can engage with confidence when comes to integrating into their systems.
Documentation