Objectives
The main development objectives during Phase 1 of CREOLA comprise to 
Derive a detailed design and verify against requirements and interface specs for 

Rx-OGS (using ESA OGS / CARO)

Tx-OGS (design trade-off and feasibility analysis)

Housing, shelter and telescope system

Optical bench, including AO and control design (input for phase 2)
M OGS (focus on TX/RX AO subsystem)
Close identified technical trade-offs and early risk mitigation at identified component level (mostly related to high optical power operations)

Define an overall verification strategy, comprising factory-acceptance, site-acceptance after OGS assembly and on-site-acceptance at Izana.
Design and breadboard test an externally mounted beacon unit, which allows for spatial acquisition during all IODs.
Along with above-mentioned activities, the feasible performance in combination with TELEO space terminal for 
Spatial acquisition and tracking 

Uplink communications

Downlink communications 
of the selected OGS design concepts (bi-static, M OGS) is demonstrated by analysis, based on site-specific atmospheric turbulence conditions and considering an expected overall optical link access probability that will be derived from statistical inputs on cloud probability and apportionments for channel attenuation at Izana.
In Phase 2 of CREOLA the objective is to build and test the Rx-OGS, Tx- OGS and M-OGS to demonstrate a bi-direction OFL link to/from TELEO.
Challenges
Key technical challenges of the CREOLA project:
Demonstrate pre-AO correction under stringent turbulence conditions

Manage multiple high power laser sources within optical benches

Reliably point, acquire and track a GEO satellite

Develop a product-oriented software suite for use in Optical Ground Stations
Programmatically, the project deals with a very stringent timeline (driven by the launch date of the TELEO counter terminal) and has to manage cooperation in a truly European setting.
Benefits
Optical Communication allows the user to send more data (high throughput) via a secure link; comparing to user who use RF links.
Features
Firstly, reliable pointing acquisition and tracking technologies are implemented and demonstrated which increases the likelihood of adoption by customers. The externally mounted beacon units at customer-specific wavelengths allow for automated co-alignment with the host telescope and its wide, high power beam enables fast (re-) acquisition by the counter terminal. Furthermore, state-of-the-art real-time control is implemented on FPGA, which allows to correct for disturbances at unprecedented speeds, hence increasing performance and overall data throughput.
Secondly, a pre-compensation AO system, including multiple simultaneous uplink beams, actively mitigates the majority of atmospheric disturbances.
Thirdly, the Tx OGS is designed such that it is a fully transportable unit, installable at any location in less than two weeks. The structural design of the Tx OGS mitigates the majority of external vibrations on the telescope and optical bench system.
Finally, a product-oriented software suite for use in Optical Ground Stations is developed, which will be deployed in future systems.
System Architecture
CREOLA focuses on multiple OGS configurations that enable a step-by-step approach towards an IOD in a monostatic configuration. 
Rx OGS: ESA OGS with CARO and Airbus DS NL beacon modules, Control Software, Communication and proximity equipment

Transportable Tx OGS: ASA telescope system and housing, TNO Tx AO Bench, Airbus DS Control Software, Communication and proximity equipment.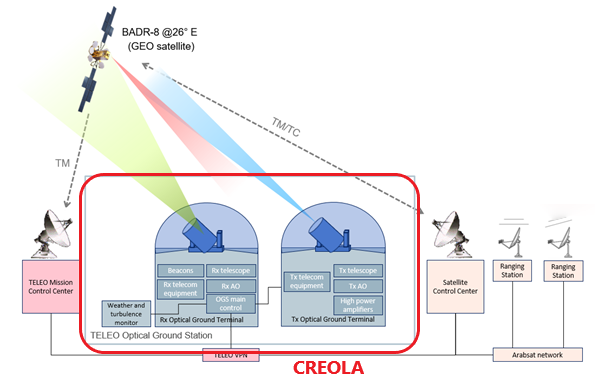 M-OGS: Monostatic configuration: Synopta Tx/Rx AO system and Airbus DS NL beacon modules, Control Software, Communication and proximity equipment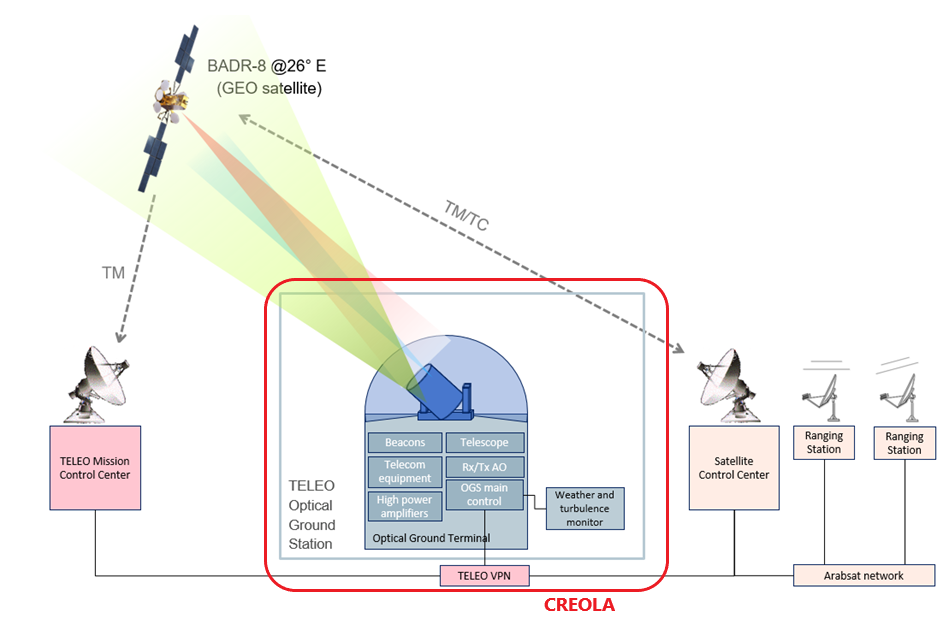 Plan
CREOLA phase 1 will focus on detailed design and breadboard tests of critical subsystems of the Rx-OGS, Tx-OGS and M-OGS. This phase closes after Critical Design Review, including demonstration of system performance by analysis. 
MS1: Preliminary Design Review
MS2: Critical Design Review – 1: Rx+Tx OGS
MS3: Critical Design Review – 2: Rx+Tx OGS
MS4: Final Review
CREOLA phase 2 (Planned), will facilitate the MAIT of the 3 OGS configuration up until and including performing downlink and uplink tests with TELEO space terminal in three separate test campaigns. In parallel, de-risking activities are planned related to High Power Tx Adaptive Optics.
Current status
The Project is kick-off Sep 2022. 
Documentation