Objectives
To develop in Europe the capability of providing the small satellite market (e.g. 3u to 27u cubesat) with high gain antennas enabling satellite-to-satellite or satellite-to-ground data link specifically oriented to LEO constellations, LEO to GEO or LEO top EARTH communications.
The antenna is conceived to be capable of operating in at least three different operating frequency bandwidths.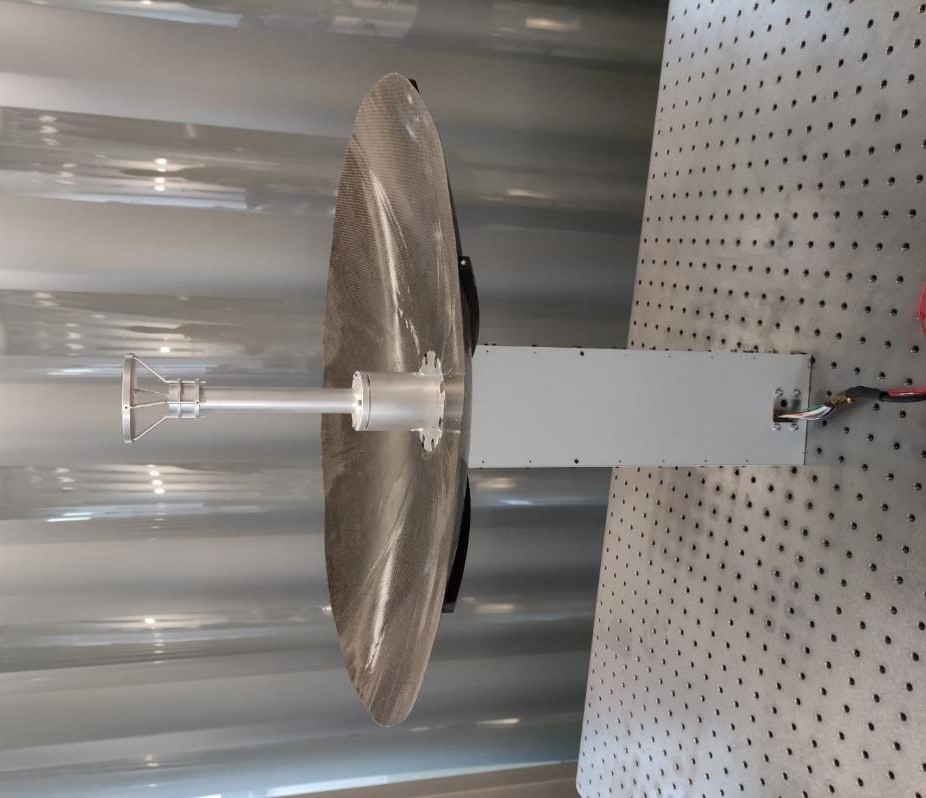 Challenges
To compensate for the limited power available from small satellites, the gain of the deployed antenna is maximised.  Additionally, the overall antenna system has to be compact, light and reliable; in particular, the unfolding must allow the proper positioning of primary and secondary reflectors such that the intended performance is reached.
Finally, the definition of the suitable material for the realization of the reflective surface such as not to present excessive wrinkles following the folding.
Benefits
The antenna is intended to be simple to reduce possible criticalities during unfolding; this is intended for reducing costs (which is always a driver in particular for small satellites) with no reduction in performance. 
Features
The antenna system in launch configuration (folded) will fit into a 3u equivalent volume interfacing the satellite only through four bolts placed at the top (in the unfolding size). The electrical and data connections are placed at the bottom of the antenna's container.
System Architecture
The overall system architecture relies on a parabolic primary reflector and on three different feeds to be chosen upon the mission requirements.
Although the antenna has been tested on the ground in a single configuration (Ka-Band) it is effective in several bandwidths.
Plan
The past activities involved various phases divided as follows:
Preliminary project, within which the various aspects were studied and the critical points defined

Detailed design, where all designs were analysed and resolved

Selection of the reflective material for the Ka Band and realization of the reflective surface, where different materials were analysed and tested.

Execution of Tests and Analysis of results
At the end of the project, therefore, a TRL 4 payload was created (as required by the contract).
Current status
The program was completed on March 14, 2023.
In the past period we proceeded with the design of the mechanics of the deployment system and with the RF design of the antenna. Therefore, the dimensional tests, the environmental tests and the EM tests were performed which showed a correct functioning of the payload
Documentation