Objectives
The objective of this project is to design and demonstrate solutions for compact and energy efficient Machine-to-Machine (M2M) user terminals for direct, massive uncoordinated access via satellite.
A novel access scheme is developed for optimizing energy management at physical and access layer, looking at a global access network and targeting low duty cycle and volume traffic.
Beside the smart energy management, the terminals shall be able to do some kind of energy harvesting for extending significantly the mean time between maintenance of the devices.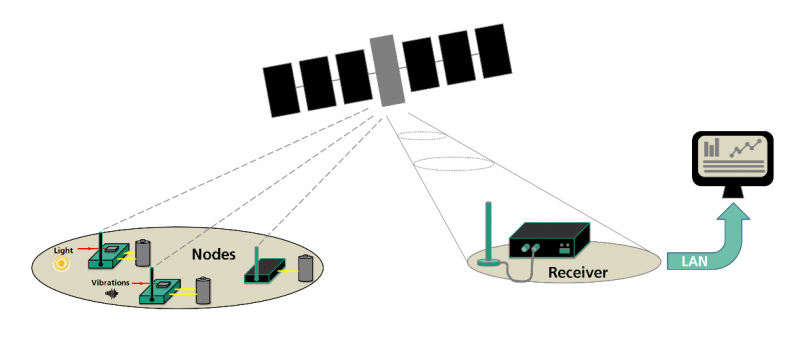 The project task are the following:
System scenario, use case definitions, and technical requirements
Consolidated air interface design specifications and functional benchmarking
Detailed user terminal design
User terminal prototype
Test plan and verification procedures
Verification platform
Test campaign results
Challenges
Machine-to-Machine Communications (M2M) will interconnect billions of devices for a wide range of applications with low duty cycle and low volume traffic over the Internet of Things (IoT). A high number of small IoT nodes will serve for monitoring applications in remote locations, where in general the energy supply over the power grid is not possible. The maintenance of these devices will be difficult or not possible. These IoT nodes can only accommodate batteries with limited capacity, which is a challenging constraint for the energy supply.
Benefits
Extending significantly the mean time between maintenance
Reducing the maintenance costs
Increasing live time of terminals
Enhanced system capacity (due to efficient resource sharing of the nodes)
Features
Enabling resource sharing among a large number of uncoordinated nodes
Energy efficient air-interface
Energy harvesting capabilities
Smart battery management
System Architecture
The test & verification procedure of the entire system is performed with an entire setup / testbed of various different elements/devices as shown below to ensure compliance to the system requirements.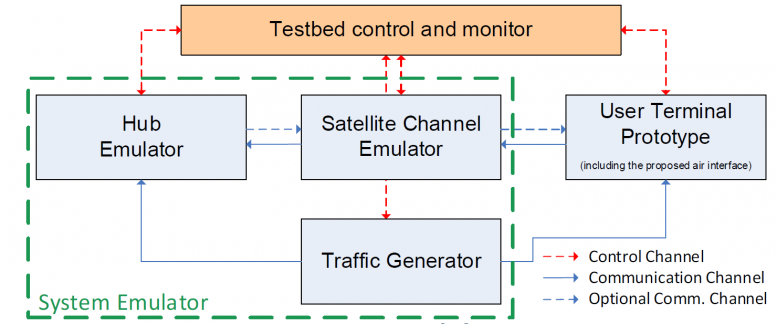 This testbed is used to perform at least:
End-to-end physical and MAC layer tests
Demodulator input signal quality measurements
Physical layer adjustments
Channel performance measurements
Packet loss statistics measurements
Energy consumption statistic measurements
Battery capacity estimation measurements
Emulation of satellite channel models
Plan
| | | |
| --- | --- | --- |
| | Meeting | Date |
| KO | Kick-Off Meeting | 3-Oct-2018 |
| SRR | System Requirements Review | 27-Nov-2018 |
| TSR | Technology Selection Review | 17-May-2019 |
| VRR | Verification Readiness Review | 25-Feb-2020 |
| FR | Final Review | 23-Jun-2020 |
Current status
Evaluation of use cases was performed and the most promising use cases were selected. From these use cases, the system requirements were deducted:
Suitable frequency bands
regulatory requirements to the specific frequency bands
suitable combinations of space segment architectures
terminal design aspects
waveform selection
For the TSR milestone, strong emphasis laid on the performance comparison of candidate waveforms and systems. As a result, a slightly modified version of ETSI standard TS-UNB, called "TS-UNB-S" was selected as suitable communication system.
For the VRR milestone, the focus was on
design and development of the energy-efficient IoT-terminals based on TS-UNB-S,
design and development of the system verification environment.
After that, the verification process of the terminals and the emulation environment was successfully executed. The results were presented at the FR milestone meeting to the esa project officers. The activity can be seen as successfully closed.
Due to the current Corona/Covid-19 situation, final presentation and the demonstration at esa ESTEC facilities is postponed towards the next months.
Documentation