Objectives
The subject of this project was the development of strategic platform enhancements and products for the Airbus telecommunication satellite product, Eurostar 3000. 
The Eurostar 3000 platform provides the mechanical structure, thermal control and propulsion capability for the satellite.  As such, it is in fact a collection of highly interactive sub-products which can be conveniently considered together as a mechanical platform.  It is also physically partitioned into two separate modules, Service Module (SM) and Communications Module (CM) which have been defined to facilitate two parallel streams before final integration into a single satellite product.
Strategic Enhancement

Description

E3000 SXL Platform (incl CPS MkIII)

 

The SXL work package created, developed and verified three new E3000 variants optimised for the low power end of the product range. The development of the new variants has been completed and they are ready for a first mission. The work package also created, developed and verified the next generation of chemical propulsion system (CPS MkIII) which is now in-flight on the larger E3000 platform variants.

 

E3000 Extended Thermal Capability

The extended thermal capability work package created, developed and verified an E/W radiator product featuring a new heat pipe extrusion profile which, through increased thermal dissipation, greatly enhances payload capability. Y wall capability was also increased as a result of DR-TWT implementation enhancements.

 

E3000 Adaptable Payload Interfaces

This work package created, developed and verified single, dual and third reflector hold down mechanisms as well as a new antenna deployment mechanism.

 

E3000 100V Development

The 100V product work packages created developed and verified the sub-level products and final E3000 SXL, M, L & LX platforms to introduce a 100V E3000 telecommunication product line into the market place.

 
The figure below illustrates the product developments that were a feature of this project and that can all come together within any of the E3000 satellite products from SXL-3 (shown) through M, L and LX.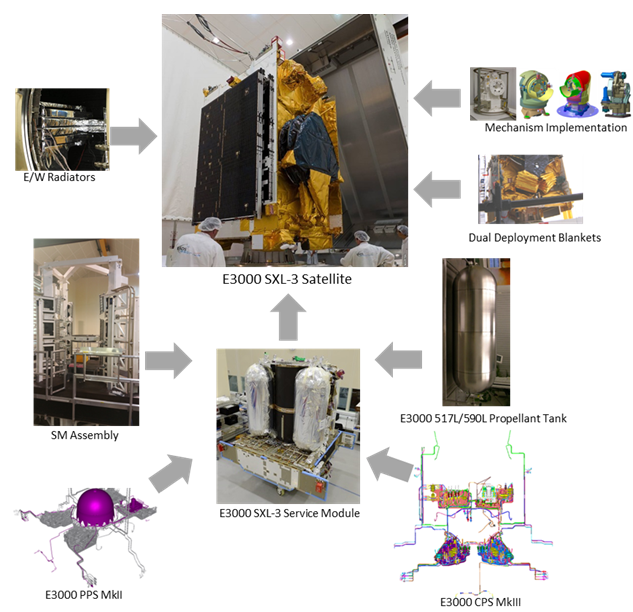 Plan
Planned Activities have been completed.
Current status
All four elements of the contract have completed with the exception of the E3000 SXL PFM Static Test which would be performed for first customer within their PFM programme.
Documentation