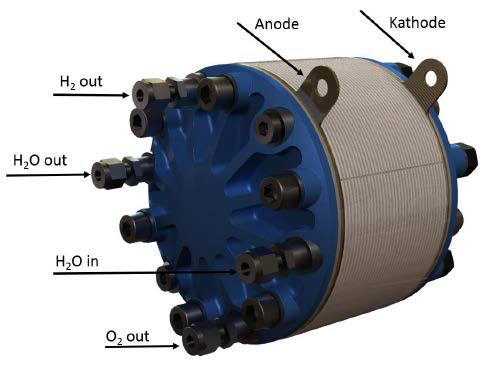 Objectives
The objective of this study was to compare future lithium battery system with Regenerative Fuel Cell system (RFCS) for large Telecommunication satellite platforms (25 to 50kW) from accommodation, operation, cost and mass perspective. 
Challenges
The main challenge is to cope with reliability and thermal requirements
Benefits
RFCS could reach a gravimetric performance of more than 300Wh/kg compared to state of the art at 220Wh/kg
Features
The RFCS is constituted of:
High Temperature-Proton Exchange Membrane fuel cell (FC)
High pressure Electrolyser (ELY).
Metal Hydride hydrogen storage , gaseous Oxygen and water tank
RFCS control unit (cell module voltage, stack voltage, discharge currents) and it provides alarm signals to the system,
Power switching unit to manage FC failures, ELY failures and auxiliary battery charge/discharge cycles or auxiliary fuel cell. 
System Architecture
The accommodation exercise minimised the platform redesign to comply with the mission requirements. In particular all propulsion options have been maintained. The batteries and RFCS size have been tuned to compare themselves at two power levels, 25kW and 43kW.
Plan
The first phase consists in gathering EPS design requirements for future SATComs. Then a benchmark between Li-ion Battery based and RFCS based systems is performed. At last, a technology roadmap is proposed to reach TRL 6 by 2030 
Documentation