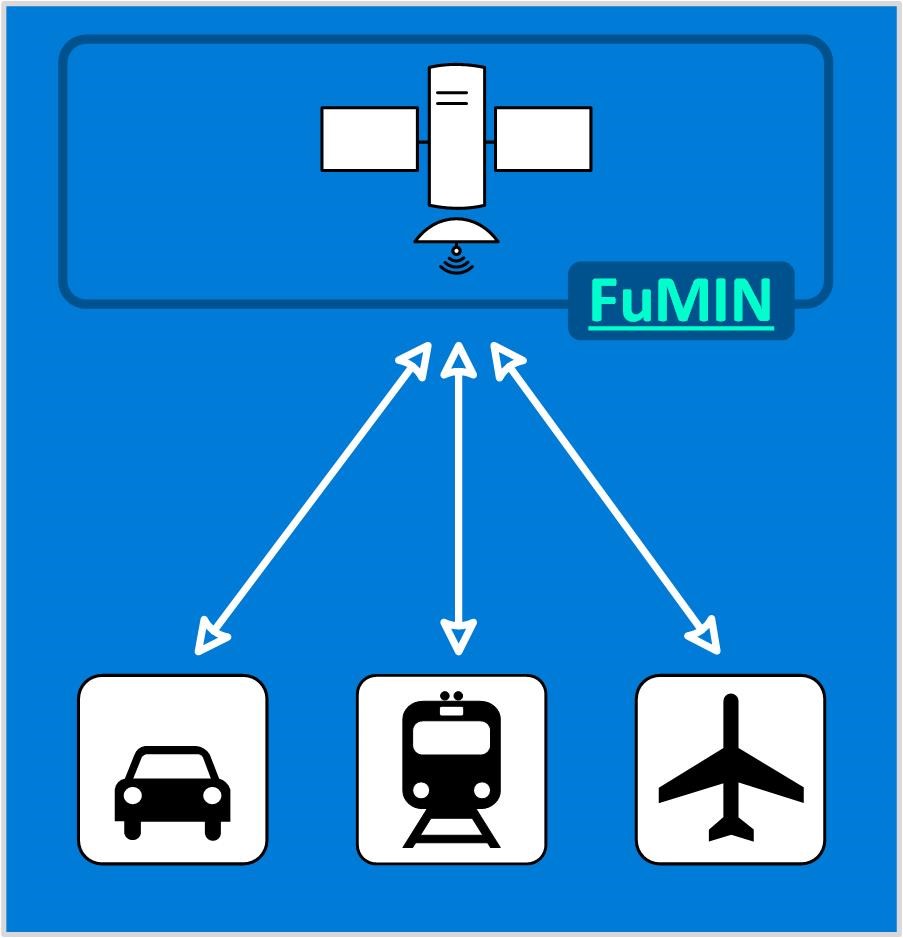 Objectives
Recently launched satellite networks show that Fixed Satellite Systems (FSS) are increasingly utilized to support Mobile Satellite Services (MSS) in order to overcome the shortage in spectrum. These High Throughput Satellites (HTS) provide broadband mobile interactive networks at Ka-band. This fact is the motivation for the development of an advanced air interface demonstrator for HTS able to support a range of different environments for mobile applications using. The target of this demonstrator is to facilitate the design process for HTS based mobile services. 
Challenges
The key challenge in this project is the development of a flexible air interface demonstrator able to adapt the air interface for a variety of operational environments of the user terminal while aiming for high performances.
Benefits
The air interface demonstrator represents a tool to design mobile services for different settings using high throughput satellite systems. Impairments in the transponder, on the channel and in the receiver are considered by the demonstrator generating conditions close to reality. A graphical user interface simplifies the use and allows the analysis and comparison of different scenarios. 
Features
The demonstrator is a flexible software tool to design and analyse the performance of interactive mobile services for various locations. The modular software concept allows the isolation of different impairment effects and evaluation of their performance. Mobile scenarios for vehicles, railways as well as airplanes are supported by the demonstrator.
System Architecture
The air interface demonstrator models transmitter (TXM), receiver (RXM) and the mobile satellite channel (CXM) for DVB-S2x (see figure below) and DVB-RCS2. The mobile satellite channel model is applicable for vehicular, aeronautic and train scenarios. A site specific propagation channel is considered as well as receiver synchronization supporting also very low signal-to-noise (SNR) scenarios down to ‑10dB. For both channels adaptive coding and modulation (ACM) is provided. The demonstrator is also equipped with a graphical user interface (MCM) to simplify the design process of broadband mobile interactive networks.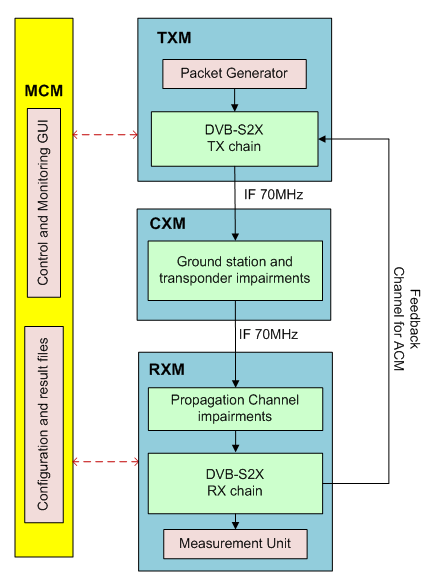 Plan
This project is organized as follows: 
MS1 – Kick-Off
MS2 – System Design Review (SDR)
MS3 – Critical Design Review (CDR)
MS4 – Detailed Design Review (DDR)
MS5 – Final Review (FR)
Final Presentation (FP)
Current status
The project has been finalized
Documentation