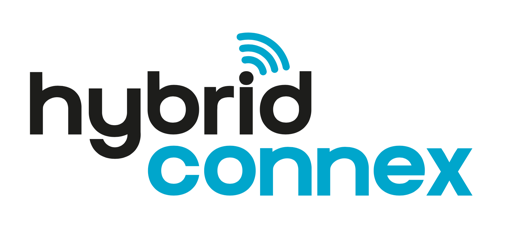 Objectives
Hybrid Connex addresses global objectives set out within core emergency and urgent healthcare services.
It provides emergency services (Ambulances) and mission critical verticals with fast, fully-optimised connectivity to cloud services wherever a vehicle is deployed, and: 
Improves quality of care and operational efficiency

Reduces unnecessary conveyance to hospital 

Allows paramedics more time to examine, evaluate and treat patients

Streamlines system and device integration 

Enhances connectivity to enable effective: 

"Make Ready" ambulance systems and monitoring of vehicles/fleet management systems 

Transfer of data

Remote telemedicine and real-time access to care pathways - the ability to consult with specialists in real-time, for better support and decision-making while a patient is in transit 

Address key recommendations within the Lord Carter Review, Including: 

The development of a more digital ambulance to tackle pressures on urgent care departments. 

The need for greater Ambulance staff support, and a call for Ambulances to return to the forefront of technological innovation and effective fleet management.
Hybrid-ConneX links the core concepts within the report by providing on-the-road failover communications across NHS Trusts and integrated care pathways, using the latest satellite and cellular technology and a universal data system that connects and monitors the fleet.
Challenges
Designing an HCM product from in two years that is for purpose and completes all necessary certification testing for deployment on an ambulance.

Delivery of a product that is fit for and future-proof to the ambulance and emergency healthcare sectors, especial in light of the Lord Carter Review, while also enabling transition into wider, and international, markets. 

The creation of a product that can be taken to market within a two-year duration, from scratch.

Managing and completing validation from the development stage through to demonstration of the HCaaS connected ambulance.

Potential competition, and a restricted global presence of the Consortium.
Benefits
Technical
Hybrid Connex (HC) is made of of two key components. The Hybrid-ConneX Module (HCM) and hybrid communications software; a Cloud compliant architecture that can be integrated with third party Cloud entities to support a comprehensive HCaaS proposition:
The HCaaS framework combines a fully scalable hybrid communications platform that manages cellular and satellite airtime service utilisation, system lifecycle, auditing, centralised billing and security policies. 
With control and access to information held on third party cloud services, such as satellite and cellular providers, it offers comprehensive and central management of field systems, WAN services and real time status and utilisation data, providing significant operational and cost efficiencies over disparate architectures where on-board systems each have their own methods of communication. 
HCaaS facilitates the Hybrid-ConneX fully managed communications capability made available to Ambulance Trusts on a simple subscription model.  
End User
Crucially, it enables improved quality of care and operational efficiency, reduces unnecessary conveyance to hospital and allows paramedics more time to examine, evaluate and treat patients
Potential competitors may enter the market but currently they do not appear to have similar integrated solutions, or the connectivity eco-system and managed service provision to manage such projects. 
Features
Excelerate Technology's fully managed Hybrid Communications as a Service (HCaaS), and a Hybrid Communications Module (HCM) integrates 5G/4G, WiFi, and High Throughput Satellite (HTS) satellite. 
The Hybrid-ConneX system provides management and customer portals, and these web-based fleet management solutions can be segregated by user permissions.
The HCM is a computer platform certified for ambulance deployment, with wired / wireless access for medical equipment and paramedics' smart devices. It can support a range of satellite, cellular and terrestrial services – tailored to specific end user requirements.
The system provides product usage data, remote settings control, and fleet or individual status. Furthermore, it sends over-the-air updates and upgrades, install additional apps, facilitate the creation and control of user accounts and manage the assignment and commissioning of units and remote testing of networks and system function and field system management.
Everything is supported with a single bill service covering airtime and operational costs.
The number and types of WAN services over which Hybrid-ConneX will operate is flexible, however, it makes use of the following services: 
HTS Satellite – Ku band making use of a Kymeta antenna, iDirect modem and Arqiva satellites services   

Public 4G/LTE services – Vodafone, EE, Telefonica  

Public 5G services – Westcott – Vodafone  

Private 5G services – Westcott 5G Centre  

WiFi Public/Private  
System Architecture
The "Hybrid-ConneX" product combines a hardware platform (Hybrid Communications Module) and a fully managed service (Hybrid Communications as a Service). Hybrid-ConneX integrates High Throughput Satellite (HTS) satellite, 4G, WiFi and 5G networks to provide a single, secure connection for all medical equipment and paramedics on the ambulance. 

The HCM provides the necessary computing resource for the hybrid communications software (RazorLink Smart Networking) and the management entity (Hybrid-X Manager) that presents the ambulance crew with visibility on the Hybrid-ConneX system through the Hybrid-X field portal Graphical User Interface.
Depending upon the configuration, the HCM may be incorporated in a 19" rack alongside multiple cellular modems, an ethernet switch, firewall security and a V-Sat Modem.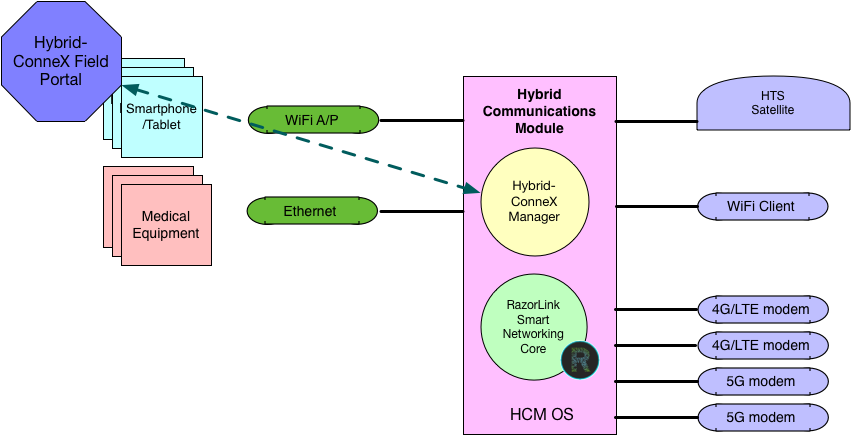 The HCaaS framework offers control and access to information held on third party cloud services, for example those used by satellite and cellular providers to manage their services. This structure offers central management of the field systems WAN services and real time status and utilisation data.
Plan
The Hybrid-ConneX project is undertaken over four phases (Definition, Technology, Product and Demonstration) and the duration is 24 months from kick off. 
The project has been split into a number of milestones to occur roughly every 3 months with ESA as follows:
Mid Term Review (MTR)

Readiness Review (RR)

Tech PRM 1

Preliminary Design Review (PDR)

Tech PRM 2

Critical Design Review (CDR)

Technical Readiness Review (TRR)

Prod PRM 1/Demn PRM 1

Factory Acceptance Test (FAT)

Site Acceptance Test (SAT)

Final Review (FR)
Current status
Following the Negotiation Meeting on 16th September 2021 the Consortium started the project at risk on 11th October 2021. 
Achievements:
ESA Kick off meeting

ESA-Prime contract

Prime-sub contractor flow down contracts

Project Sharepoint repository setup
In progress:
First drafts for all documents for MTR review
About to start:
Documents needed for RR review
Documentation