Objectives
In-Orbit Servicing, Assembly and Manufacture Opportunities for Telecom Missions ARTES study led by Airbus Defence & Space forms one of the first vital steps toward creating a new economic activity in space. Indeed, the study objective is to elaborate future value proposition by identifying and analysing the opportunities that in-orbit servicing, assemble and manufacture may bring to the satcom sector from a technical and business perspective.
To that end, the study gathers the voice of satellite manufacturer, IOSAM provider and operators. It follows a funnel approach starting with a creative and open process to generate innovative scenarios tailored for business reality and raising interest for all satcom stakeholders.
After a first identification and pre-assessment phase, the following study tasks focus on most promising scenarios elaboration and analyses in order to define development and technology roadmaps that would make them happen.
Such project can truly help advance ESA's programme formulation of a future European development programme for commercially viable in-space services that create breakthroughs in market pull from end users and operators.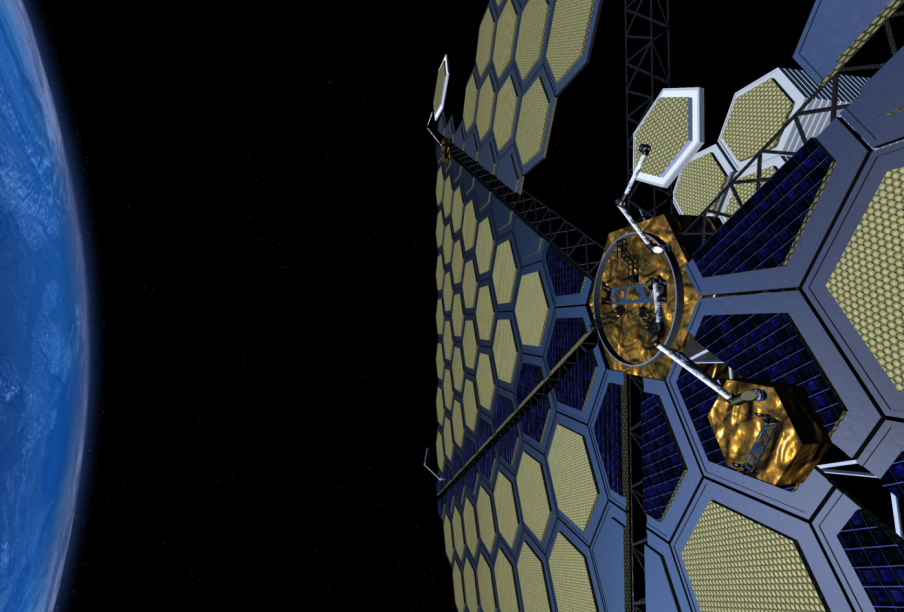 Challenges
Understanding and predict a future market which is based on disruptive innovations, game changers
Technology roadmapping up to 10 years ahead - including launch capabilities, robotic autonomy, manufacturing methods.
Identifying costs and schedule drivers - This is a very forward looking study and the knowledge of in-orbit service and manufacturing costs and timescales is in its infancy.
Operators' insights - Getting participation in prospective studies from satellite operators can be challenging because they have short term priorities and are very sensitive to commercial confidentiality.
Benefits
From Airbus perspective and lesson learnt from past projects, IOSAM will enable more versatility, more flexibility and growth capacity, more capacity/better performances, longer lifetime of satellites and even new missions and usages.
IOSAM will propose:
Alternative solutions to deployable antennas – even allowing larger antennas, and to constellation – GEO Hub,
Alternative topologies to current satellites,
Space systems evolving with the business dynamics and matching the technology upgrade cycle,
Solutions to tackle power generation limitation,…
If the satcom sector could be one of the first addressable markets, the Earth observation, the Exploration and the Science will largely benefit from IOSAM capabilities, accelerated by Moon and Mars race.
Features
Satellites/systems prepared for IOSAM, meaning standardized and accessible interfaces, mating interfaces, cooperative modes,…
Large structures AOCS and thermal control…
Logistics and orbital transportation to supply the servicing vehicles / on-orbit factory or station
System Architecture
System architecture will depend on the IOSAM scenario and the satellite/system to be serviced
Plan
The study encloses 4 main tasks whose outcomes are discussed in phased progress meeting:
Task 1 is a quick reviewing phase, aiming at defining a set of use cases and derived scenarios of interest to satcom actors.
Task 2 provides preliminary viability analyses from a business and technical perspective. That leads to the down selection of two scenarios to be analysed in more depth in Task 3. Task 2 ends with a scenarios review and approval. 
Task 3 aims to identify the key technical and business enablers trading-off the most promising solutions.
Task 4 prepares the future by proposing development roadmaps and ends with the final review.

Current status
First task aiming at identifying scenarios of interest has been successfully done through an open and creative approach including an open operators' workshop day in ESTEC. By combining operators first brainstorming results with the satellite manufacturer and IOSAM provider view, nine promising scenarios have been retained for the task 2. Activities of task 2 are on-going and focus on elaborating a bit more on those 9 scenarios to provide a technical and business viability preliminary assessment. This analytical work will prepare the down-selection of 2 baseline scenarios and a work plan for task 3.
Documentation