Objectives
Iris Precursor is Europe's latest development in satellite-based aviation safety services.  It is supported by ESA and national delegations under the ARTES 10 line.  
Satellite communications has long been established on the world's long-haul fleets.  Operating predominately in oceanic and remote airspace domains it has revolutionised air traffic management leading to improved aircraft routing and substantial fuel savings.
Inmarsat, who acts as Prime, has been a pioneer in this field and the systems it has developed are used on the majority of inter-continental flights. 
In the busy airspace over continents, the demands placed on communication systems are much greater.  Iris Precursor will enable satcom to meet the stringent safety, performance and cost requirements for Air Traffic Management in dense continental airspace.  Working with key industry partners such as Airbus, Iris Precursor will place Europe at the forefront of this industry.
Iris Precursor will have an important role to play in ATM infrastructure worldwide.  This capability can provide additional bandwidth for continental operations currently operating VHF datalink, while offering a complementary overlay and extension of these services to remote regions
Features
Iris Precursor will develop enhancements to existing aeronautical satcom to allow its operation in dense continental airspace. The enhanced system will comply with international standards for the next generation of datalink services produced by RTCA SC214 and EUROCAE WG78.
The Iris Precursor communications service is designed with security and priority for ATS communications in mind and will meet the safety and performance requirements of ATN B2; it will also support ATN B1 and FANS1/A datalink communications. The service will also have sufficient capacity for lower priority AOC communications which typically require the exchange of long messages that are less suited to the current VHF based VDL M2 service.
The technical approach is innovative but low risk building on proven, existing technology. The system architecture is an evolution of the SwiftBroadband Safety (SB-S) system developed for Oceanic Safety services, which itself is an adaptation of the commercial SwiftBroadband system in service today. Iris Precursor will extend this architecture by introducing:
ATN gateways to support Datalink Services based on international standards;
Security gateways to ensure trusted routing of ATS, AOC and other traffic to/from the correct aircraft operational domains.
The aim is to minimise the upgrades required to the SwiftBroadband network itself; a key area will be to increase the availability of the end-to-end link, by focussing on elements that were identified in preparatory studies (THAUMAS). Upgrades are envisaged for:
the Inmarsat BGAN Radio Access Network (RAN) to enable faster inter-SAS failover to meet system availability and outage requirements;
the Inmarsat Network Management Systems (INMS) to permit more expedient/predictive diagnosis of faults on the network and assist in monitoring and reporting system performance to ACSPs.
A certifiable Pan-European communications service is the target from both technical and organisational perspectives. The basis for the approval of the Iris Precursor systems will be constructed in accordance with the guidelines of the European Aviation Safety Agency (EASA):
Applicable regulation and standards framework, which apply to the introduction of the Iris Precursor system.
Definition of the Datalink communications services and interfaces to be delivered
Scope and organisational structure of the Iris Service provider including inter-relationships with other organisations supporting end to end Datalink service provision
Definition of constituents of the Iris Precursor system
Arguments demonstrating that Iris Precursor can deliver the required services
System architecture
The existing SwiftBroadband IP packet-data service  is used to support ATS datalink transmission across the satellite. SBB resources will be shared with other cockpit and cabin services, but prioritised for safety service usage.
A common gateway architecture is adopted for ATN and ACARS datalink transmission, permitting a single combined gateway to be implemented in the ground segment and on the aircraft.
Security gateways are introduced in the air and ground segments to create an IPSec VPN to protect ATS datalink traffic against potential controller masquerade and replay/modification attacks. The security gateways protect both ACARS and ATN traffic. Additional mechanisms are deployed on the air and ground to mitigate denial of service attack and to prioritise SBB access for ATS services.
Enhancements are made to the SBB Radio Access Network (RAN) to improve recovery times when failover is required between SwiftBroadband ground station sites in both planned and unplanned circumstances. These mechanisms help ensure that performance targets for outage and overall network availability are met, as required by ATS Datalink Safety and Performance Requirements (SPRs).
A single satellite will be initially used to support Iris Precursor services to all aircraft in the ECAC region; for this use of the Alphasat satellite is planned, which was launched in 2013. The satellite will be supported by primary (Burum) and alternate (Fucino) ground station facilities for connection out with the ACSPs / ATSPs. Both ground stations have built-in redundancy to cater automatically for equipment failure and are sized to support full satellite capacity. This is more than sufficient for the traffic demands of Iris Precursor. 
The enhancements to SBB are specifically designed to help support the safety approval for introduction of satellite datalink services in European airspace. Specifically the system design responds to the safety objectives defined for future ATS Datalink provision through RTCA SC-214 / EUROCAE WG-78 and a V&V approach has been devised to generate the necessary evidence to support ultimate system approval. 
The top-level system architecture is shown in the Figure below.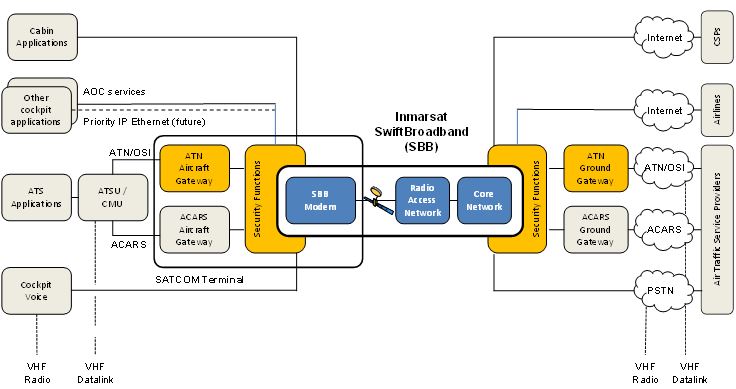 Plan
The programme is split into 2 phases:
Phase 1: starts at programme kick off and terminates at completion of the System Final Design Review, expected at KO + 6 months. In addition to the programme-wide activities, phase 1 is mainly focusing on the system design definition of the programme.
Phase 2: starts at completion of Phase 1 and lasts for 30 months, up to programme Final Review. In addition to the programme-wide activities, Phase 2 is aimed at implementing, integrating, and testing the Iris Precursor system.
Current status
The Iris Precursor contract was signed in September 2014 and has successfully met all Phase 1 milestones, which have led to a successful Final Design Review (FDR) in June 2015. The Consortium is now focussing on the beginning of Phase 2, with development activities across all programme segments. 
Documentation