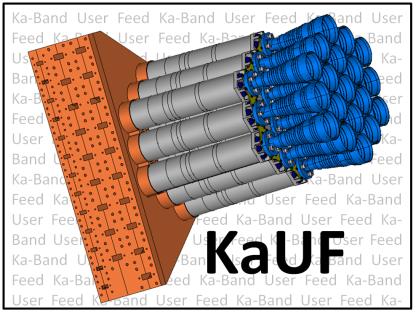 Objectives
A Ka band feed chain, especially designed for user applications is developed. The feed consist of a horn and a polariser network and shall be arranged in large clusters. Therefore dimensions and mass are main drivers of the design.
During the intended development, an engineering model of a Ka-band user feed chain with significant advantages regarding mass and dimensions shall be developed. The mechanical feed design must be chosen such, that it can be arranged in large clusters. Therefore, all waveguide interfaces have to be placed at the rear side of the feed chain. The maximum lateral dimension has to be minimised, as it defines the minimum spacing within the cluster.
Challenges
Minimising mass and dimensions by fulfilling the RF specifications
Benefits
By minimising the dimensions, either the mass and required space on a satellite can be reduced, or the number of feed chains per satellite can be increased, which will lead to higher data rates.
Features
The Ka-band User Feed Chain consists of a horn and a two port polariser network providing Tx LHCP and Rx RHCP or vice versa. The dimension and mass values are significantly reduced with respect to the current in house four port feed.
Plan
The project starts with a research phase to investigate different solutions and to identify the most suitable baseline. After selecting the principle RF design, the mechanical model of the feed chain is developed, manufactured and tested.
Current status
Completed.
A compact and lightweight feed chain at EM level was successfully developed. 
Documentation