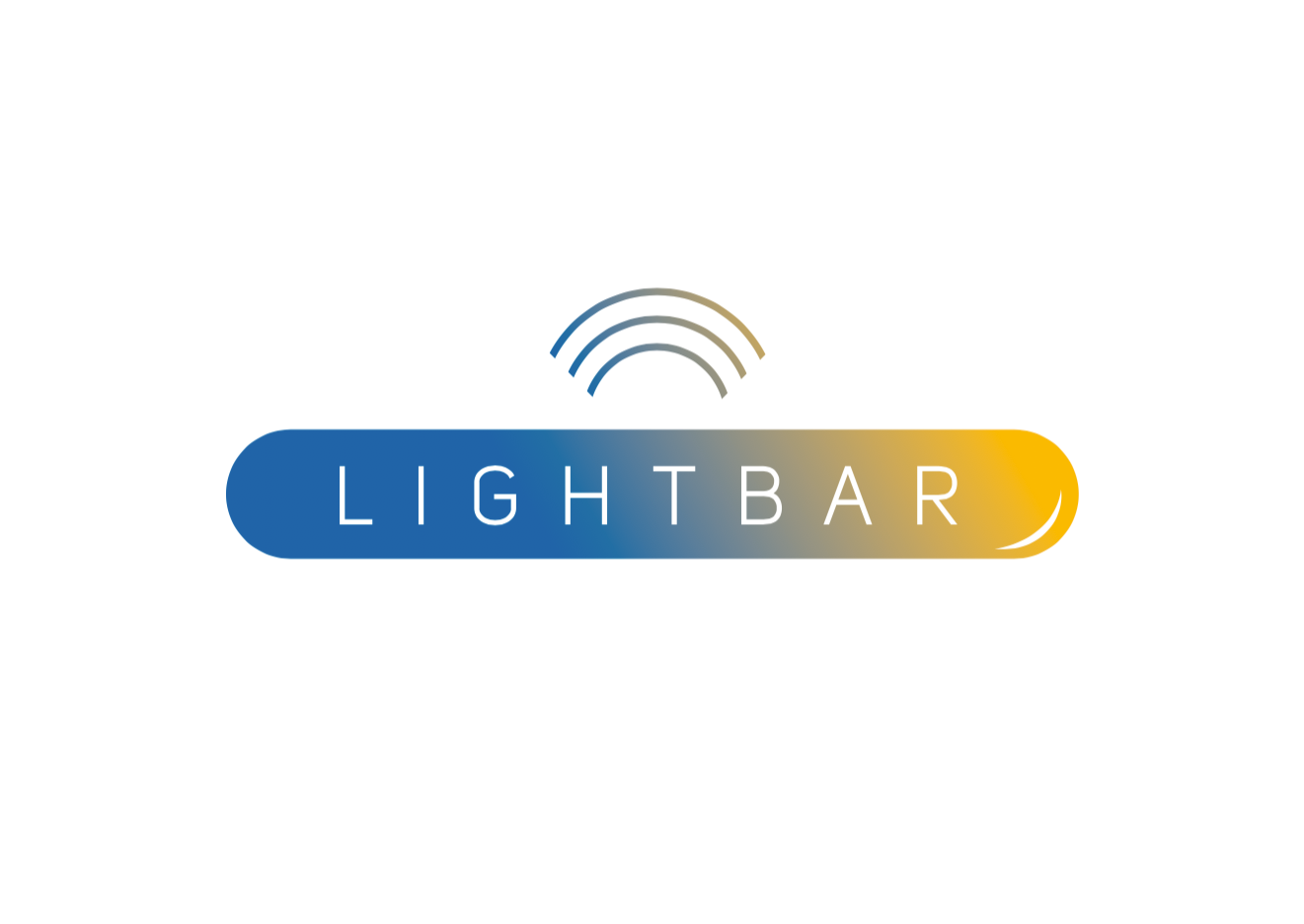 Objectives
The emergency services, utilities, logistics and construction markets are undergoing transformation in the way they deliver services, by exploiting digital connectivity and applications, with an increasing requirement to be connected everywhere. The overall objective of LightBar is to ensure the availability required to support critical services in the field is met.
This project addresses this gap, initially for the emergency service market by repositioning UK lightbar manufacturing in the global market. This activity might aid the possible future integration of disruptive 5G-satellite technology into products as part of the digital transformation of emergency services after the completion of the project.
The flexible LightBar design provides hybrid connectivity, satellite (initially L-band) and cellular bonding, and resilient positioning whilst being lightweight, small form factor and modular and will continue to be low profile and low cost.
The image below highlights the developed bench prototype and some of the key features the enhanced lightbar design has: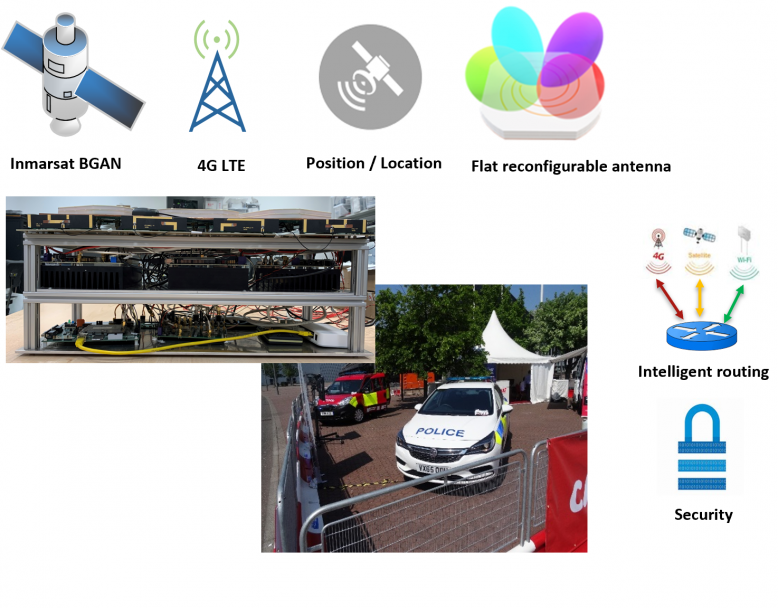 Figure 1 LightBar Bench Prototype and Key Features
Challenges
Initial L-band solution will have fairly low data rates – high prioritisation may be needed when operating under satcom system initially.
The Inmarsat BRM does not include native 3G voice capability however VoIP is supported which should provide adequate quality and performance for most applications.
For full utilisation of the capabilities of the lightbar, it is necessary to integrate with the vehicle mobile data terminals and electronic control systems. This will require additional investment in vehicle information and communication technology
System will need maximum flexibility to complement ESN system and allow easy interface with a variety of satellite providers
Benefits
The developed Lightbar design delivers continuous, consistent bandwidth connectivity anywhere anytime for mission critical data and services. By seamlessly switching between terrestrial and satellite communication networks, network bonding and meshing, and situational prioritisation of data, ubiquitous connectivity with consistent bandwidth performance ensures access to mission critical data for service providers and users globally. 
The developed LightBar enables:
Faster and more efficient access to the emergency services and assistance in areas of low terrestrial communication coverage or bandwidth e.g. in rural locations.
Increased access to mobile working - resulting in reduced road miles and increased available work time by reducing the need to return to the work station
Prioritisation of received and sent data through integration of on-board communication devices and the application of new and innovative services.  
Uninterrupted connectivity for access to back office systems, critical data and updates, increasing situational awareness, reducing response times to incidents etc. 
More accurate information from the scene to second and third response teams allowing critical updates ensuring the correct response and support potentially increasing the number of lives saved and reducing the impact of incidents to the wider community.  
Features
The enhanced LightBar system utilises terrestrial cellular networks where the bandwidth and signal coverage allow and L-band satellite communication using the Inmarsat BGAN terminal where 3G and 4G are not acceptable for the required service (Inmarsat as the Satellite communications service provider). The seamless IP data service that is delivered optimises the available communication capacity, automatically routing application data between the various communications bearers, cellular and satcom and seamlessly, and reassembling the data streams without user interaction.
System Architecture
Existing emergency services users are heavily dependent upon (push-to-talk) voice services, though there is a transition to the use of data services in the sector. The enhanced lightbar will support:
the transition to mobile data networks that operate at higher frequencies than Tetra
data rich applications including geo-spatial data standards
integration with higher capability sensing (multiple video cameras) and computing capability (for instance for number-plate and facial recognition applications)
existing vehicles to be upgraded with enhanced connectivity - all vehicles fitted with a Lightbar with a target to reach better 4G LTE performance than available with hand-carried or internally fitted LTE modems
critical applications such as voice and geo-spatial application will refresh over satellite, even when out of terrestrial coverage.
There is a variety of different applications operating on a client device (in-vehicle system) with respect to access a server (backend-office) and demand real-time or cashed data exchange securely and seamlessly. The integrated hybrid connectivity Lightbar platform provides an alternative solution to existing in-vehicle gateways, offering augmented connectivity and optimised IP based traffic routing as outlined by the graphic below: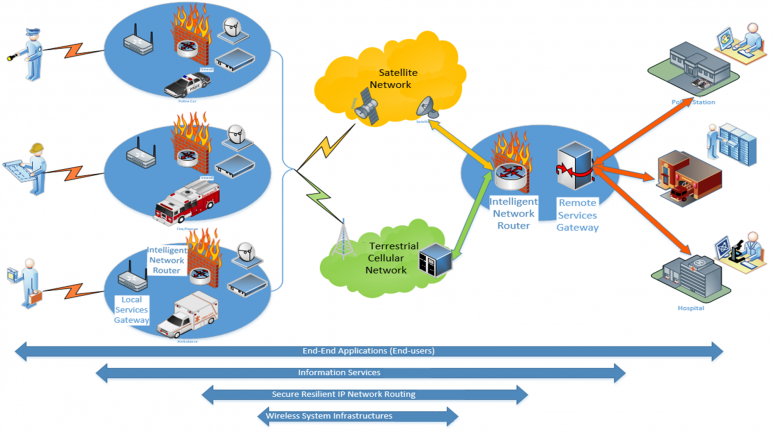 Plan
The LightBar Project has completed the Technology Phase.
The Technology Phase is based on the following milestones:
Preliminary Design Review (PDR) – end 2018/early 2019
Critical Design Review (CDR) – mid 2019
Final Design Review (FDR) – spring 2020
Final Review (FR) – July 2020
Current status
The Lightbar activity has completed the Technology Phase.
Documentation