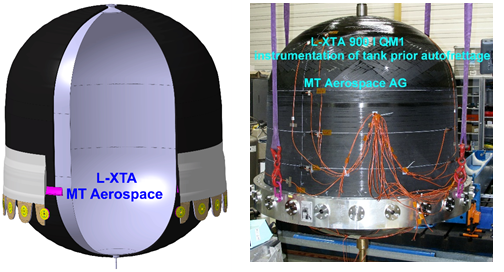 Objectives
The L-XTA enables storage of up to 1548 kg of Xe under high-pressure (177 bar). Its vast capabilities and unprecedented performance is directly targeted to both current & future generation hybrid & full electric propulsion (EP) systems, in particular for geostationary satellites such as ELECTRA and Mars Sample Return (MSR).
The ITAR-free tank design & manufacturing approach enable maximum flexibility for the satellite prime with respect to volume, interfaces and system performance, including resultant maximisation of payload mass due to the low tank mass. 
Its proven manufacturing methods minimise both lead-times as well as fabrication costs, whilst remaining fully compliant to ECSS guidelines. From the offset of its conception, focus has been placed on both technical performance, high reliability & price-competitiveness.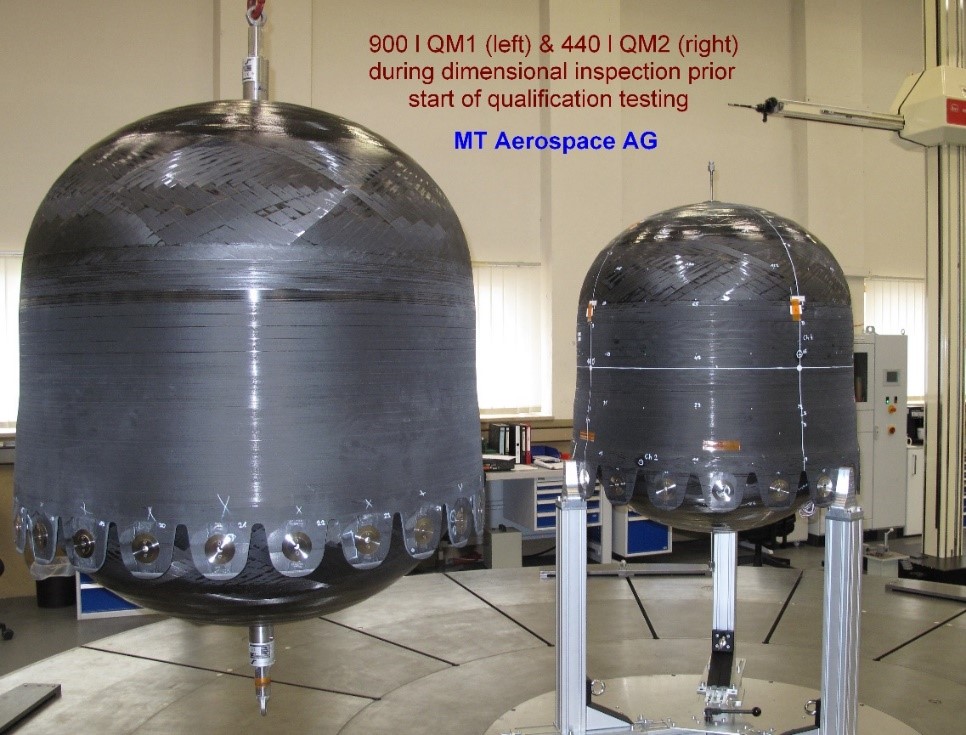 Challenges
The "Large Xenon Tank Assembly" is the largest, high-pressure Composite Overwrapped Pressure Vessel (COPV) ever developed for the storage of Xenon.
A key project challenge was achievement of lowest possible tank mass, while still complying with stringent ECSS requirements. This was successfully demonstrated using state-of-the-art fracture mechanics analysis, NDI methods & via established heritage, including Leak Before Burst (LBB) testing from the preceding HeHPV (Helium High Pressure Vessel) programme.
Two Qualification Models were built and tested to cover both "tank families":
900 l QM1 for Family 1 

440 l QM2 for Family 2 
enveloping the worst-case loads and resulting in qualification of the entire family volume range.
Satellite primes as well as ESA were integrally involved throughout the project from early definition through to testing. While posing a logistical challenge, this offered the tremendous benefit of allowing detailed interactions as well as pooling of know-how and expertise, ultimately ensuring customer satisfaction and achievement of their objectives. The resulting qualified product is accordingly optimised to customer needs.
Benefits
The L-XTA offers low-weight, high-performance the storage of large volumes (300-900 l) of Xe for Electric Propulsion missions. Its large size offers significant advantages compared to a multi-tank approach. This single-tank solution offers:
storage of up to 1548 kg Xe in a single tank

reduction of customer integration requirements after delivery

minimisation of feedlines, heaters, thermal hardware, etc., thus increasing system reliability

minimisation of contamination sources compared to multi-tank approach

optimisation of available space envelope
Its advanced COPV design enables high-pressure (MEOP 177 bar), long-term storage of Xenon with ease of installation to the satellite platform via equatorial attachments. The applied design & qualification loads envelope all relevant launch vehicles. This offers customers high flexibility in their launcher selection.
Titanium was selected as the liner material to provide both the lowest possible tank mass as well as ECSS compliance.
The supply chain was chosen to enable efficient, lean and regional suppliers that also considers avoidance of REACH and obsolescence topics. All components and materials are ITAR-free.
The qualified manufacturing approach for the large, thin titanium domes avoids the necessity of expensive, time-consuming forgings but rather utilising standard sheet material for hot-pressing corresponding preforms, which are subsequently machined to their final contour, thus minimising production time.
Despite its large volume, the achieved tolerance are exceptionally tight and fully compliant with customer requirements, and applied automation practices leads to high reproducibility & quality. 
Features
L-XTA design, materials & manufacturing methods were selected to maximise relevant heritage and lessons learned of past programmes, including the 1620-1910 l Alphabus Propellant Tank (ARTES 8), 40-90 HeHPV (ARTES 34) and SmallGeo 60 l Xe-Tank (ARTES 11).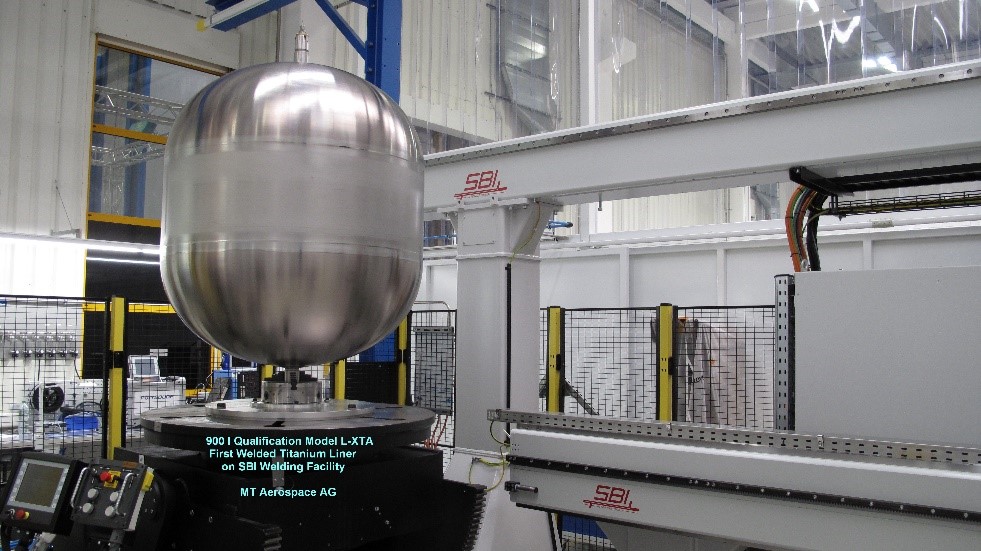 The tank design consists of a thin-walled (~0.8 mm) titanium liner, which is filament-wound with a carbon fibre epoxy composite. Additional prepreg layers provide local stiffness in highly stress regions. The resulting composite overwrapped pressure vessel (COPV) includes an integrated composite skirt that enables simple integration to the satellite Central Tube via metallic bolts.
In order to cover a comprehensive volume range of 300-900 liters, two dedicated "tank families" were established, each with a common diameter. 
Family 1 (600-900 l)

Family 2 (300-500 l)
The 900 l version carries 1548 kg of Xe, while the empty tank mass is less than 104 kg. The smallest version (300 l) weighs merely 44 kg yet carries 516 kg Xe.
Within each family, the tank volume is adapted via the length of its cylindrical section.
New, advanced manufacturing & inspection facilities enable cost-effective and reproducible quality control, particularly for critical processes. These include automated eddy current inspection of domes & liner, as well as industrialised TIG welding of the closure welds.
System Architecture
The L-XTA consist of a thin-walled, welded titanium liner and a composite overwrap (COPV). The liner is composed of two domes with a connecting cylinder. The cylinder can vary in length to enable any volume within the overall range of 300-500 l (Family 2) or 600-900 l (Family 1). The domes are machined in-house from a hot-pressed Ti preform to a wall thickness of ~0.8 mm.  Per customer preference, pole-caps include an outlet tube and/or a blind cap and are EB-welded to the domes as a fluid interface.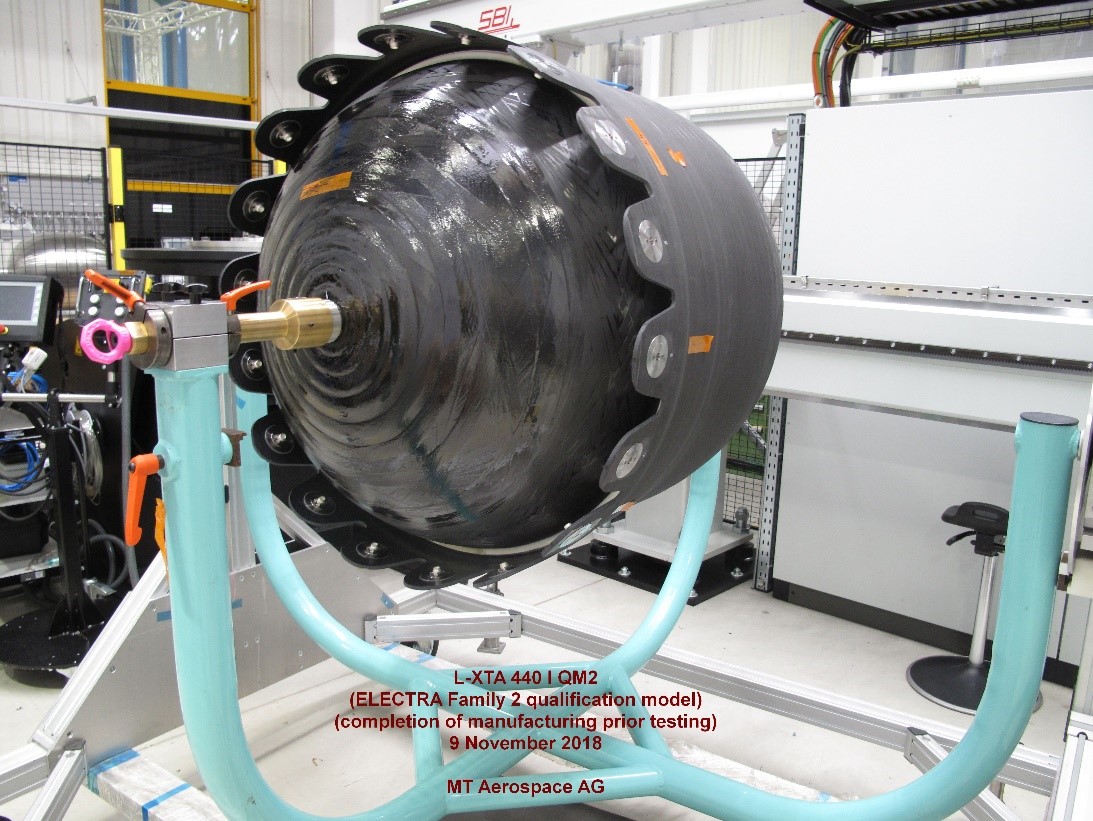 The liner is over-wrapped with a filament-wound, carbon fibre epoxy composite, and in a subsequent step with an integral composite skirt.
The composite overwrap including the integral skirt comprises over 80% of the tank mass and carries approximately 90% of the pressure loads.
Integration to the satellite Central Tube is enabled via metallic bolts.
Plan
The L-XTA project began in early 2016 with a Specification Requirements Review (SRR) that involved the satellite primes, future satellite operators and ESA to consolidate input requirements.
Preliminary Design (PDR) and Critical Design Reviews (CDR) were successfully held in Fall 2016 and 2017, respectively. 
Material Process Control Boards (MPCB) in advance of CDR served to confirm that all materials and processes were verified.
Qualification-representative testing via a first Engineering Model (EM) was followed by full-scale qualification testing with two dedicated Qualification Models (QM), QM1 and QM2 for the respective families, concluded with the performed burst test of each unit.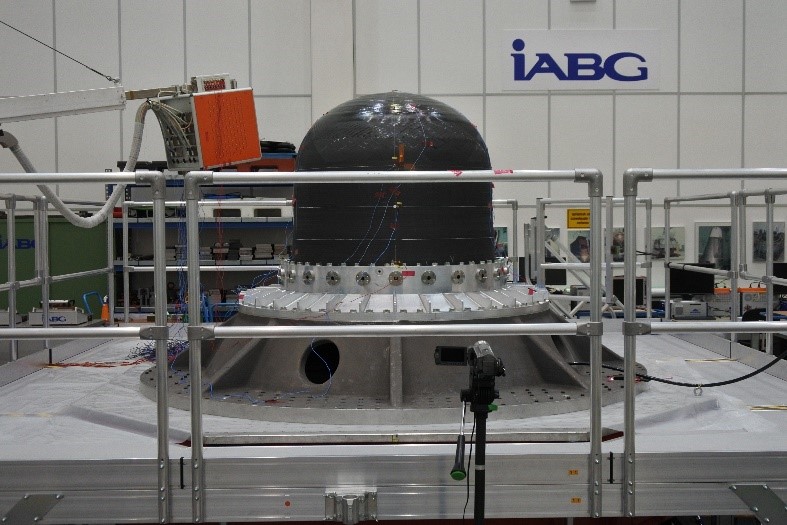 Upon completion of testing with both qualification models in 2019, a dedicated Qualification Review was held for the 440 l version within the ELECTRA programme, followed by a Generic Qualification Review for the entire volume range within the ARTES C&G activity.
Current status
ESA qualification is confirmed, and the ARTES project is complete & closed. Flight production manufacturing is now available.
The 900 l Family 1 Engineering Model (EM) completed testing within ARTES 5.2 in 2018. 
Testing of the two Qualification Models (QM):
440 l QM2 within ARTES 33
900 l QM1 within ARTES C&G 
was completed in 2019, culminating with the destructive burst pressure.
Manufacturing and acceptance testing of the first Protoflight Model, the 440 l PFM1 for the Electra programme (within ARTES 33) was completed in 2020 and delivered to OHB Sweden in January 2021.
As a result of the successful development and qualification activities within the respective ARTES programmes, the 900 l L-XTA was selected by  Airbus Defence and Space for the joint ESA-NASA Earth Return Orbiter (ERO) of the Mars Sample Return (MSR) mission, the first-ever spacecraft to bring samples back to Earth from Mars. Production of this tank, entitled MSR "Xenon Storage Tank" (XST) is currently in progress.
Documentation