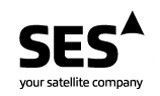 Objectives
The project aims to develop a rich multimedia content transmission system, with the demonstration of relevant attractive services. These services include the broadcast of audio, video, web based interactive or vehicle specific services directly from the satellite to moving cars, including information and entertainment to the driver and the passengers.
As the system is based on re-using existing Ku band broadcast satellites, the financial and technical risk of the services using the technology developed in the project is reduced, compared to existing or planned systems using multiple satellites and dedicated terrestrial repeaters.
 

 

click for larger image
The system will rely on reception compatible with most categories of cars, and will avoid service interruptions due to the signal reception being blocked by obstacles such as buildings or trees.
The objectives are:
Demonstrate technical feasibility,
 
Demonstrate commercially attractive applications:

To automotive industry,
To potential service providers,
 

Assess performance and quality of service in various environments,
 
Optimise system performance,
 
Initiate and provide a platform for future:

Trials,
Applications developments (testbed for future services),
Hybrid system developments (coverage, return link),
 

Provide customer equipment, communication infrastructure cost, and 'cost of ownership' preliminary assessments.
Challenges
Technical issues: throughput optimisation and quality of service optimisation (latency, successful transmission of various file sizes) in various environment conditions.
System integration and in-vehicle integration issues: demonstration of application's commercial attractiveness. The transmission system uses a file based mode of broadcast, yet some applications will retain the traditional program look and feel.
Digital rights management (file based / end user cached content).
Benefits
Position with regards to digital radio broadcast systems:
Capacity
Digital satellite radio systems (recently launched in the US) are extremely capacity constrained. They have to treat broadband multicast / broadcast application as an opportunity cost versus audio channel broadcast (e.g. 1 video channel for 6 to 12 audio channels).
Customisation / personalisation
The cache based system enables end user personalisation / location based services.
The Ku based capacity costs are likely to be cheaper, in the light of the investment needed for S band satellites and terrestrial repeater infrastructure, compared to Ku band existing satellites, used so far mostly for broadcast to fixed users.
Position with regards to terrestrial broadcast
FM, leader in the field of radio broadcast in Europe, is very well suited for local audio broadcast. The envisaged system could provide Pan European coverage (e.g. users on the move keep their home programs).
Features
The system consists of one or more transmit stations, a geo-synchronous satellite and car based receive terminals.
The uplink station transmits video, audio and data files (such as HTML pages, application executables etc.) via the satellite to the user. The car based antenna will point continuously in the direction of the satellite, being steered according to location and orientation of the vehicle.
| | | |
| --- | --- | --- |
| click for larger image |   | The system focuses primarily on the distribution of content for near-real-time use: each packet of a service packet is stored until all packets corresponding to one file are correctly received. Information content from lost packet sequences can be retrieved through redundant packets, which are re-transmitted within short time delays. In this way, signal interruptions leading to packet losses do not immediately degrade the service quality. All correctly received packets can thus be cached, and the services or service items for which all required packets are stored can be presented to the user, within a few minutes after actual transmission. Alternatively, the received contents can also be stored for longer time, and accessed by the user at his or her convenience. |
Within a digital stream transmitted via a single transponder, multiple services can be multiplexed.
Plan
Detailed System Definition and Outline of the Design
The demonstrator specifications shall be based on commercial requirements.
The high level specification of the transport concept for the entire system will mostly result from the system simulation.
Detailed Design
The detailed design concentrates on the different hub and terminal related equipment and software and prepares the implementation on subsystem and component level.
Development and Initial Characterization
Development of all system parts as well as integration, sub-system testing, and limited end-to-end system tests.
Field Trials and Demonstrations
The system behaviour will be tested under real conditions.
Current status
The project is now completed
Documentation