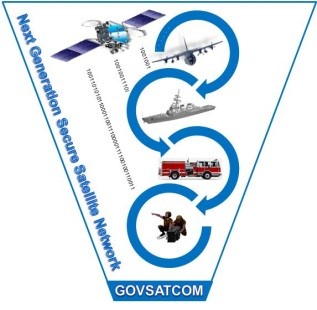 Objectives
The NGSSN Project addresses the Governmental Satellite Communications (GOVSATCOM) scenario which is characterised by a new SATCOM service-class fitting between COMSATCOM services, not offering guarantees for robustness and sufficient availability, and MILSATCOM services, which are both too expensive and too difficult to implement for conventional use in low or medium intensity crises. 
 A GOVSATCOM system is devised to serve European Public Safety sector, in a cost saving manner based on the activation of synergies among different stakeholders interested in this application scenario. 
The GOVSATCOM services will be provided by a combination of SATCOM assets including existing governmental/national and commercial capacities as well as upcoming and new missions hosting GOVSATCOM capacities. 
 The GOVSATCOM timeframe perspective will cover an operational period reaching the year 2040 with an early implementation for service demonstration based on a precursor to be ready by year 2020. 
 The objective of the NGSSN Project is to perform a mission and system study activity which, starting from the consolidation of the user needs and mission requirements, aims at: 
(i)   Defining, analysing and trading-off alternative GOVSATCOM architectures for dual-use, security and defence services. 
(ii)  Designing a baseline GOVSATCOM system architecture (including an early implementation based on a precursor), by also specifying its component elements. 
(iii) Identifying the necessary technologies, by highlighting the need of new developments where required.
Challenges
The key issue faced by the Project is the continuous iteration with all stakeholders involved in the GOVSATCOM definition in order to converge towards a consolidated set of user and mission requirements from which system requirements are derived. 
This convergence process considers user needs, cost effectiveness of solutions, time schedule as well as European technological and industrial perspectives.
Benefits
The proposed GOVSATCOM System Architecture, which is based on a centralised management of pooled&shared SATCOM resources made available by existing, upcoming and new assets, presents several benefits, among which: 
Openness, as it will rely on both governmental and commercial space capacities and open standards so as to ensure the cost efficiency of the GOVSATCOM programme.
Incremental development, so as to adapt to the user demand changes, guaranteeing in this way a program cost efficiency  and a durable sustain to the competitiveness and innovation of the European industry.
Scalability, so as to cope with unforeseen capacity demands and dynamic resources allocations as actually requested by the operational needs.
Simplified access to the communication resources for the user communities.
System Architecture
The GOVSATCOM System Architecture is based on a Pooling&Sharing (P&S) of existing, planned and future systems resources. Such a concept relies on a federated management of all SATCOM resources made available for the GOVSATCOM services, performed by the Secure Meta Mission Control Centre (Meta-MCC). The Secure Meta-MCC plans and configures the SATCOM resources to flexibly respond to the GOVSATCOM end-users' requests.
Several existing SATCOM assets may be identified as suitable to be included in the overall GOVSATCOM system along with upcoming missions which could offer an opportunity to host or lease capacities for GOVSATCOM services. Many of them are in the early design stages so that they can receive specific GOVSATCOM requirements (potentially, driving technological development).
The SATCOM capacities will be deployed in various frequency bands to address various types of end-users' services.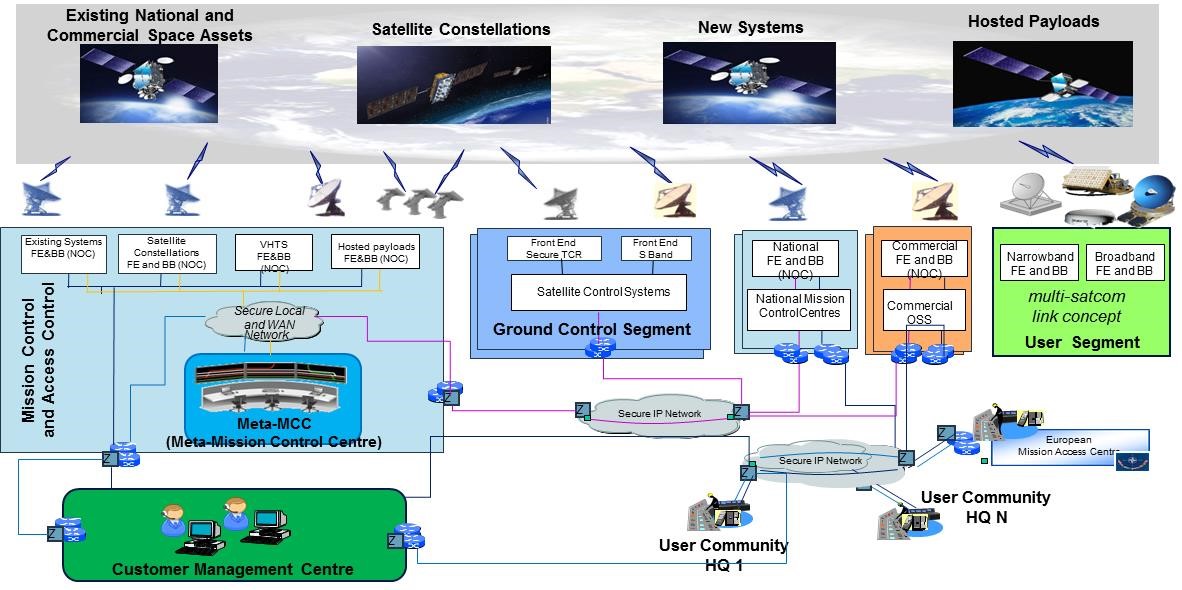 Credit by: Thales Alenia Space
Plan
The NGSSN Project is organised in three main phases.
The first phase aims at consolidating the user needs, at defining the mission requirements and at deriving the relevant system requirements for the GOVSATCOM System. A close interaction with the EDA/Euroconsult Feasibility Study is envisaged during this phase concluding with the System Requirement Review (SRR). 
The second phase covers the architectural solutions trade-off analysis aiming at defining a set of alternative system implementation options (i.e. system architectures) and at selecting the baseline architecture for the GOVSATCOM System. This phase concludes with the Implementation Scenario Review (ISR). 
During the third phase of the Project, the design of the GOVSATCOM System Architecture baseline is performed and the necessary technologies are investigated to assess their availability or to identify possible gaps. The Preliminary Design Review (PDR) and the Final Review (FR) are planned in this phase.
Current status
The Project is completed. An NGSSN system architecture based on a "Pooling & Sharing" approach has been defined allowing the use of existing and planned/future SATCOM systems for GOVSATCOM services. New Ground Segment assets (P&S) are required which are aimed to orchestrate planning and configuration of the NGSSN mission to flexibly respond to the end-users' requests. Future space assets development can integrate/complement existing/planned/follow-on assets to satisfy user needs such that global coverage capabilities, capacity extension, polar coverage  and security. Ownership and Procurement models as well as Value Chains have been analyzed.
Documentation