Objectives
The main objectives of the OGS-LID activity are: 
Setup breadboards that emulate the optical ground station and the spacecraft to enable testing of advanced pre-compensation techniques in laboratory environment.
Update breadboards to enable outdoor testing.
Evaluate the potential of CSEM's Lidar technology for deriving control signals for an adaptive Tx-beam shaping system that can be implemented in a commercial AOGS product series.
Investigate OGS specific requirements and impact within overall communication network (end-to-end analysis).
Challenges
The development of the next generation AOGS reaches the limits of today's state-of-the-art. Thus, Synopta has carefully analyzed the associated risks and identified an appropriate risk mitigation approach. The main challenges are: 
Suitability of advanced Tx pre-compensation techniques for commercial optical ground stations.
Limitations of TX beam pre-distortion techniques which is based on adaptive optics correction in RX direction.
Compatibility of OGS architecture to future satellite optical payloads. 
The current activity is one pillar to address these challenges prior to a product development phase.
Benefits
The next generation AOGS product series of Synopta, both, stationary or transportable, targets application in Optical Feeder Links capable of handling multi-100Gbit/s data rates.
In general, the AOGS is fully transparent to the type of modulation applied. Transparent optical modulation schemes and their corresponding appropriate RF-optical (de-) modulation technologies for Tbit/s feeder links and corresponding high transmit power levels are supported.
Features
The Synopta AOGS product series support high-data-rate laser communication links for:
Data relay uplink/downlink with GEO satellites
High data rate feeder links for GEO satellites
Direct-to-Earth links, LEO and GEO
The main features of the Synopta AOGS product series are:
Dual wavelength capability (1'064 nm, 1'550 nm)
Support of bi-directional communication and high-data rate up- and down-links
Enables Terabit/s optical feeder links (high-power AO system)
Full interoperability with various types of user specific communication systems (coherent or direct detection)
Standardized control and communication interfaces
High operational autonomy with minimum infrastructure requirements
Networking capability supporting route diversity concepts
System Architecture
The pre-compensation method of the Synopta AOGS product series has been demonstrated and optimized during the project phase as shown in the Figure below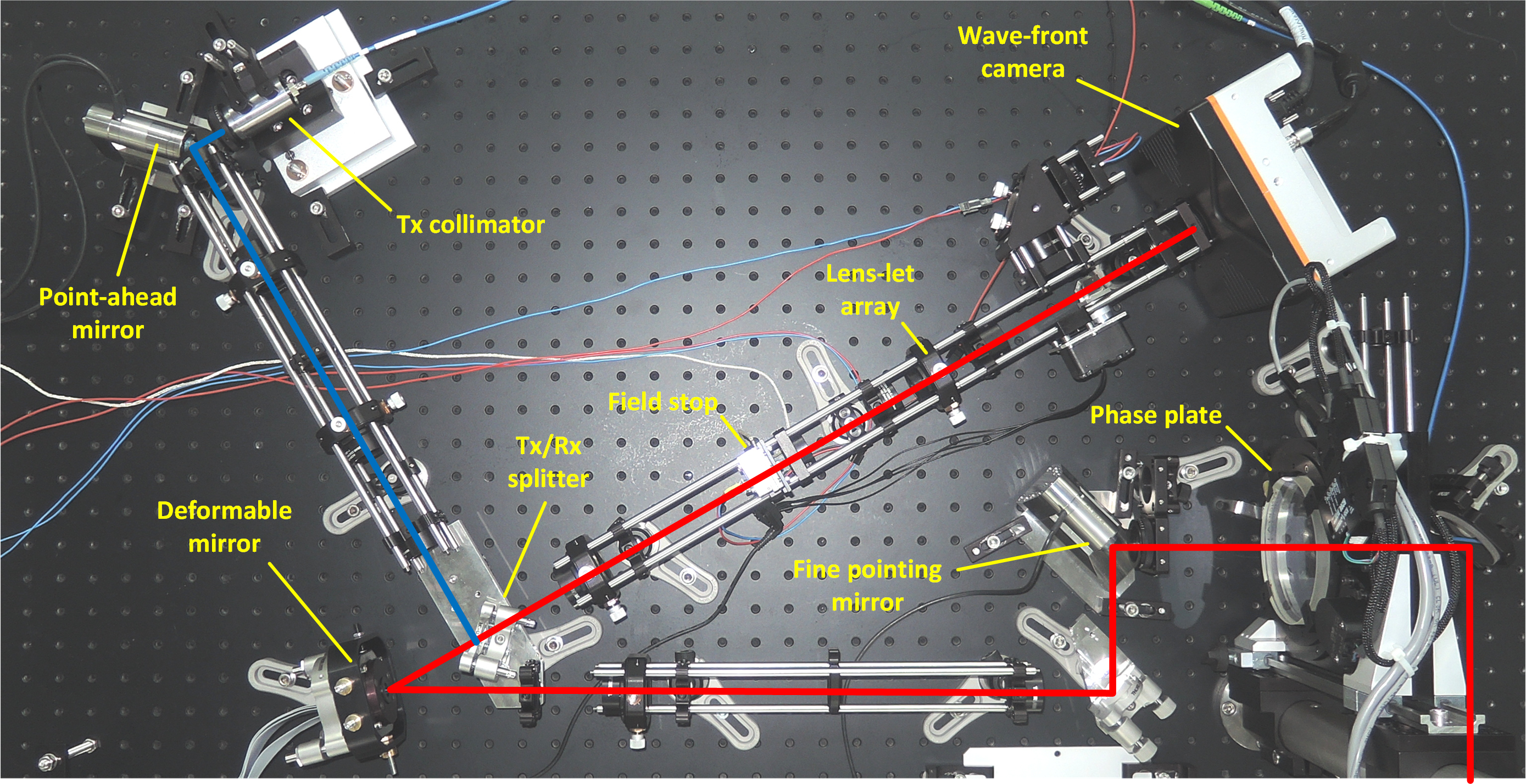 Based on the successful demonstration, an overall ground station system architecture has been defined that implements Synopta's AOGS300 and AOGS600. This architecture is scalable for feeder links up multi-Tbit/s.
Plan
The work plan comprises three milestones (BDR, MTR, FR). Along these milestones the main phases are:
Breadboard Design Phase (KO to BDR)
Breadboard Integration and Commissioning (BDR to MTR)
Test Campaign and Outlook (MTR to FR) 
FR has been achieved in 09/2019.
Current status
The project has been completed.
Results show that making use of the full downlink beam's wavefront information is sufficient to get a significant improvement in terms of uplink capacity over a tip/tilt correction system, at a given worst-case Fried parameter. Nevertheless, turbulence in the higher layers of the atmosphere remains the dominating source of scintillation in the uplink.
Technology phase and product development to be continued in ARTES OGS-OFL project as well as in subsequent activities.
Documentation