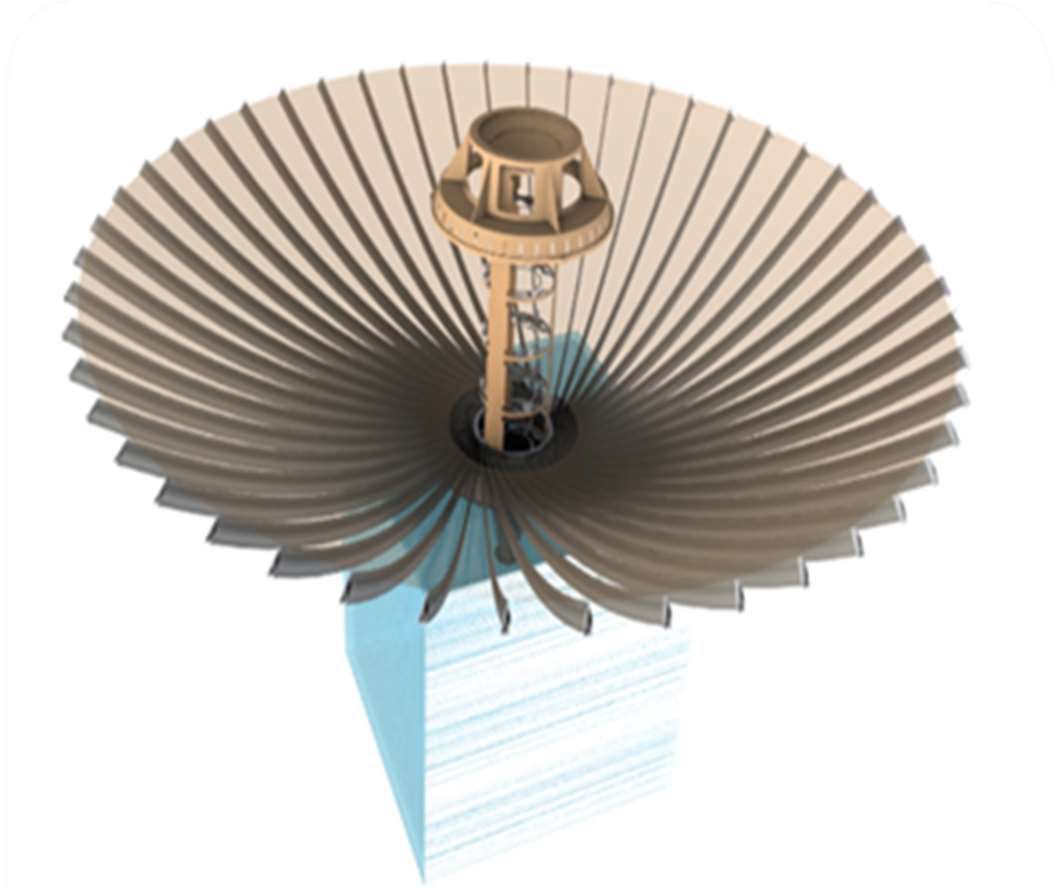 Objectives
The main objectives are a) to setup a domestic metal mesh production capability at OSS and b) explore the industrialisation of the optimum knitted mesh configurations. The expected long term benefits will yield significant reduction in both procurement times and manufacturing cost through adopting in-house metal-mesh technology in reflector antennas; therefore, achieving these objectives is critical to OSS's operational success. 
Using the existing 3m Wrapped Rib Antenna (WRA) architecture, OSS will seek to integrate and demonstrate in-orbit performance of the knitted metal mesh with a view to commercialising this type of reflector antennas shortly after IOD (In-Orbit Demonstration).
Challenges
Three main challenges will be addressed as a part of this project. These are:
1.    Developing a knitting process for volume manufacturing of proprietary metal mesh for the primary reflector surface of OSS Antennas. 
2.    Scalability and repeatability of OSS metal mesh production process
3.    Demonstrate RF performance through testing and validation of OSS metal mesh
Benefits
OSS's proprietary metal-mesh (Ox-Mesh-WF) is to be used on the lightweight primary reflectors of dual reflector Cassegrain deployable antennas, e.g. the so called Wrapped-Rib (WRA) configuration in the first instance and eventually, the whole portfolio of mesh reflector antennas. This subcomponent is a key building block of the antenna architecture technology and will enable superior Radiofrequency (RF) performance as demonstrated by coupon level testing conducted at ESTEC in 2019.
OSS's metal mesh will be used across several product lines including Wrapped Rib Antennas, Offset Reflector Antennas and Hinged Rib Antennas
Features
OSS's proprietary metal mesh comprises a knitted metal mesh structure made from gold plated tungsten yarns. This mesh can also be manufactured using gold plated molybdenum yarns. Using custom designed knitted configurations, high RF performance characteristics can be achieved up to and including Ka band.
System Architecture
This metal mesh will be integrated onto OSS's Wrapped Rib and Offset Reflector Antennas. It is a key building block of reflector antenna technology as it provides a mechanically compliant surface with the right level of RF reflectivity and geometric stability in its deployed state.
Plan
The work plan for this project comprises the following steps:
1.    Design of knitted configurations and selection of materials
2.    Ox-Mesh-WF product development – Phase 1 (Evaluation of manufacturability for designed knitted configurations using lab-scale sample production)
3.    Pilot scale testing and Market analysis (Manufacturing and testing – RF and Mechanical – of pilot scale metal mesh samples)
4.    Ox-Mesh-WF product development – Phase 2 (Process parameters determination and evaluation for full scale samples)
5.    Product readiness and Market Launch - Ox-Mesh-WF (Final documentation and commercialisation of OSS Metal Mesh on its Wrapped Rib Antenna)
Current status
The first phase of this project is nearing its completion i.e., the selection of final knitted configurations based on manufacturability. During the first phase of this project, knitted configurations were developed and these were then evaluated from a manufacturing standpoint through production of small lab-scale (20cm x 20cm) samples. Based on the results of these trials, 3 configurations have been selected and will be advanced into the next phase of mechanical and RF testing and performance characterisation. 
Documentation