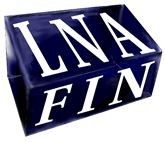 Objectives
The objective of the activity is the design, manufacture, and test of a prototype of a commercially viable 40-GHz LNA for gateway application. The LNA is based on European monolithic microwave integrated circuit (MMIC) technology.
Challenges
In this project low Noise Figure, high gain and very good matching are demanded over a significant fraction of the Q-band. LNAFIN Oy designs the WR-22 packaged redundant LNA unit. MMIC designs implemented need to be very high performance units using the most modern mHEMT technology available.
Benefits
This project designs WR-22 packaged LNA which has high gain, NF at ca. 2.5 dB with simultaneous input and output port RL values exceeding 18 dB from 35 to 45 GHz.
Features
The designed LNA module is feasible, but requires further work on the MMIC implementations and physical integration.
System Architecture
This is a WR-22 waveguide packaged ultra low-noise LNA. The unit has internal redundancy as it includes two high-performance LNA units in parallel. The units can be turned on/off by an external telecommand interface.
Plan
Project has two (2) Phases which include five (5) Tasks.
Documentation