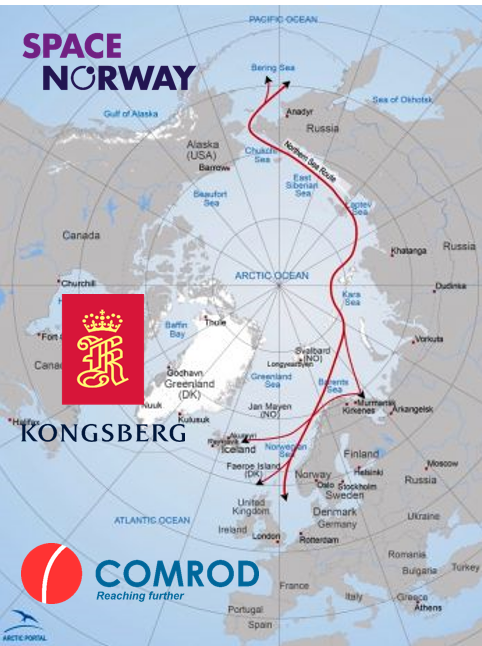 Objectives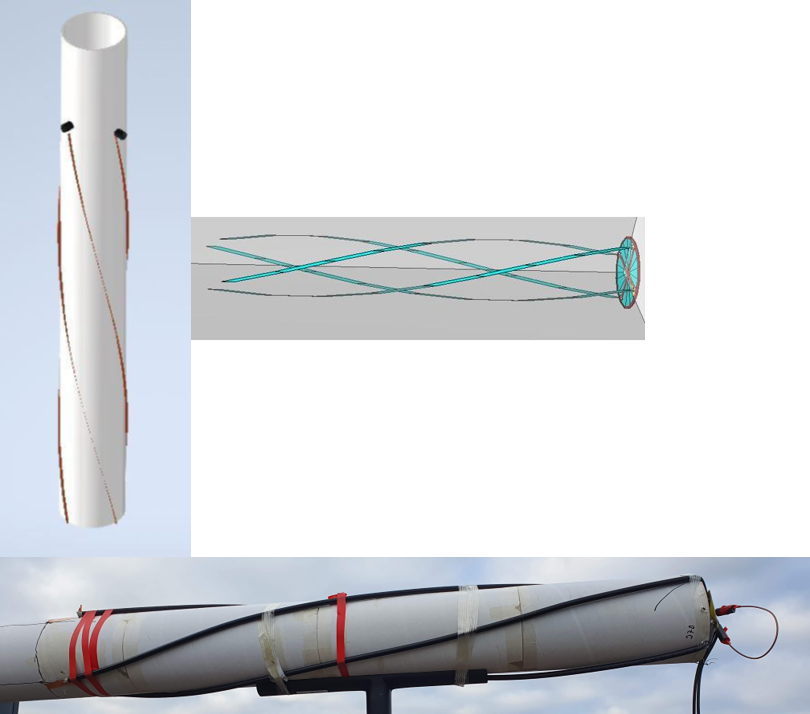 The purpose of this activity is to design, develop and test a new right-handed circularly polarized (RHCP) VHF antenna to be used on vessels supporting the satellite VHF Data Exchange System.
The objectives are:
Improve the link quality and throughput of the VDES system and demonstrate this in a real operating environment. Part of this is to reduce multipath fading and to look for a design where the gain is high at low elevations.

The antenna should be suitable for vessels operating in the Artic region, i.e. The Northern Sea Route.

The chosen antenna to be industrialised and ready for mass production.
Challenges
At the time of contract award four key challenges were identified based on pre-study and pre-simulations:
The antenna to be designed and developed is going to be mounted on a vessel. The pitch and roll of the vessel must be considered.

Preliminary studies and some pre-simulation on different antenna types show that matching of the antenna could be a challenge.

Dimensions could also be a challenge, pre-simulations and studies shows that some antenna types would require large dimensions. 

The Nordic climate, in particular sea spray and Icing. Complex shapes of the antenna that are more prone to ice build-up must be avoided and the structure must be robust.
Benefits
The antenna to be developed will be tailored towards the frequency range and usage of the VDES system.
The benefits will be:
Improved link with 5 dB

Will enable higher order modulation and coding schemes (depending on link improvement), thus supporting higher data rates.

Low-cost antenna to be used on vessels, ready for production.

An ISO Level Mask has been defined. Further optimisation could show a benefit of having an antenna that has the same link quality regardless of elevation. This remains to be investigated.
Features
Pre-liminary features:
Produced as either RHCP or LHCP

Constant signal level for most elevations 

Uniform radiation pattern around azimuth

High gain (1 – 4 dBic) at low elevations (0 to 20 degrees). Including +/- 10 degrees Pitch & Roll. 

Compact and robust

Matched to 50 Ω

Cover the full maritime VHF band (156 MHz – 162 MHz)

Excellent cross polar discrimination (XPD) between RHCP and LHCP 
System Architecture
The new antenna will be one component of the VDES architecture. The VDES satellite transmits with RHCP. The regular dipole antenna with vertical polarization is used as the reference, and both antennas will be extensively tested in a maritime environment.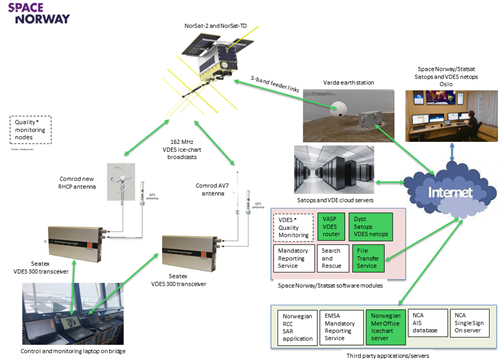 Plan
The project has the following milestones:
Milestone 1 (MS1): System Requirements Review (SRR). Review of technology survey and patent search/study. Review of consolidated requirements and review of simulations and chosen antenna candidates. Date for review 14.09.2022

Milestone 2: Review of technology baseline and verification of detailed design. Planned for January 2023

Milestone 3: Test Readiness review and verified deliverable items. Planned for August 2023

Milestone 4: Final review. Planned for November 2023.
Current status
The activity kicked-off in May 2022 and achieved MS1 System requirements review (SRR) on 14.09.2022.
Work currently in progress.
Documentation