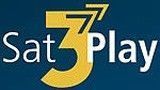 Objectives
The scope of the Sat3Play project is the development of a satellite 2-way multimedia platform for the provisioning of the triple play bundle. Triple play is the bundling of consumer fixed voice, broadband Internet and TV services from the same service provider.
Development goals of the project are:
Satellite based system as an alternative to DSL and fibre technology,
Terminal at consumer price level,
Fixed voice service by using voice-over-IP (VoIP) technology,
Interactive TV services based upon IPTV technology combined with standard DTH,
Broadband Internet service,
Reuse of recently developed standards-based interactive technology such as SATMODE and DVB-RCS.
Some developments already done in this field (based upon SATMODE products, DVB-RCS products, low cost interactive LNBs, etc.) will be reused in order to speed up the development process and to come with solutions to the market in the shortest possible time.
The transmission technology will be implemented in a "Sat3Play Access Box" or "IPModem". This Sat3Play Access Box interacts over Ethernet with the broadband home network components (e.g. playing devices, telephone, PC, IP-STB, PVR, etc.).
A secondary market is the SOHO and special applications (e.g. SCADA, telemetry services) market where the Access Box interfaces with application specific equipment.
Challenges
Cost of the terminal.
Network scalability for large numbers of users (up to 100000).
Benefits
The Sat3Play system has become the first successful European satellite based internet access system for consumers, capable of challenging products of US competitors.
Sat3Play's satellite broadband access technology was recognised for the successful integration of key industry standards when it was awarded the prestigious 2007 Frost & Sullivan European Product Innovation Award.

The commercial success of Sat3Play is illustrated by the shipment of the 65.000th terminal in September 2009.
Features
In essence the Sat3Play system provides a 2-way internet connection over satellite between the end user and the service provider's data centre. This internet connection can be used to provide video and audio content to the user or can provide the user with Internet access (browsing, email, etc). Value added services, such as pay TV, DRM based VOD or VoIP telephony, can be built on top of the Sat3Play platform.
The Sat3Play system consists of the following key components:
The Sat3Play terminal including:

The Sat3Play antenna, a low cost antenna with TX quality,
The Sat3Play iLNB (interactive LNB), which is a low noise block converter (LNB) with integrated upconverter/transmitter,
The Sat3Play IPModem, which is a bidirectional satellite modem, providing an Ethernet LAN connection to the user.

The Sat3Play hub.
The TV service and the VoIP telephony services will be provided using dedicated peripheral equipment (VoIP telephone set, IPTV set top box, respectively), which are connected via a LAN to the Sat3Play access box.
User Terminal
Low cost terminal,
Easy installation for a non-professional user,
Support of IP-based services,
Unicast traffic (up to about 2 Mbps downstream, 130 kbps upstream),
Multicast traffic (up to about 16 Mbps downstream),
IP interface (Ethernet),
Enough processing power to support targeted Interactive Services,
Ku band transmission,
Ku band reception,
Other interfaces, e.g. antenna positioning tool.
System Capabilities
Internet access via satellite,
streaming video and audio with TV quality,
VoIP terminated telephony.
Hub
Scalability for large consumer base per forward carrier,
Scalability for multi-transponder operation on either single, collocated or multiple orbital position satellites.
Plan
The project has been organized as follows:
Phase 1 (Basic IP Services)
Phase 1 consists of :
Design and development of the Sat3Play access box,
Design and development of a Ku/Ku band iLNB,
Design and development of new hub components enabling upgrading of the existing DVB-RCS hub with Sat3Play capability.
Phase 2 consists of:
Phase 2 Triple play services (internet access + VoIP + TV reception),
Phase 2 of the project targets the integration of the triple play functionality (internet access, VoIP , multicast) and QOS support,
In addition some extra management features will be developed.
Phase 3 consists of:
Phase 3 Triple play service for the mass market,
The final phase of the project will concentrate on further optimisation of the system.
Current status
Phase 1 was successfully closed in July 2008. During phase 1 a first version of the Sat3Play hub station and terminal was developed (later versions to be developed in the following phases will be mainly software upgrades).
The Sat3Play hubstation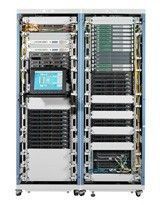 click for larger image

The Sat3Play terminal outdoor unit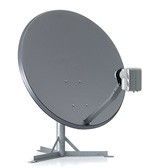 click for larger image

The Sat3Play terminal IPModem



click for larger image

Phase 1 has also witnessed the first commercial deployments of the system, which in the meantime have been delivered to several clients.
Phase 2 was successfully closed in December 2008.
Phase 2 included three subsequent releases of the Sat3Play Product, in which following features were provided:
Fair Use Policy System
Provisioning

North-bound provisioning interface
Provisioning transaction log
Batch provisioning

Support & diagnostics

Remote Terminal GUI access
Terminal Self Test

Full Multicast traffic support
Basic QoS
Do-It-Yourself pointing (Point&Play)

The Point&Play tool provides audio feedback for reception quality during pointing of the terminal antenna.
The Sat3Play Point&Play tool
Dual satellite configuration settings
Dimensioning Increase

Hub support for 40000 terminals – 4 blades
Blade support for 54/16Mbps - 2500 terminals

Full QoS: Real-Time traffic class (with return capacity requesting)
Phase 3 closure is foreseen for Q3 of 2009.
Phase 3 included two subsequent releases of the Sat3Play Product, in which the following features were provided.
Improvement of configuration management and hub upgradeability,
Removal of Population ID from IPModem,
Redundant RMT service,
Improved return link traffic encapsulation (GSE)
4CPM (Quaternary Continuous Phase Modulation) modulation and coding scheme, which allows to dramatically increase the bandwidth and efficiency of the Sat3Play return link, while keeping the IPModem's low cost. 4CPM enables return rates of up to 1 Mbps and higher, which makes the terminal also suitable to the professional market. Next to the increase of the return rate, 4CPM also improves the return link bandwidth efficiency, resulting into a significant lower cost of the used satellite capacity. 4CPM further leverages the robustness and low complexity of the Sat3Play system and with the environment in mind, enables at least a 50 % power consumption reduction compared to industry standard linear modulation schemes such as QPSK using output power back-off. All currently installed Sat3Play terminals can be upgraded with the new 4CPM modulation, by simple software download over the satellite.
Security features, including full traffic encryption and IPModem authentication.
Documentation