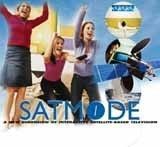 Objectives
SATMODE is a joint program to develop a low-cost, two-way communication channel by satellite for satellite TV users.
Connecting TV consumers individually, both ways:
With their content providers,
With other consumers, on TV,
With other infrastructures (GSM, internet),
In real time,
At any time,
All the time.
Remote interactivity is the key element needed for the continued growth of digital television. Indeed, there is a strong demand for TV enhancements using interactivity to allow the introduction of new services. This interactivity requires a secured, always-on, permanent, instantaneous connectivity, scalable to millions of viewers.
Interactivity via a low data rate dedicated satellite return link in the range of 1 to 64kbps is the right answer to this need, provided that the system is tailored to this application in terms of features and cost. SATMODE will provide such a system.
The proposed SATMODE program comprises the development of an ultra low cost satellite interactive system, which includes all required activities, including commercial field trial.
Challenges
The key issues addressed in SATMODE are:
Competitivity compared to Terrestrial alternatives,
Cost (cheapest CPE),
Scalability (millions of terminals to be supported).
Benefits
SATMODE's expected main benefits:
   1. SATMODE is very scalable to address a mass market of several
       Millions of users,
   2. SATMODE provides 100% coverage (this is not the
       case for xDSL or ISDN or Mobile Phone),
   3. SATMODE performance closely matches end-user
       requirements,
   4. SATMODE performance closely matches the interactive provider
       and TV bouquet provider requirements:
Always-on,
Sufficient QoS,
Provide very low communication cost for the service provider,
Enable the generation of new 'Telco' revenue,
Enable the generation of premium rate fee,
   5. Allows the bypassing of existing expensive Telecommunication
       companies,
   6. Potential to improve the security of CA system,
   7. SATMODE is stand-alone,
   8. The installation of the ODU is as simple as the installation of
       current dishes.
From the end user's point of view, the following benefits can be derived from SATMODE:
SATMODE gets rid of the need to connect the Set-Top-Box to a PSTN line, thus removing an obstacle to using interactive applications,
SATMODE eliminates the conflict between simultaneous voice and interactive TV connections,
SATMODE provides an 'always on' connection.
From the broadcaster's point of view, such a return channel leads to substantial revenue increase: churn reduction, incomes from new services, interactive advertisement, piracy control, etc. SATMODE provides a scalable, universal solution, integrat
Features
SATMODE's main design drivers are:
Ultra low cost satellite return link for short and frequent interactions,
'Always-on', responsive, always connected, stand-alone and dedicated,
For both Pay-TV and FTA (Free-To-Air) mass markets,
Cheapest CPE and cost of ownership possible; < 50 Euros extra,
Low and flexible bit rate; average: few bit/s; short packets,
Compatibility with next generation space segment,
Replacement of the PSTN modems for targeted iTV applications,
Allow for shared ODUs (SMATV),
User-friendly installation (= 'regular' digital DTH installation),
Inter-working with existing terrestrial return channel solutions,
Compliance to environmental, legal & regulatory framework,
MHP support.
Plan
SATMODE expected plan:
Phase 1: Design and prototyping in 2003,
Phase 2: Technical trials, system specifications released in 2004,
Phase 3: Commercial field trial will start in October 2004,
Post ESA project: Deployment from April 2005.
Current status
All activities have been completed.
Main milestones:
| | |
| --- | --- |
| Jan 03:   | Contract signed |
| Nov 03:  | i-LNBs and Add-on-Box prototypes delivered |
| Dec 03: | Phase 1 Demonstration Network presented |
| Jan 04: | Critical Design Review |
| Jan 04: | CSat stopped their participation  |
| Feb 04: | GO decision for Phase 2 |
| April 04: | SATMODE demonstration at NAB, Las Vegas |
| July 04: | Modem Layer specification in the public domain |
| Sept 04: | SATMODE demonstrated at IBC |
| Sept 05: | System AIV Review passed |
| March 06: | SATMODE based Triple Play Demonstrated at CEBIT |
| September 06: | Astra2Connect Announced at IBC |
| September 06: | Triple Play demonstrated at IBC |
| November 06: | Final System Tests Passed |
| November 06: | Project Closure |
Main Deliverables of the Project:
The partners will sell their SATMODE products on the open market without exclusivity.
The SATMODE system is compliant to the CENELEC proposed standard: prEN50478.
The goal of this openness is to foster a wide adoption by the market, also by other manufacturers not participating in the original SATMODE project.
Newtec
iLNB (pre-series),
Add-on-Box (pre-series)
Modem Hub - Modem Validation Platform,
IP blocks: MAC SW + VHDL.
Thomson
Regular G2 box: Dual Tuner + PVR,
Interactive box: iG2s with SATMODE integrated and PVR (prototype),
Interactive box: iG2+ with SMD, PVR, HDTV and DVB-S2 (prototype).
NDS
iTV Mini Head-End - Middleware with SATMODE : MHP+PVR+SATMODE,
Middleware for new technologies: MHP+PVR+SATMODE+HDTV+DVB-S2,
Application: Push VoD in SDTV & HDTV.
ST Microelectronics / Spacebridge
SES
ZIPMODE proof of concept: position estimation,
Service Provider Platform (prototype),
Application Provider Platform (prototype) - Demo Applications.
SATMODE perspectives
In the framework of the SATMODE project an innovative technology has been developed for mass-market 2-way communication via satellite. This technology is now available and could be deployed in a short time-frame.
Although the estimated cost of this technology is in line with the target price (unitary delta cost with respect to commercial DTH equipment much lower than 50 for the first million of units), it has not been possible to trigger a large deployment by major broadcaster for interactive television. The main issue is that the return on investment for iTV strongly depends on unfavourable external conditions such as huge investment required by broadcasters to replace current broadcasting technology and lack of massive TV related interactive content.
However an opportunity resides in the so called green field areas where terrestrial infrastructure or Direct -To-Home (DTH) solutions are not completely developed. In this perspective the major impact of Satmode is the agreement already signed between Newtec and Sinosat to develop digital iTV via satellite in China. This represents the first large-scale commercial field trial conducted with potential DTH providers of the SATMODE system outside Europe and is supported by ESA through iSatTV project.
To address the European market, a re-assessment of the business environment was run in the course of the Satmode project. This led to widening SATMODE's scope by defining new applications of Satmode technology: triple-play, nomadic communications, digital signage and content delivery. The SATMODE technology will first be used for triple play services commercially deployed by SES under the name "Astra2Connect".
This service will use the Newtec's Sat3Play product (developed in the framework of an ESA project) which is a merge of SATMODE and DVB-RCS standard technologies as defined in the course of the project. This commercial deployment also gives a perspective to the technology for several applications, including various forms of "2-way TV". Finally SATMODE technology has also triggered several initiatives shaped as ESA or EC project targeting digital signage, nomadic communication, content delivery, institutional applications: IMSATV, Tasmania, iCompact, Campnet and TANGO.
Documentation