Objectives
Define integrated satellite-terrestrial video delivery scenarios using satellite for

Intra or inter-CDN access network
Providing connectivity for dual (satellite, terrestrial) homing UEs

Defining architectures for integrated network scenarios identifying key technological components used and the interfaces in-between.
Provide value creation perspectives and cost assessments for the integrated architectures.
Develop stand-alone and end-to-end proof of concepts to demonstrate the performance enhancements achieved by the integrated architectures.
Provide recommendations for development and standardization activities.
Challenges
To achieve the above objectives, a detailed study was conducted, and the outcome was no less relevant than the key objectives themselves. This includes:
What are the future trends in services delivery? What are key service types, and their growth estimates?
What are the key technologies enabling future services?

Technologies related to the application layer (application, codecs, and delivery protocols)
Technologies related to underlying network (terrestrial, satellite)
CDN overlay technologies.

What are the key challenges in service delivery arising from issues resulting from the lack of proper collaborative services delivery infrastructure?
Benefits
The proposed solutions enable Assured QoS (AQoS) video delivery to the users by exploiting the synergies of next generation content generation and delivery protocols, CDNs, terrestrial and satellite networks. These synergies are exploited by proposing integrated satellite-terrestrial delivery scenarios. Such integrated scenarios also result in fostering business expansion of its key players: content providers, CDN and network operators, and the satellite industry. 
System Architecture
Based on the business relevance in the deployment timespan and the services that most likely face growth issues in this deployment plan and where integration of terrestrial and satellite technologies would potentially alleviate bottlenecks, two main scenarios were identified and investigated in detail. These are:
S1: Satellite as hybrid backhaul of 5G ultra-dense networks
S4: Satellite as hybrid backhaul of home gateway.
The figure below depicts the simplified modular architecture of the combined scenarios.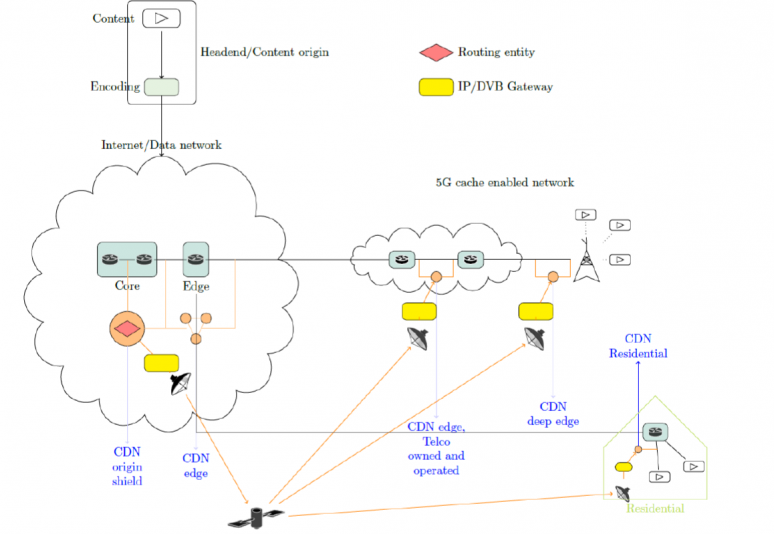 Plan
The project was organized in 7 main work packages:
WP1000 Deployment scenarios definition

Define deployment scenarios for collaborative video delivery
Identify relevant video services and corresponding service requirements

WP2000 Architecture definition and optimization

Define integrated satellite network architectures
Find optimized solutions for critical components and processes

WP3000 Validation framework definition

Identify and define standalone PoCs and the end-to-end PoCs
Real-time visualization of all key performance indicators

WP4000 Value creation and cost assessment

Investigate the value creation perspective
Assess in terms of CAPEX and OPEX

WP5000 PoC architecture definition and development

Software models developed
PoC installation instructions and user manuals

WP6000 System validation

Validation report and analyses containing all validation test outcomes

WP7000 Technology Development Roadmap
Future work recommendations, technology roadmap and standards evolution
Current status
The project has been concluded in May 2018. During the course of the project: 
The evaluation for the satellite backhaul is performed for the most relevant use cases of ultra-dense 5G networks and home gateways in case of both Video on Demand (VoD) and live streaming on both a typical day and a day with traffic peak.
Excellent improvement in system performance was observed for live content delivery.
The improvements documented for VoD content delivery were less spectacular in comparison with live content delivery, since the cache hit ratio of the simulated reference scenario was already quite high (~90%) to begin with.
Finally, detailed cost assessments were done in conjunction with value creation perspective analysis revealing a strong business potential of the proposed scenarios.
It was concluded that integration of satellite technologies as a backhaul to terrestrial technologies is a strong candidate to combat the problem of video delivery, especially live services.
Documentation