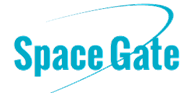 Objectives
The presented project concerns the development of the third release of the Space Gate product of Thales Alenia Space (Space Gate R3).
Space Gate is a satellite access network solution based on DVB standards. Whereas the current version (R2) is deployed in professional and military networks, the market targeted by the new release (R3) is the High Throughput Satellite (HTS) market.
The main technical goals that drive the evolution of Space Gate product are:
The adequacy to HTS needs: range of modems and terminals, hub compactness, network management,
The improvement of RF performances, bases on DVB S2 / RCS2 standards,
The optimization of services performances and quality of experience.
Benefits
The benefits of the Space Gate solution in HTS systems rely on:
An optimized management of the space resource (bandwidth and power) to optimize the effective throughput of the solution whatever are the conditions of propagation,
An optimized management of the service delivered to the end user, as well as in term of volume (maximization of the delivered service with the minimum space resource) and quality of experience,
A large range of terminals, suited to the different environment of deployment and the expected performances,
A seamless integration in the telecom infrastructure of the operator as well as for the transport of the information and the service management,
A full interoperability by complying existing telecom standard (DVB S2-RCS2, MEF…).
Features
The SpaceGate solution is a satellite network solution that suits with HTS sizing: several hundreds of Gbps and several hundred thousand end-users distributed on a decade of gateways.
The solution is based on main components:
A centralized network management system for operations and virtual operations,
A network plan for SLA & QoE management, with advanced performance enhancement (TCP acceleration, dynamic caching, …)
Baseband hubs, each able to manage up to 10 Gbps and 100,000 users,
Ku & Ka band terminals with consumer modem (T-110) or professional modem (T-210)
Current status
System PDR, scheduled second half of September 2015, has been successful.
Documentation