Objectives
The goal of this activity was to design, manufacture and demonstrate operation of fibre-optic transceivers operating at high frequencies for space use.
SpaceWire standard is already widely used for connecting spacecraft equipment and SpaceFibre is meant to be a high throughput interface capable for transmitting and receiving multiple SpaceWire links using virtual channels over a fibre-optic link. For this purpose, fibre-optic transceiver components are needed.
After an earlier study, this work aimed at developing the transceivers up to EM (Engineering Model) maturity level. Two sub-contractors developed their versions with different technologies and a full environmental test campaign was performed.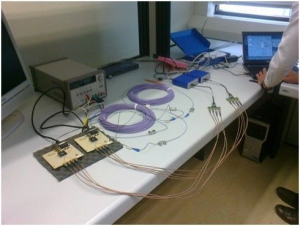 Challenges
Main challenges are related to production processes: manufacturing of a hermetic package with a reliable optical fibre feed through and making efficient and reliable connections between opto-electronic components (VCSEL & photodiode) and the optical fibre. Also, selection of the fibre cable and connector are found to be important wrt. reliability of the device.
Another area of challenge is a reliable mounting of the modules on printed circuit boards taking into account the high frequencies.
Benefits
 SpaceFibre transceiver modules will enable full utilisation of the SpaceFibre interfaces specified in the SpaceWire standard providing a high speed, light weight and EMC free interface for transmitting and receiving data between electronic equipment placed at different locations of the space-craft.
The project utilised LTCC- (VTT) and HTCC- (D-Lightsys) technologies for hybrid modules and created a concepts for opto-electronic VCSEL-transmitter and photodiode receiver sub-assemblies combined with optical fibre cables.
Recommended continuation activities are making use of all components as dies in flip-chip format and further improving the production process of opto-electronic sub-assemblies (Tx/Rx).
Features
Developed modules are working up to 6.25 Gbps; at good conditions even up to 10 Gbps at bit error rate better than 10-12.
Transceiver modules utilize high speed CML electrical interfaces for electrical data input and output. Operation of Optical fibre cable links up 100 m have been demonstrated.
Full environmental test campaign with mechanical, thermal and performance tests with typical space mission requirements as been carried out.
Radiation tolerance has been verified both at component level and with complete transceiver modules.
Plan
 Specific tasks performed in this project are the following:
Review of requirements and architectural trade-offs

Detailed design, manufacture and testing of fibre-optic transceivers

Documentation of manufacturing processes
Current status
Completed at October, 2013.
Documentation