Objectives
To develop a UHF antenna solution that has significantly higher capacity and flexibility than what is currently already available.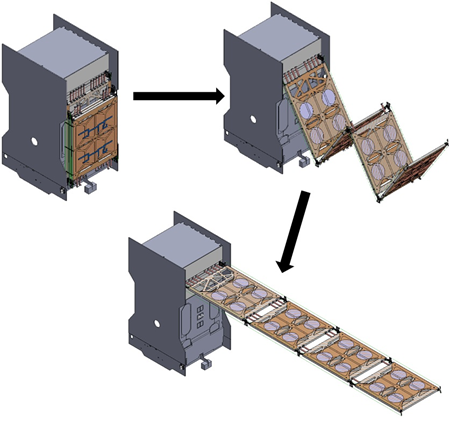 This product shall be mounted and deployed from the spacecraft in the same manner as solar arrays using novel means of actuation and synchronisation. It consists of a Tx array on one side and an Rx array on the other. This arrangement offers increased capacity through higher EIRP and possible frequency re-use as well as reduced interference compared with existing solutions.
Additionally, there are a number of other possible configurations which are either deployed from the side of the spacecraft or mounted on the top floor. The linear patch array and deployment motion structure has key critical components common to other configurations from where alternative deployable panel applications can be derived.
Challenges
The development of the RF patch element which is suitable for both Tx and Rx functions. The project focused on the challenges of the more demanding Tx element: high bandwidth, low PIM and good multipaction properties.
The development of a deployment and synchronisation system as a means to deploy the array by utilising a reliable and low cost solution.
Benefits
Significant capacity improvement over single antenna configurations.  
It provides capability for spatial discrimination and frequency reuse. 
Features
The arrays can be used to form multiple or steered beams, depending on the application. A global beam can also be provided, using a particular phase excitation across the array.
System Architecture
Following an initial design concept trade off, a scalable patch design has been selected. A tri-plate distribution board for each pair of elements is used, with a power split between the two elements, and a 0° - 90° split within each element. For the multiple beam wide spaced transmit array, four panels with four elements each are used.
A breadboard has been produced for a standard Tx patch array panel suitable for fold-out deployment.
Plan
Within the project a breadboard model has been designed, simulated, manufactured and tested (RF and PIM). The breadboard comprises two co-axial fed Tx patch elements mounted in a representative configuration on an appropriate backing structure. In addition, a mechanical breadboard has been designed, manufactured and tested to verify the kinematic performance of the deployment and synchronisation system.
Documentation