Objectives
The project sets the objective to develop and trial a communication system that will anticipate and meet future requirements to allow RPA to fly in non-segregated airspace.
Requirements from an analysis of case studies, current RPAS regulation and business demands, defines and allows development of an RPAS communication and control system with developments in the on-board and ground communication for flight missions of RPA in non-segregated airspace. The project consortium includes an air navigation service provider and an ATM company that will input into the regulation requirements for non-civilian airspace. 
The system involves the integration of a navigation system, geo-referencing solution, on-board mission system, geographic information processing system, a moving map for the RPS with air collision avoidance, an operation management system for the RPS which will interface with Air Traffic Management. The consortium includes an IT company, geo-referencing experts and a video processing expert.
Developments are integrated to allow for an emulation trial then a whole system trial for a mission that realistically demonstrates the civilian applications of the system.
Improve reliability / security of navigation system of RPAS
Increase situational awareness for RPAS and demonstrate new functionalities in air traffic surveillance
Use SatCom to increase reliability of command & control (C2)
Demonstrate ATM System dedicated to RPAS Very Low Level (VLL) operations – UAV Traffic Management (UTM)
Develop the mission payload and software package for inspection and surveillance, Beyond Line Of Sight (BLOS) for large critical infrastructures such as Railways, Power lines or Airports
Perform demonstration of RPAS missions for future commercial applications
The results of the trial are assessed and inform a development plan for the commercialization of the system.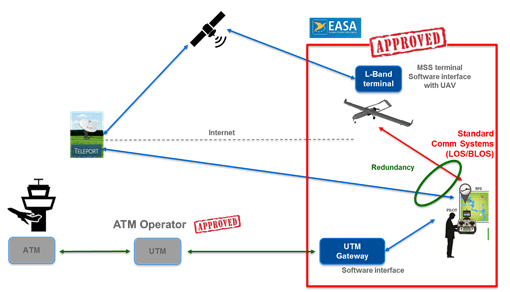 Figure 1: ViaDrone System
Challenges
Key challenges of the project include:
Technical
Integration of the communication and navigation system with the RPAS is complex and has technical uncertainties.
The system needs interoperability with the existing air traffic management systems.
Operations and Regulations
The trial relies on authorization from national aviation authority regulation without which the flight demonstration of the system is not feasible.
Commercial
The commercial success of the system will be price dependent so the project must return a cost-effective system. 
Benefits
An onboard and ground communication management system for RPAs using SatCom that works with Air Traffic Insertion standards will allow drones access to civilian airspace.
Access to non-segregated airspace develops the civilian applications for drones including
Infrastructure surveillance
Humanitarian applications
Oil and gas monitoring
Agriculture
ViaDrone's approach offers communication systems for light to medium aircrafts through a low weight payload to be shared on smaller drones and ground operating management systems. The ground systems process information received through a secure and reliable SatCom down-link.
Through designing a communication system designed for smaller drones, ViaDrone meets the market gap not met by traditional aviation system providers.
ViaDrone develops a payload which can be configured for the mission but operated from a ground mission station which will expand the range of service applications.
The command and control link provided through multi-band satellite (L-band on-board and Ka-band on ground) and radio, cellular will address redundancy issues of communication systems.
The complete system is designed to be less costly, less complex, lighter and easier to implement on RPAS than competitor mode-S transponders.
Features
ViaDrone's product is a system that manages the full safety flight process from flight request to real time traffic control; and managing and processing the data from the mission to deliver value added information to the end user.
Product Features
Light weight payload
Communication system integrated with ATM
Communication system featuring SatCom, Radio, Cellular
Less complex system
Easier implementation on RPAS
Turnkey solution
system architecture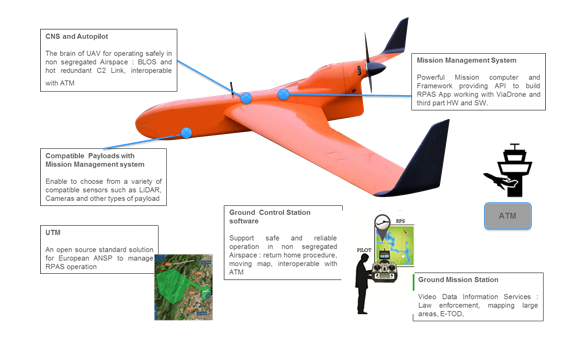 Plan
KO meeting – December 2015
PDR – July 2016
CDR – December 2016
MTR – July 2017
FAT – March 2018
Final Report – October 2018
Current status
PDR, CDR, MTR, FAT Completed.
Flight Authorization with National Aviation Authority in-progress and Flight trails about to start.
Documentation